On October 29, 2020, the Institute of Modern Russia (IMR) and Center for European Policy Analysis (CEPA) will host a virtual discussion following the release of IMR's new report titled "Russia under Putin: 20 Years of Battling over Civil Society." The report is the second in the series of IMR's project dedicated to Russia under Vladimir Putin's 20-year long rule. Participants in the discussion include civil society researcher Yana Gorokhovskaia, Miriam Lanskoy (NED), Denis Volkov (Levada Center), and Edward Lucas (CEPA). IMR's Olga Khvostunova will moderate.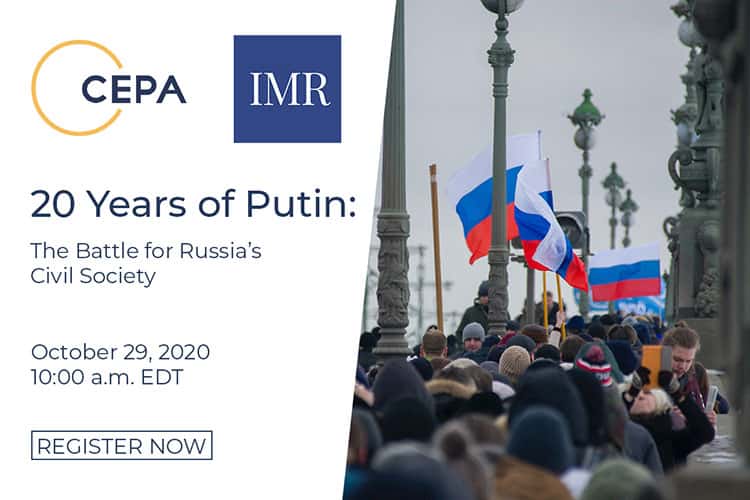 Featuring:
Yana Gorokhovskaia, Civil Society Researcher
Miriam Lanskoy, Senior Director for Russia and Eurasia, National Endowment for Democracy
Edward Lucas, Senior Fellow, Center for European Policy Analysis
Denis Volkov, Deputy Director, Levada Center

Moderated by: 
Olga Khvostunova, Director, Institute for Modern Russia

Thursday, October 29, 2020
10:00 a.m. - 11:00 a.m. EDT
Despite a growing trend of state repression and control, civil society organizations (CSOs) in Russia are continuing to thrive in this authoritarian environment. Today, CSOs must respond creatively to repressive legislation, raise awareness of socio-political issues, and represent the interests of the people they serve. These groups cover the gaps left by inefficiencies and restrictions from the government and help Russian citizens on a grassroots level.
This discussion will follow the launch of Institute of Modern Russia's (IMR) new report, "Russia under Putin: 20 Years of Battling over Civil Society." In it, IMR analyzes how the Russian state has used regulation, funding, and integration schemes to shape civil society groups. Using original interviews and other data, the authors examine the strategies used by various Russian CSOs to provide needed services, raise awareness, and influence public policy. The report offers recommendations for stakeholders interested in supporting the success of this important, democracy-fostering sector.
Join CEPA and IMR for a discussion on the innovative techniques civil society groups are utilizing to circumvent the restrictions imposed by the Russian government.
We are hosting this event online. To take part in the Q&A, please register via Zoom. Please note, there are a limited number of interactive spaces available. To tune in to the livestream, participants can also watch via the CEPA Events Page, Youtube, Facebook, or Twitter.
If you have any questions regarding the event, please contact Christina Brown at christina.brown@cepa.org.