On June 3, the Institute of Modern Russia launched a new design for its corporate website, imrussia.org. Substantial changes were made in both website layout and its structure. Our new design allows a clearer display of IMR's projects, conferences, and other events in a more detailed and distinctive way, efficiently providing you with the latest IMR organizational news and activities.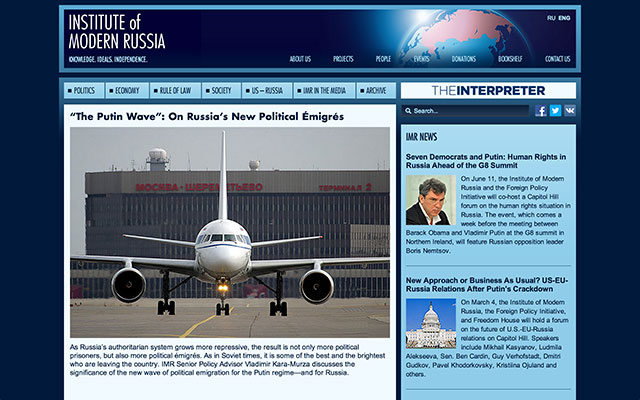 The most substantial change is the graphic and structural separation of IMR's online journal, in which all our analytical and opinion articles are published, from the technical part of the website, which includes information on our Institute.
All new online journal articles will be published on the homepage first. All the sections of the journal (Politics, Economy, Society, US-Russia, Rule of Law) remain the same, but the buttons leading to the respective sections were moved to the upper part of the page, above the title of the opening article. A new section, IMR in the Media, will feature media stories about our Institute and its representatives.
Organization news, including information on our conferences, exhibitions, roundtables, projects, and so on, as well as the commentaries of IMR representatives, will now appear as a separate newsfeed in the right column of the homepage.
As IMR Director Lidiya Dukhovich explains, "We are always striving to engage our audience—be it through commentary in our online journal, our research, panel discussions, political conferences in Washington, DC, or our numerous projects. This redesign allows our website patrons to navigate our site more efficiently while providing them with an array of our activities in addition to our published works."