December 16, 2010
On December 14, at the 9th Annual M&A Advisor Summit in New York American business experts showed good deal of optimism towards Russian investments. This attitude constantly shown in recent years can be viewed as at least controversial as business environment in Russia in fact declines, due to increasing corruption and failed independent judiciary.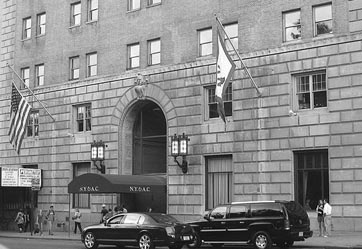 New York Athletic Club
The event, hosted by New York Athletic Club, brought together world's leading M&A professionals to share their insights and vantage-point perspectives on the issue. Discussion at the panel "Russia: Navigate the Enigma"  moderated by Alina Plaia, Co-Founder and Managing Director of Wide Bridge, Inc., focused on the current situation on the Russian market, the 'pros and cons' and guidelines for foreign investors on how to run business successfully in the country. The panel expert group included Oleg Svintsitski, Senior Vice President at Siguler Guff & Co., Laura M. Brank, Head of Dechter's Russia Practice, Mikhail Gurfinkel, Managing Director and Regional General Counsel of Basic Element, and Alexis O. Rodzianko, Chief Executive Officer of METROPOL, Investment Financial Company.
The tone of the discussion could be described as light and optimistic, as it was mentioned that next year will bring about $20 billion in direct foreign investment to the Russian market. "Russian economy got through the financial crisis and now is recovering fast", Mr. Svintsitski said. He gave an example of success story -- the impressive IPO of Mail.Ru, Russian IT-company, at London Stock Exchange. "Yandex.Ru, Metalloinvest and SUEK are next in line". Another positive trend, as Ms. Plaia pointed out, is that Russian government is trying to get westernized and to develop a favorable climate for investment. Mr. Gurfinkel agreed that "companies and rule of law are developing in the right direction".
The issues that all experts were eager to elaborate on were cultural differences. In Mr. Gurfinkel's words "you can not come to Russia and teach how things are done", or "key pieces of information might not be given to you unless you ask for them", and so on. All experts agreed that to do business in Russia one has to be patient and committed.


Mikhail Gurfinkel, Managing Director and Regional General Counsel of Basic Element; Oleg Svintsitski, Senior Vice President at Siguler Guff & Co.
At the same time, during discussion, the experts could not help slightly touching major drawbacks. Ms. Brank explained "the laws are strong in the book but the practices are not yet quite developed" followed by Mr. Rodzianko who mentioned that one of the problems is corruption but the government is putting effort in the struggle with it.
What was, sadly enough, left out of the discussion, is the scale of corruption that captured both federal government and local authorities. Nothing was said about the raiding attacks and forcible takeovers of companies sanctioned by top officials, or the failed judiciary – at least the case of the infamous Yukos affair (It isso happened that the verdict in the second case of the former head of the company Mikhail Khodorkovsky was supposed to be announced on the next day). It's hardly believable that such prominent experts are not aware of these problems. In fact, unofficially, they confirm that they are. Then their vocal optimism becomes really controversial.