On April 24–25, a forum entitled "Ukraine-Russia: the Dialogue," organized by Mikhail Khodorkovsky's Open Russia Foundation, the Third Republic of Ukraine movement and the PEN Club of Russia took place in Kiev. Prominent members of the Russian and Ukrainian intellectual elite participated in the forum and called for the social and cultural rapprochement between the two countries to overcome the current political crisis.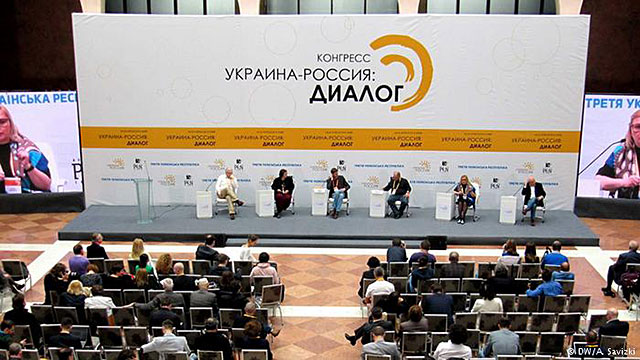 About 500 people, including 175 members of the media, participated in the two-day forum that took place in Kiev's Olympiysky National Sports Center on April 24–25. Russia was represented by the head of the Open Russia Foundation Mikhail Khodorkovsky; writers Liudmila Ulitskaya and Dmitry Bykov; politicians Boris Nemtsov and Ilya Ponomaryov; journalists Dmitry Muratov, Galina Timchenko, Alexey Venediktov and Maksim Ganapolsky; human rights veteran Liudmila Alekseeva, among others. Ukraine was represented by the leader of the Third Republic of Ukraine movement Yuri Lutsenko; former minister of finance Viktor Suslov; former minister of foreign affairs Konstantin Grishchenko; publisher Ivan Malkovich; Crimean Tatar leader Mustafa Dzhemilev; journalists Anatoly Borsyuk, Mykola Veresen, Mustafa Nayem; TV anchors Yevgeny Kiselev and Savik Shuster (both of whom were previously TV anchors on Russian television); human rights activists Yevgen Sverstyuk and Vassyl Ovsienko; et al. Presidential candidate Petro Poroshenko also visited the forum.
In his opening speech, Mikhail Khodorkovsky noted that several factors united the participants of the forum: their disagreement with Vladimir Putin's policy regarding Ukraine, their revolt against Russian state propaganda, and their need to express solidarity with those Ukrainian people who are fighting for their statehood. According to Khodorkovsky, aggressive approach of the Russian authorities who view the world "along the lines of forceful enlargement of the territory, and not along the lines of improving people's living standards" is a losing policy. Khodorkovsky saluted to his fellow-citizens who managed to "keep rational minds" and were ready to go "against the aggressive and obedient majority."
Liudmila Ulitskaya was also appealing to the rational minds, noting that the world today is suffering from an epidemic of nationalism that spared neither Russia nor Ukraine. "We can only hope that common sense, the only antidote for nationalism, will prevail," she said in her speech. In Ulitskaya's opinion, after the current political crisis is over, the relationship between the two countries needs to be rebuilt on the principles of equality and respect, and not according to the old dynamic of "senior" Russia and "junior" Ukraine. In his turn, Yuri Lutsenko was optimistic when he said that the states are built not with cobblestones, but through the efforts of intelligentsia, therefore, a resurrection of both countries may begin from conversations such as held at the "Ukraine-Russia: Dialogue" forum.
During the two-day forum, intense discussions were held on a number of social, political and economic issues that are not only timely but acute in both Ukraine and Russia today. The issues were divided into seven sections—media, culture, religion, science and education, politics, economy, society—and ranged from censorship and propaganda in the media to the status of the Russian and Ukrainian languages, corruption, official falsifications of history, annexation of Crimea, possibilities for the two nations' rapprochement, and human rights.
At the end of the forum, participants adopted a resolution condemning Moscow's official policy toward Ukraine and calling for rebuilding of the partnership-based relations between the two. According to the signees, Russia and Ukraine's common intellectual and cultural environment offers ideas to resolve this issue. The PEN Club of Russia, a branch of the worldwide association of writers, published a separate statement, in which Russian members of PEN apologized to their Ukrainian colleagues for the actions of the Russian authorities and expressed hope that "the logic of history will put everything in its place, and a cooling of emotions and repentance will happen in Russia."
According to IMR Senior Advisor Vladimir Kara-Murza, who took part in the forum, this meeting of Russia's and Ukraine's intellectual elite was "a big success." He further stated, "We managed to demonstrate that there is a completely different Russia that is unofficial, not pro-Kremlin or pro-Putin, that is against the aggression of the [Russian] authorities and supports democratic Ukraine."
In the future, the forum will be transformed into an acting organization that will work on a permanent basis and will serve as a real platform for dialogue between Russia and Ukraine.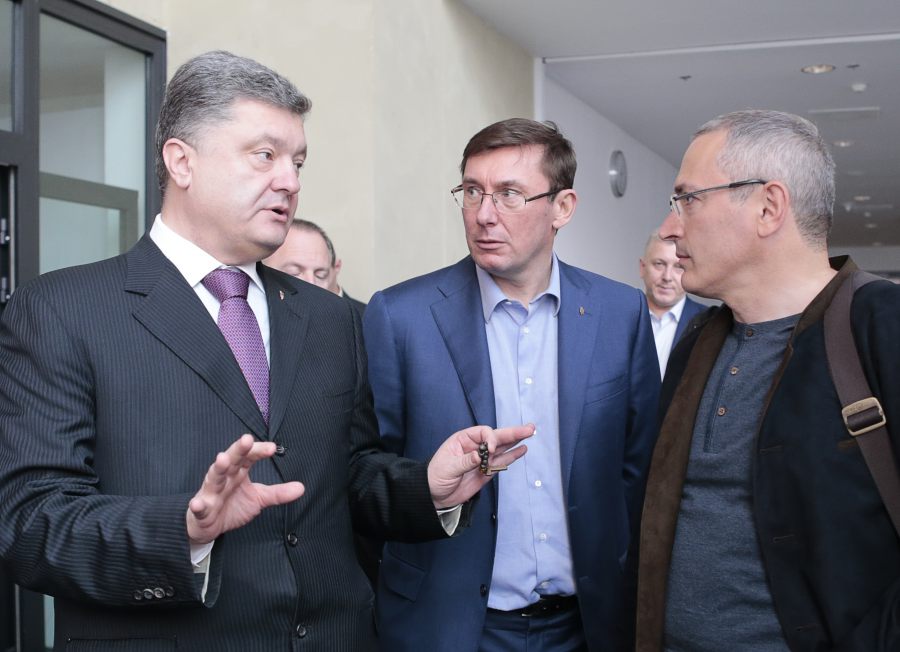 From left to right: Ukrainian presidential candidate Petro Poroshenko, leader of the Third Ukrainian Republic movement Yuri Lutsenko, head of the Open Russian Foundation Mikhail Khodorkovsky
Statements on "Ukraine-Russia: the Dialogue" Forum in Kiev
Alexander Daniel, Board member of the international human rights center "Memorial":

I think that the forum itself was meaningful even though the Russian side was presented by [those the Russian government describes as] renegades, "national traitors," and "Judeo-Banderists." Our Ukrainian friends and associates should understand that together we can do very little, but individually, each of us can accomplish a great deal. This new era, which began in late February-early March, is not an era of corporate responsibilities and collective initiatives. In Russia, this is an era of individual responsibility, of actions that each person commits and for which he or she is responsible. What I heard at this congress only solidified my opinion. There were almost no proposals for the establishment of infrastructure to work together; we simply synchronized our watches.

Grani.ru
Yana Dubinyanskaya, Ukrainian writer and journalist:

War is never conducive to mutual understanding. Words begin to take the opposite meaning so that we can no longer come to an agreement through them. What can we talk about with those who, brainwashed by state propaganda, call peaceful and civilized officials from Ukraine's interim government a junta; the military trying to save their country from an enemy many times stronger than themselves executors; and terrorists heavily armed by their own security services, on the contrary, rebellious civilians? The different conceptual framework eliminates the possibility of discussion. And when it is not possible to speak, shooting remains the only option. While we can largely disagree with those Russian intellectuals who came to Kiev to participate in this forum, we at least speak the same language and within the same conceptual framework; we call things by the same name. And therefore we can still talk.

Gazeta.ru
Viktor Shenderovich, Russian writer and journalist:

Certainly, Khodorkovsky takes quite obvious, predictable steps. He became a politician since he went to jail and since he became Vladimir Putin's personal enemy. It is not that he wanted to become a politician in this way, but he became a politician on a national scale once he became Vladimir Putin's personal enemy and was sent to the penal colony. Since then, he has been a politician, no matter what he himself might say. Undoubtedly, the "Ukraine-Russia" forum is a political one. Against the background of lies and aggression coming from the Russian government, this forum serves as an effort to present an alternative Russia to Ukraine, one that does not want to fight with Ukraine and does not want to lie. This effort to start a real dialogue is definitely a step into politics.

Grani.ru