On May 8, the Ukrainian-American human rights organization Razom presented its white paper titled "Crisis in Ukraine: Its Legal Dimensions" at the United Nations. The event was attended by UN delegates and representatives of both the nonprofit and private sectors.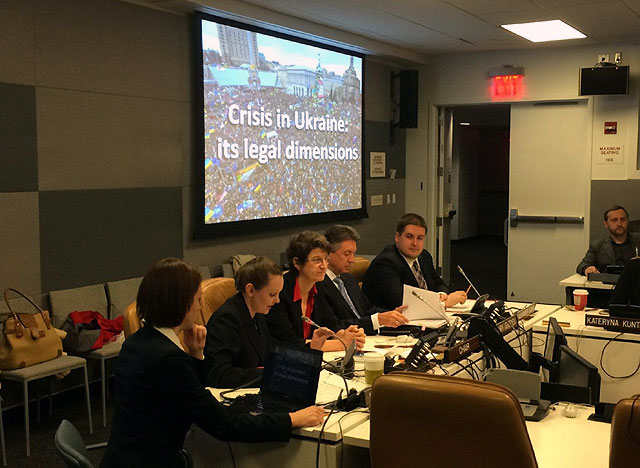 Introducing "Crisis in Ukraine: Its Legal Dimensions," Ivanna Bilych, co-author and General Counsel for Razom, called the report an "in-depth look" at the unfolding situation in Ukraine, which will help the international community approach this crisis. Commenting on the situation in Ukraine, H.E. Yuriy Sergeyev, Permanent Representative of Ukraine to the United Nations, said that the "international system has been threatened." He expressed his gratitude to the researchers of the report and its attention to "global security and principles" that are reflected in the UN Charter and Universal Declaration of Human Rights.
Several delegates joined the discussion, including a representative of Canada who described the report as "pragmatic and measured" and reflective of statements made by the Canadian government, which has been at the "forefront" of opposition to Russia's aggression. Poland expressed support for the Ukrainian people in determining their own future and announced that Poland's Solidarity Prize, marking the twenty-fifth anniversary of free elections in Poland, had been awarded to Mustafa Dzhemilev, leader of the Crimean Tatar National Movement.
When asked by a delegate of Latvia what else the international community can do besides refraining from recognizing Russia's annexation of Crimea, H.E. Yuriy Sergeyev advised that UN members propose a resolution "on the temporarily occupied territory of Ukraine" and reject the recognition of any authorities besides Ukraine. The co-authors suggested that individuals and organizations get involved by spreading the word about this report, working with organizations like Razom in the US and Ukraine, and fighting the distortion of information presented by the Russian Federation.
The report was commissioned by Razom and prepared pro bono by a team of international lawyers, which included Ivanna Bilych, Alexander Gudko, Kateryna Kuntsevich, Matheus Sena, Malvika Seth, and Olena Sharvan, during their studies at NYU School of Law. It analyzes and clarifies both domestic and international legal issues and makes recommendations to Ukraine, Russia, and the international community. The report can be found at razomforukraine.org/report.