More than two and a half years passed since Boris Nemtsov's murder, one of the highest profile political assassinations of the 21st century, but the masterminds and the organizers of this crime remain at large. Vadim Prokhorov, lawyer for Zhanna Nemtsova, argues that the legal mechanisms inside Russia are not working to fully solve this crime, which means that the next step is to draw international attention to the case. In the interview with Olga Khvostunova, editor-in-chief of imrussia.org, Prokhorov shared his insights on who is behind Nemtsov's murder, what legal and political tools can be engaged to push the investigation forward, and which of the Western leaders are prepared to turn a blind eye to the regime's crimes for the sake of realpolitik.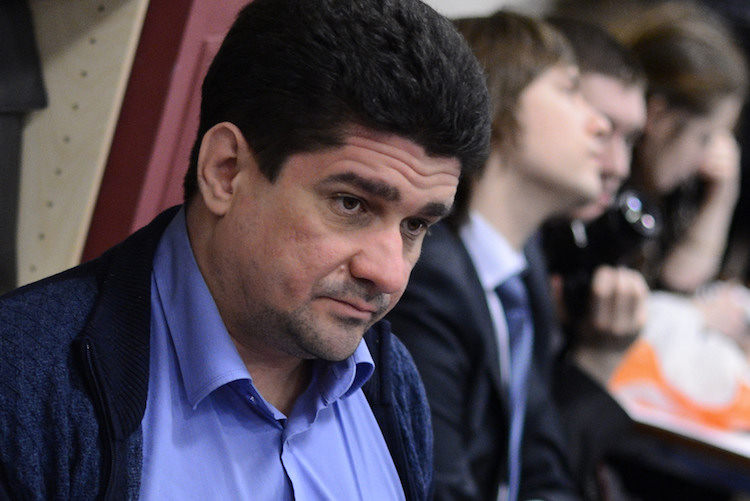 WESTERN PRESSURE 
Olga Khvostunova: In September you came to Washington, D.C., where you met with U.S. congressmen and senators; you participated in panel discussions and roundtables as a lawyer in the Nemtsov assassination case. In October, you went to Europe with a similar mission. Considering the fact that the verdict in the Nemtsov case was announced earlier in the summer, what was the purpose of your trips?
Vadim Prokhorov: Let me explain it step by step. Indeed, on July 13, on the grounds of the jury guilty verdict, the court sentenced the five accused in the Nemtsov case to various prison terms—from 11 to 20 years. However, my colleague Olga Mikhailova and I—both of us are Zhanna Nemtsova's lawyers in this case—are extremely dissatisfied with the quality of the investigation and the trial. Primarily due to the fact that the key questions remain unanswered. The organizers and masterminds have never been found. The main motives of the murder have not been established.
At the same time, the Russian authorities and the state-controlled media try to present the case as being solved. Besides, we still have a complaint about the fact that the nature of the crime had been determined incorrectly. It had been qualified under article Article 105 of the Russian Criminal Code ("Murder"), which is used in the majority of murder cases, usually of a domestic nature. While in the Nemtsov case we are dealing with a political contract killing, which has to be qualified under Article 277 ("Encroachment on the Life of a Statesperson or Public Figure"). However, our appeal has been categorically denied. Finally, the prosecution has not provided sufficient evidence to prove the guilt of one of the accused—Khamzat Bakhaev.  
It is crucially important for us that during every international trip, at every conference or summit, Putin and his entourage are being asked the question of what is going on with the Nemtsov investigation.
It is completely clear that the authorities are trying to act the same way they did in the Politkovskaya, Estemirova and other political cases. It is also clear that the organizers of the Nemtsov assassination have protection at the highest level—they won't be given up. Given the total state control over the media, especially electronic media, the authorities are creating an illusion that the case is solved. But it is not.
What is to be done in this situation? First and foremost, of course, one has to engage the national law system, which is what we do by filing requests, complaints, etc. This work is mundane, time-consuming, and, as a rule, has low output, but it's necessary. But as far as I know, nothing is being done to investigate the ongoing criminal case against Ruslan Mukhutdinov and other unidentified persons, which has been separated from the Nemtsov murder. The investigation team led by General Nikolai Tutevich that has been investigating the murder for the last few months was transferred to deal with the corruption case against former head of Komi Republic Vyacheslav Geizer. Obviously, they were not paying attention to us. In other words, the Nemtsov case, the highest profile political assassination of the 21st century has been shelved and gathering dust. This is outrageous! We have in many ways (though, not entirely) run out of options inside the country.
OK: Which is why you decided to engage international mechanisms?
VP: Yes, thanks to Zhanna Nemtsova's enormous efforts, with colleagues' support, we managed to have a Special Rapporteur appointed by the Parliamentary Assembly of the Council of Europe (PACE), despite resistance coming from the Assembly's leadership and its former president Pedro Agramunt. It was in his office that the initiative, signed by 60+ deputies and launched in January 2016, had been sitting idle for a year and a half. Only on March 10, 2017, was this issue finally moved, and the Bureau of PACE, in a very narrow vote, decided to launch this procedure. In May, [member of the Lithuanian delegation to PACE] Emanuelis Zingeris was appointed to the position of Special Rapporteur to further investigate the Nemtsov case. He is very active and empathetic—a man who, I am certain, will be really paying attention to this case.
OK: What was the motive for Agramunt's resistance?
VP: Over the last few months, Agramunt was involved in some dreadful scandals—for example, an investigation was launched into possible corruption links between him and Azerbaijan's president Ilham Aliev. A concern has been raised as to why he flew on a Russian plane to visit Bashar Assad in Syria. Moreover, as I have recently learned with much astonishment, he was on this plane with Adam Delimkhanov, one of the very individuals we suggest summoning for questioning regarding their direct involvement in organizing Boris Nemtsov's assassination. Ramzan Kadyrov posted a video of this trip on his Instagram account. I cannot exclude various, far from legal, motives that guided Pedro Agramunt to take this trip. And I hope that Mr Agramunt will be asked this question as well.
OK: Do I understand you correctly that it was Agramunt who had blocked the launch of the Special Rapporteur procedure on the Nemtsov case in PACE?
VP: Let me put it this way: the launch of the Special Rapporteur was blocked by Agramunt's office. However, as it was reported, Agramunt was forced to resign as PACE president under parliamentary pressure. And immediately after that, some of Putin's sidekicks, like Russian Senator Aleksei Pushkov, rushed to explain this as caused by the influence of the "Russophobic lobby in PACE."
OK: What kind of powers does the Special Rapporteur possess?
VP: The Special Rapporteur will, of course, not be allowed to come to Moscow and kick all the doors open. But it is assumed that if a country is a member of the Council of Europe, he or she is supposed to be given documents on the case. The key question is to assess how objectively the case was investigated and how efficiently it will be conducted going forward. It has been two and a half years since the murder, but neither the organizers nor the masterminds have been found. How many more years should pass before they are? 25? They are in fact known. However, knowing Russia, I highly doubt that in the current climate the Special Rapporteur will be given any documents.
OK: What are the benefits of this procedure? 
VP: Actually, it is a very important institution that publicly highlights a number of crucial problems. Primarily it explains to the entire European political class and European public in general what is going on in Russia with the Nemtsov investigation. It is important because some members of the executive branch in the EU try to practice realpolitik and not irritate Putin. But we are advocates of moralpolitik and believe that there are absolute values and freedoms, including the right to life, that have to be protected.
Besides, we want to launch a similar procedure within the parliamentary assembly of the OSCE. While Russia hasn't left PACE yet, it did recall its delegation and stopped paying membership fees. As for the OSCE, the Russians are still represented there. Moreover, America plays an active part in the OSCE. Finally, the OSCE is an organization created as part of the Helsinki Accords, and one of their main provisions is territorial integrity in the aftermath of World War II. Therefore, if you want to live in a secure world, kindly fulfill your obligations, including respecting human rights, which is also part of the Helsinki Accords. This means a proper investigation of the murder of an opposition member. The power of an open society and free information flow is a crucial factor here.
OK: When will the special report be ready?
VP: Estimates vary, but in approximately 12-18 months.
OK: Alright, so let's say the Special Rapporteur has presented their evaluation of the investigation, what next?
VP: Our goal in this process is to make everything possible to bring into the open the organizers and the masterminds of the murder. The Special Rapporteur has to give a real assessment of the investigation and conclude whether it has come to a dead end or is being deliberately sabotaged. Next, based on their report, PACE will pass a resolution.
OK: Which Russia can ignore. 
VP: Yes, I understand that, but it will bear enormous moral and informational significance. I have no doubt that sooner or later this issue will be re-addressed, at the very least after Putin's regime is over. And the groundwork for this future needs to be laid down today. Besides, I may count myself among the optimists, as I believe that, under certain circumstances, there are prospects for this happening even in the near future. We'll see. 
OK: What kind of circumstances? 
VP: For example, if the elites visibly disapprove of the current status quo. In Russia, elites play a substantial role, and Putin's elite has too much heart in the Western way of life. It is one thing when the opposition was suppressed in Russia, but something else entirely when the country is beset by international scandals and conflicts.
OK: What would be an optimistic scenario for this case in your opinion?
VP: The detention and arrest of [one of the alleged organizers] Ruslan Geremeyev, a  review of the sentence—at least in terms of the classification of the crime—and of the guilt of Khamzat Bakhayev, and a speedy resumption of the genuine investigation toward the more high-profile organizers and masterminds. An idea of what further steps should involve lies on the surface, but the process is still stymied. Besides, it is crucially important for us that during every international trip, at every conference or summit, Putin and his entourage are being asked the question of what is going on with the Nemtsov investigation.
OK: Alright, so you have explained to Western leaders and experts that the case is not solved and that Putin has to be reminded about it. Why do you think they will start asking Putin these inconvenient questions? And even if they do, what results this can bring? Over the last 18 years, plenty of unpleasant questions have been accumulated for Putin, but he ignores them.
VP: I can't agree. Who actually asks him these questions? Where? On Nemtsov, the question should sound like this: "Where are the organizers?" And Putin will have to either indicate that the Russian investigators failed the case or lie. Both options are bad for him.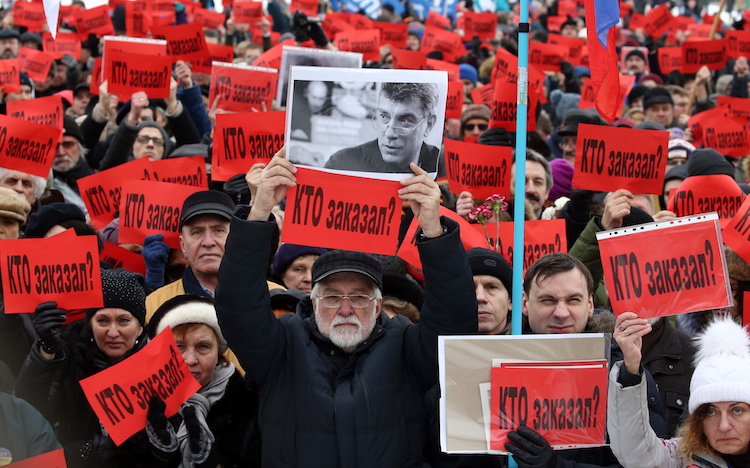 OK: Putin can always say: Don't interfere with Russia's domestic affairs.
VP: Yes, no country gets ecstatic when someone interferes with its criminal proceedings. But then you need to be successful in your investigation, solve the crime instead of covering up culprits. Where are the organizers, Mr Putin? It appears that Russia, with all its powerful, exhaustively funded special services, failed to find organizers. Two and a half years passed, and you can't find them? Did you fail this case? Then say so. "We can't." Or to be more precise, "we don't want to." This is a sensitive question for Putin; therefore it needs to be asked.
In private conversations, some senators admit that the Magnitsky Act has already angered the Putin regime enough, so why anger it more with the Nemtsov Plaza?
OK: Earlier you mentioned that some European leaders practice realpolitik in relations with Putin. Did you get the same feeling with the Trump administration during your recent U.S. visit?
VP: To my great regret, tyrants of the 21st century, like Putin, enjoy real support among some groups inside the Western political elite—both in Europe and the United States. Strange things are happening in Washington, D.C. For instance, there is a great initiative, a bipartisan bill, introduced by a group of U.S. congressmen and senators proposing to rename the plaza in front of the Russian Embassy in D.C. after Boris Nemtsov. Initiatives like this one have historical roots. In 1984, in the lifetime of Andrei Sakharov, when he was exiled in Gorky, the square where the Soviet Embassy in the U.S. used to be located, was renamed to Andrei Sakharov Plaza. It was of major moral importance. Since then, the Embassy moved, however.
But now this remarkable bill is being introduced, and it's absolutely pro-Russian—to rename a street in Washington, D.C. after a Russian citizen, a well-known politician. I think it's great. But the bill has been halted, as far as we understand, by senators close to the current administration [Editor's note: as the Washington Post reported on November 30, after this interview took place it was blocked by Senator Bob Corker, R-Tenn., chairman of the Foreign Relations Committee]. In private conversations, some senators admit that the Magnitsky Act has already angered the Putin regime enough, so why anger it more with the Nemtsov Plaza? 
OK: Is that the reason?
VP: Well, as it turned out, during the G20 Summit in Hamburg [Russian Foreign Minister Sergei] Lavrov discussed with [U.S. Secretary of State] Rex Tillerson what measures Russia would like the American side to undertake in order to normalize the relationship for a new "reset." One of the issues of substantial concern addressed by Lavrov was the renaming of this street block to the Nemtsov Plaza. Lavrov asked not to do it.
OK: Was this request actually placed?
VP: It's an open secret. In other words, some members of the Trump administration are ready to go any lengths, make any concessions in order not to fray the relationship with Putin. The well-known Russian dissident Vladimir Bukovsky was right when he wrote in his 1981 book titled Letters of a Russian Traveler that we are barely alive in Russia, literally coughing up blood, while Westerners only need to… not break under the Kremlin's pressure. And still, they come up short.
But I'd like to highlight one factor that is, unfortunately, often overlooked in the West. Some of Kadyrov's adversaries were killed not just inside Russia, but also abroad. One in Vienna—in the very heart of Europe, another in Dubai. We can add recent killings and assassination attempts in Ukraine to the list. This problem is growing into an issue of international security. Who will stop Kadyrov, who remains in good graces [with top authorities in Russia], from doing it in America, too?
MURDER SCENE
OK: If one takes a look at the media coverage of the Nemtsov murder, a quite fragmented picture emerges. You point out that the investigation has failed, that the organizers and masterminds have not been found. If you could tie all the points together, what would you say the key problems with the investigation and the trial are?
VP: As I have already mentioned, the jury found five people guilty. They are Chechen natives Zaur Dadaev, brothers Anzor and Shadid Gubashev, Tamerlan Eskerkhanov and Khamzat Bakhaev. I think that most of these individuals were involved in the Nemtsov murder as accessories to the crime, but there is insufficient evidence on some of them. For example, there is almost no evidence on Bakhaev. The hardest proof is on Anzor Gubashev, then increasingly less on Zaur Dadaev, Shadid Gubashev and Tamerlan Eskerkhanov.
My version is that Kadyrov is one of the masterminds. It is not obvious whether he is the ultimate mastermind or not. For example, I would recommend taking a closer look at the Head of the Russian Guard General Viktor Zolotov, Kadyrov's friend and patron in Moscow.
But the key issue is that none of them had any personal motive to kill Nemtsov. Officially, their motive is money. They hardly knew Nemtsov personally. Alright, they were promised money. Moreover, I am certain they were told that Nemtsov is an enemy who has to be killed. Let's suppose that. But whoever promised them the money—did they just have it lying around? Next, following the preliminary investigation I personally saw our key objective as moving as far as possible toward identifying the organizers and masterminds. Ninety percent of the questions we asked in court were related to this issue. Summarizing the results, we have now no doubt that Ruslan Geremeev was the immediate organizer and low-level supervisor of this criminal group.
OK: How did you conclude that?
VP: A number of witnesses testified against him—to cite one, "Geremeev was a chief for these guys." It was upon his orders that the apartments were bought and rented to prepare for the crime; his car was also used. Relevant written testimonies are available. Finally, Geremeev was Zaur Dadaev's immediate commanding officer. And the latter went to Moscow to visit the former.
Who is Ruslan Geremeev? An interesting individual. He is the cousin of the Delimkhanov brothers, who are quite infamous in Chechnya. One of them, Adam Delimkhanov, is Ramzan Kadyrov's "right-hand man." He has been called Kadyrov's successor. Rumor has it that in private circles his nickname is the Executioner. Adam Delimkhanov is also a Russian State Duma deputy who walks around the parliamentary building with a golden gun, which sometimes falls out of his pocket in scuffles with other deputies,. His younger brother, Alibek Delimkhanov, is Commander of the Sever Regiment, where both Ruslan Geremeev and Zaur Dadaev once served. We managed to question Alibek Delimkhanov in court, but he "forgot" absolutely everything that happened in his regiment, including matters related to Geremeev and Dadaev. Geremeev served in the regiment in the rank of Major; he is also a former battalion commander within the regiment and the commanding officer of Dudaev, who served as his deputy. So it's a very short chain.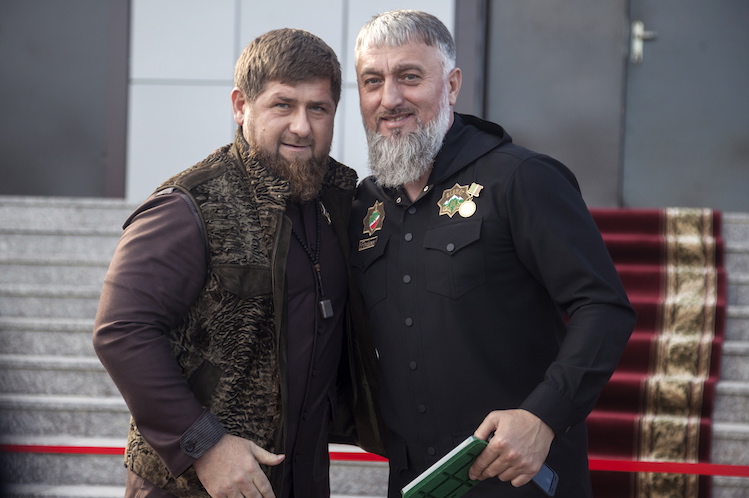 OK: Why was Ruslan Geremeev not summoned to testify?
VP: Actually, he was called to testify. Initially, some efforts were made. For example, I know that General Igor Krasnov, who had led the investigation team in the beginning, as well as his successor General Nikolai Tutevich, prepared orders to bring in Ruslan Geremeev and his driver Ruslan Mukhutdinov as defendants. But both times chairman of Russia's Investigative Committee Alexander Bastrykin, Putin's friend, fellow student and course leader at the Leningrad State University's Law School where Putin studied, rejected these orders.
OK: On what grounds?
VP: Formally, on the grounds that there is insufficient evidence on Ruslan Geremeev. But there is surely more evidence on Geremeev than there is on Khamzat Bakhayev or other defendants. In reality, I have no doubt: Geremeev's involvement in this case would mean approaching Kadyrov's closest circle. Under the current circumstances in Chechnya, these guys would not be able to act on their personal initiative. It is absolutely clear they had been given orders from above. Whether this chain of command ends with Kadyrov, or whether the Chechen leader had also been given orders, is an open question.
We need to follow through the entire chain: Geremeev, Delimkhanov, Kadyrov, perhaps, Zolotov. One of them might turn out to be the ultimate mastermind, or the trail will lead us to the very top. But at the very least, Putin, evidently, is covering up this crime.
OK: What do you mean by "current circumstances in Chechnya"?
VP: If anyone dared to commit this murder without consulting with Kadyrov first, that person would have been dealt with long time ago, without the federal law enforcement. It is absolutely clear that this murder was greenlighted by Kadyrov.
Additionally, you need to understand the ethnical component of the case. Once they get involved in criminal structures, Chechen natives face serious troubles. There is little they can do of their own free will, even to defend themselves, for the simple reason that they all have family in Chechnya that can be taken hostage. Chechens live in large extended families, not in small nuclear types [like most Russians]; therefore every criminal always has some distant cousin-in-law in a neighboring village who can become a target for revenge. This seriously complicates the task of dealing with any native of the North Caucasus. And it's one of gravest factors in this case. By the way, the United States faced similar difficulties when it was investigating the Italian mafia. It's very hard to promise anyone anything in return for confession that would help to solve the crime. People would gladly confess but couldn't, fearing that half of their families would be butchered. 
OK: So your version is that Nemtsov was murdered with Kadyrov's permission?
VP: Of course. My version is that Kadyrov is one of the masterminds in this crime. It is not clear whether he is the ultimate customer or not. For example, I would recommend taking a closer look at the head of the Russian Guard General Viktor Zolotov, Kadyrov's friend and patron in Moscow. Ruslan Geremeev, Alibek Delimkhanov and the convicted Zaur Dadaev all come from the Russian Guard [Editor's note: After the 2015 reform of the internal military forces, Chechnya's Sever Regiment was merged into the Russian Guard]. It's a special service created to suppress potential mass uprisings against Putin, and it has been sadly overlooked by the international community today. It was granted good operational capabilities and has become very influential. The friendship between Kadyrov and Zolotov is public—they visit each other, give each other medals and letters of recognition.
A few months after Nemtsov's murder, Zolotov went to Chechnya. According to my information, the two discussed, among other issues, the cover-up for this crime. It happened at the very moment the investigation was about to approach Geremeev. My version is that Zolotov, who is by definition one of Geremeev's commanding officers, helped to spare Geremeev. As far as I know, Geremeev was in Chechnya at the time, as he is now.
OK: How far up does this chain go?
VP: From 2000 to 2013, Zolotov served as the head of the Presidential Security Service and deputy head of the Federal Security Guard Service. In other words, he is one of the closest people to Putin, who wielded unlimited powers and the president's trust.
OK: Have you considered the version that Nemtsov's murder was committed with Putin's knowledge? 
VP: It cannot be ruled out, but the investigation needs to go from the bottom up, not from the top down. We need to follow through the entire chain: Geremeev, Delimkhanov, Kadyrov, perhaps, Zolotov. One of them might turn out to be the ultimate mastermind, or the trail will lead us to very top. But at the very least, Putin, evidently, is covering up this crime
OK: What about the version that special services are behind this murder?
VP: Yes, conspiracy theories that Chechens have nothing to do with it have been floated lately. But from my point of view, this crime was committed by the Kadyrovtsy [followers of Kadyrov].  There is no doubt that the special services were also involved. Why are we debating the obvious? The trial took place in the Moscow District Military Court, not in a usual Moscow city court. Why military? Well, because Zaur Dadaev and, as I'll note in parentheses, Ruslan Geremeev and Alibek Delimkhanov, are either acting or former officers of the Russian Guard, one of the most powerful special services in the country today. Next, there is the question of the origins of the murder weapon, which was never found, by the way. I disagree with the argument that it was a Makarov gun or one of its modifications, though the caliber is the same. I think it was a rarer, rapid-fire weapon. Also, the hitmen somehow knew Nemtsov's daily schedule. And finally, a person named Zhabrail, who lived along with the large group of Chechen natives in the Moscow apartments [bought or rented to prepare for the criminal act], is by all accounts an FSB officer. This fact is undeservingly overlooked by the investigation.
OK: Another argument was put forward—that the Russian special services cannot move further with this investigation because they are not allowed to operate properly on Chechen territory.
VP: Let me hazard a guess that had Putin ordered them to do so, they would have somehow dealt with this issue. But he doesn't give such orders. I know for a fact that if the Moscow investigators were given instructions to investigate Kadyrov's inner circle and granted the necessary support, they would gladly do so. But no one gives it to them—on both the republican and federal levels.
Let me give you a simple example. On April 22, 2015, my colleague Olga Mikhailova and I filed a court notice requesting to call for questioning a number of people and to initiate investigative proceedings. They are Ruslan Geremeev, his uncle Suleiman Geremeev, who is incidentally a Russian Senator, member of the Council of the Federation, brothers Adam and Alibek Delimkhanov, and Ramzan Kadyrov. On the same day, Kadyrov, perhaps, unaware of our petition, publicly asserted that if the "federals" showed their faces on Chechen territory without prior confirmation from the republican special services, the latter are allowed to shoot to kill. This is just surreal!
WHY NEMTSOV
OK: One of the questions that is often raised when something happens to Kremlin critics: "Who cares about him/her?" How would you respond to the cynics?
VP: This is one of the most annoying questions for me. And it is voiced not only in Moscow—something similar I heard even in Washington. They might not care, but Nemtsov was killed! Moreover, it was a meticulously planned assassination, with the investigation being undermined, while the murderers are being covered by the country's top officials, including the president. This means that Nemtsov bothered them. In my opinion, the key motive in this crime was to stop Nemtsov's political activities. By the way, the same questions were raised about Politkovskaya, Estemirova, and others. And they, too, were killed!
Boris Nemtsov was one of the key supporters of the Magnitsky Act. It's one of the most threatening laws for the Putin regime as it targets individual members of the Russian elite. These people's interests are in the West, their children study in London, New York and Paris—not in Pyongyang, Tehran or Havana.
OK: What exactly in Nemtsov's activities was bothersome?
VP: First, he was very sociable and influential within the opposition movement; he brought people together, not divided them. There is no such person anymore—the opposition has been split and, as Zhanna Nemtsova was correct to point out, beheaded. He had influence in the West, was fluent in English, was once friends with Margaret Thatcher. Many senators, congressmen, parliamentarians would gladly shake his hand.
Second, Boris Nemtsov was one of the key supporters of the Magnitsky Act. It's one of the most threatening laws for the Putin regime as it targets individual members of the Russian elite. These people's interests are in the West, their children study in London, New York and Paris—not in Pyongyang, Tehran or Havana. Their wealth is also stored in the West. Therefore, the elite is very sensitive to travel bans to the West. In this sense, this law achieved its goal by sparing the Russian people entirely, because it is based on the mechanism of personal sanctions.
Who actively lobbied for this law? I know three people. One is Bill Browder, who lives between Britain and the United States. He is hard to get. Besides, I believe that today, after the tragic poisoning of Alexander Litvinenko and the public inquiry into this crime, Russian intelligence has reached the limit of potential killings on UK territory. The second is Nemtsov, who was killed. And the third is Vladimir Kara-Murza, who was severely poisoned twice. He barely survived. And in his case, it was clearly done not by the Kadyrovtsy but by Russia's special services. In other words, the orders [to get rid of the supporters of the Magnitsky Act] were assigned to different groups: poisoning Kara-Murza went to the special services, killing Nemtsov to the Kadyrovtsy. 
OK: So this could be revenge for the Magnitsky Act?
VP: I believe there was a complex of reasons. In the last years of his life, namely from September 2013, Nemtsov served as a deputy in the Yaroslavl Regional Assembly (Duma). His comeback to politics was triumphant. With his new status, he acquired limited but still formal powers of an elected official, albeit at the regional level.
On May 30, 2014, he filed an official request to FSB director Alexander Bortnikov, asking to clarify the situation with the Kadyrovtsy, some of whom were featured in a CNN report driving around Donbass and claiming they were there to help the DNR and LNR [self-proclaimed Donetsk and Lugansk People's Republics in Eastern Ukraine — ed.]. Nemtsov never got any response, but he struck a raw nerve with the Russian authorities. Understandably, neither Kadyrov, nor Putin was amused. Besides, Nemtsov regularly published critical posts on social media about the madding crowds that Ramzan Kadyrov would gather at his stadiums in Chechnya and claim that he is Putin's loyal foot-soldier, ready to hunt down enemies. By enemies he, evidently, meant opposition.
OK: Nemtsov is not the only one who made such critical statements.
VP: But he was the only acting deputy who could file requests to the country's top officials.
OK: Let me go back to the question about the DNR and LNR. One version that was circulated right after the murder focused on Nemtsov's investigation into Russian military personnel killed in Donbass. What do you think about this connection?
VP: Nemtsov had indeed been preparing a report on Ukraine [Editor's note: the report was later finished and published by Nemtsov's colleagues under the title "Putin. War"]. But he had produced critical reports before: Putin. Results, Putin: The Life of a Galley Slave, Winter Olympics in the Subtropics, Luzhkov: Results (available in Russian). Clearly, both the "federals" and the Kadyrovtsy were concerned about all of this.
But I'd like to highlight one important moment. You know, there is a complex of reasons, but there was also a final straw. In April 2014, in Kyiv, responding to some journalist's question about Putin, Nemtsov exclaimed "F**k your Vladimir Putin!" [using Russian criminal slang]. The journalist recorded and later posted it on YouTube. This episode was described by [New Times editor-in-chief] Yevgenia Albats in her article "Figure of Speech." Now, you need to understand that Putin grew up in the 1950s on a Leningrad backstreet where criminal thinking was dominant. At the time, following Beria's amnesty of 1953, not just political prisoners, but also dangerous criminals were coming back from the camps. And according to this criminal thinking, one has to be held accountable for certain words. As for Kadyrov, he comes straight from a criminal background. Based on information I have, this video recording was the final trigger.
At first, there were some attempts to charge Nemtsov with a criminal offense [for these words], but we fought them off, though now I regret we did. But by the end of summer 2014, it became clear that it would be impossible to indict Nemtsov on this account. And then they started preparing for the murder.