In late August, Russian troops as good as started the invasion of the Ukrainian territory. Despite the Russians' drastic escalation of the military conflict, the West has remained neutral with regard to Vladimir Putin's aggressive policy. According to writer Alexander Podrabinek, the sooner Western leaders realize that this position is misguided, the lower the cost of reestablishing peace will be.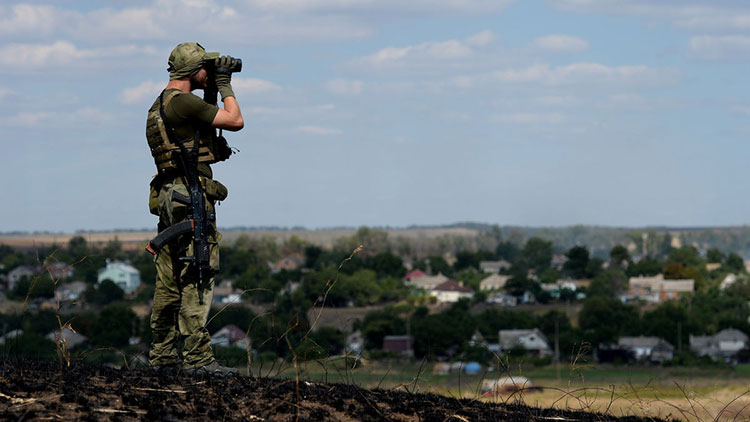 Almost the entire world condemns the Russian aggression toward Ukraine. Most countries sharply oppose Russia's policy, others express moderate concern, and still others are keeping quiet out of fear or shrewdness. It is obvious that confronting a major producer and exporter of oil and gas such as Russia could result in various economic troubles. Both the West, which is dispirited by this situation, and Russia, which has bet on its own invincibility, understand that risk.
No attempts have yet been made to actually stop Russian aggression toward Ukraine. Economic sanctions by Western countries are more of a symbolic gesture intended first of all to formally register these countries' disapproval of Russia's position and second to ensure that their leaders look their best in front of voters.
President of the European Council Herman Van Rompuy does not deny that the new restrictive measures against Russia may create problems for some EU countries, but he is convinced that "this is the price you must pay." The question is if this is the price that should be paid for symbolic gestures.
Top Western government officials claim that the sanctions are working and that Western countries should continue in the same direction by introducing new packages of restrictive measures. All the while, the situation in Ukraine has not improved, Russia's presence in Ukraine's eastern regions has expanded, and the undeclared war is under way. The ineffectiveness of the Western sanctions is absolutely clear. A number of Russian officials have indeed been punished, Russia's economy and its financial sector have suffered certain damages, and the country position in the global community has been undermined. However, none of these outcomes have affected the real situation in Ukraine's eastern regions.
On August 28, U.S. president Barack Obama declared that economic measures against Russia had been rather effective and that a new package of sanctions was being prepared. At the same time, he declared that the United States was "not taking military action to solve the Ukrainian problem" and that "a military solution to this problem is not going to be forthcoming." Thus, he essentially blessed Putin's further military operations against Ukraine. In reality, the Kremlin laughs at Western sanctions and is pleased with the West's promise not to intervene.
Let us remember history. On October 29, 1956, Hungarian regent Miklos Horthy called on the United States, Great Britain, and West Germany to help the Hungarian "revolution" and, if necessary, to proceed with military action. At the time, Hungary was trying to get away from the Soviet bloc. The United States not only disregarded this appeal, but on the next day, October 30, U.S. ambassador to the Soviet Union Charles Bohlen notified the Soviet government about the United States' decision to remain neutral in case of possible Soviet interference in Hungary. Thus, the United States gave the Soviet Union carte blanche to crush the anti-Communist revolution in Hungary. Five days later, the Soviet Union launched Operation Whirlwind, the large military intervention in Hungary that led to the collapse of the revolution.
Today, President Barack Obama is giving Putin similar carte blanche to occupy Ukraine. The nation's words of condemnation will remain just that—words. Economic sanctions will hurt the Russian economy, but they will not save an independent Ukraine. Both the White House and Kremlin officials understand that.
Other countries realize that as well and have reacted in different ways. Those countries that feel threatened by Russia or still remember their former enslavement under the Soviet Union are more concerned than others. The chairmen of the foreign affairs committees of the parliaments of Estonia, Latvia, and Lithuania made the following joint statement: "We address EU and NATO political leaders, parliaments of EU and NATO member states and the entire international community to take urgent actions in order to stop aggression by the Russian Federation. . . . We call on the European Council . . . to demand the immediate withdrawal of armed forces of the Russian Federation from the territory of Ukraine and to decide on further actions, including enhancing military cooperation with Ukraine."
President Barack Obama is giving Putin carte blanche to occupy Ukraine. The nation's words of condemnation will remain just that—words. Economic sanctions will hurt the Russian economy, but they will not save an independent Ukraine. Both the White House and Kremlin officials understand that.
Countries that share borders with Russia understand only too well the differing value of words and of military support. According to Minister of Foreign Affairs of Lithuania Linas Linkevičius, "the Russians have crossed our red line many times and will go on until they are stopped. . . . It is time to consider offering military support to the Ukrainian army." Andrey Illarionov, a former advisor to Vladimir Putin, agrees that "the only thing Putin is afraid of is the use of military force against Russian troops."
Ukraine understands the situation better than any other country. On August 29, Ukrainian prime minister Arseniy Yatsenyuk introduced to Parliament a bill that would abolish Ukraine's non-alignment status and would revive its efforts to achieve NATO membership. Ukrainian interior minister Arsen Avakov expressed his support of Yatsenyuk's initiative: "If the parliament approves it, the path to NATO will be open," he posted on his Facebook page. "And this is a very correct decision! Only madmen would counter such a decision in the current situation." At the same time, Batkivshchyna Party leader Yulia Tymoshenko has announced that her party will initiate a national referendum on Ukraine joining NATO.
As NATO Secretary-General Anders Fogh Rasmussen declared when commenting on Arsenyuk's initiative, "We fully respect Ukraine's decisions as regards Ukraine's security policy and alliance affiliations. I'm not going to interfere with political discussions in Ukraine, but let me remind you of NATO's decision taken at the Bucharest summit in 2008 according to which Ukraine will become a member of NATO, provided, of course, Ukraine so wishes, and provided Ukraine fulfill the necessary criteria."
In response to Ukrainian actions, other Russian neighbors have also started to speak up. President of Kazakhstan Nursultan Nazarbayev declared that Kazakhstan might leave the Eurasian Economic Union, which also includes Russia and Belarus. Finland's Defense Ministry has accused Russia of violating its airspace. In the Netherlands, a Dutch F-16 military jet took to the skies to intercept and escort two Russian Tu-95 bombers out of its area of responsibility. On August 21, Japan sent fighter jets to intercept two Russian Tu-95 bombers that had flown over the perimeter of the Japanese archipelago.
Nowadays, in a prewar atmosphere, things that used to go unnoticed start seeming like real threats. Everyone feels that international security has been seriously damaged and that it is time to think about military protection. Finland and Sweden intend to sign an agreement on closer cooperation with NATO and to authorize that alliance to use their territories for establishing bases and conducting military exercises.
According to an interview with Fogh Rasmussen in the Guardian, NATO is planning to deploy additional troops along the Russian border. "We already have something called the NATO response force, whose purpose is to be able to be deployed rapidly if needed," Rasmussen said. "Now it's our intention to develop what I would call a spearhead within that response force at very, very high readiness."
Unlike politicians, people with a military background are not prone to delude either themselves or others with speeches about peaceful intentions and diplomatic successes. They evaluate the possibility of a military threat based on actions—not on words.
Western countries' wish to avoid an open conflict is understandable, as is their wish to sit it out while others are fighting. It is unlikely they will be able to pull this off, though. Let us look at another historical example. On September 5, 1939, the United States declared its neutrality in the war between Germany and Poland. This neutrality lasted for two years while Nazi Germany was stomping across Europe and building up its military force. Then came the attack on Pearl Harbor, the war in the Pacific, the D-Day landings, and almost half a million American casualties in World War II.
Western countries could not sit it out then. It is even less likely that they will be able to do it now. The world has become much smaller than it used to be. The war that Russia launched against Ukraine concerns everyone. The earlier Western leaders fully realize that, the lower the cost of reestablishing peace will be.