Page 4 of 4

C.I.: Do you analyze the results of your political campaigns?

E.C.: Of course. We look at how the external environment reacts and draw our conclusions. If we are conducting a political campaign and then it turns out it isn't working, we stop and look for new methods.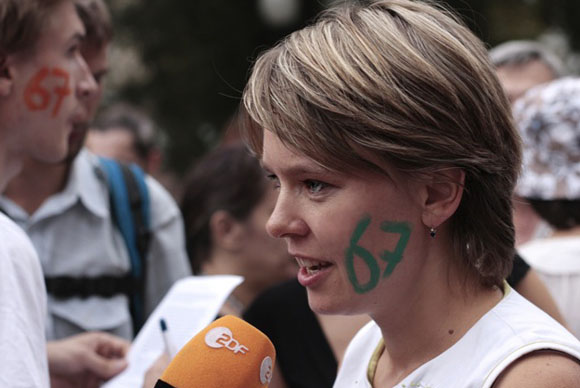 Now we are trying to identify groups within various Russian cities which are fighting for their rights, including environmental rights. But we don't limit ourselves to the environment. We help each other assert our human rights, and I believe that combining the efforts of these diverse groups to help one another is a worthy aim. No one of us can win on our own. Despite the fact that our movement stands to protect Khimki forest, Khimki forest is a nominal concept. It is just a symbol for our struggle, a symbol of a small person's struggle against the big authoritarian machine. We would also like to protect Baikal, to protect Sochi's coastline. And the main aim is, of course, de-zombification of our country's citizens. But this is a very long process.

Also, you know, I do realize that I won't get to see the results of my labor, in my lifetime. God willing, my kids will. But it is certainly worth it, to keep trying, so that they can have a different life.

C.I.: The passionarii [passionarii are people who are enterprising, active, willing to risk everything and put their needs second to the achievement of a particular goal - ed.] are often accused of being psychologically dependent on the public's and mainstream media's attention. Last month, during the panel discussion at the Harriman Institute in New York City, your opponents presented these tough accusations against you. Here you are, a good-looking young woman, and you've become a media personality. Now everyone is interested in you. And so, your opponents claim, you are doing your activism for this media attention. Is there any truth to these accusations?

E.C.: My gentlemen opponents are simply unaware of the negative effects of this kind of popularity in Russia. After all, we're not in America or English. We are in dear Russia, which is basically another planet. In Russia, this attention means that they have tried to take away my kids, then tried to run down my business, and people in uniform are always dragging my clients away for questioning, asking them what extremist services I am providing. And because of this, I am losing money. I basically now keep quiet about the fact that a crowd of the nashists supporters were always following me around in America. This isn't the kind of attention I like. I have a beloved husband, kids, a mother, friends, a business, my necessary property…my life is so perfect that I don't even have cellulite [laughs].

I have everything that a happy person needs. Everything except a prosperous country. I am obligated to deal with this if I don't want to emigrate. And I don't want to emigrate because this is my country and my language, and I love my country. I really like America, and Europe, and I'm obsessed with France…but I am Russian and I want to live in Russia. I want for things to go well in my country. I am obligated to work on these things myself, and yes, pay attention to the press, but not to look for myself, but to pay attention to the issues for which I am fighting.