Vladimir Putin's ten-day absence from the public eye has become the most discussed event in Russia this past month, and also highlights the country's crisis of governance. According to Donald Jensen, resident fellow of the Center for Transatlantic Relations, keeping the increasingly polarized political forces under control is becoming a much harder challenge for Putin.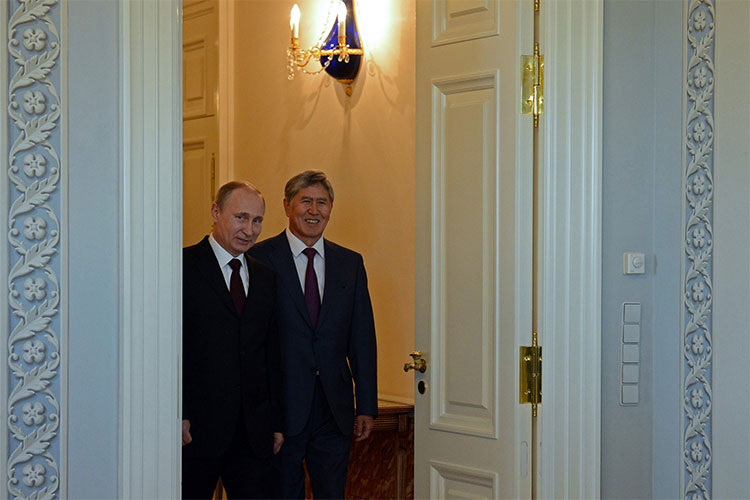 Ten days after going missing from the public eye, Russian president Vladimir Putin reappeared on March 16, alive and apparently healthy, when he met with Kyrgyzstan president Almazbek Atambayev in St. Petersburg's Konstantinovsky Palace. Ordinarily, this would be a mundane political event. But left unanswered was where he had been the previous ten days, during which he canceled several public meetings and delayed a planned summit in Kazakhstan. Putin's absence caused a firestorm of speculation: that he was ill, had died, had been removed in a coup, or was once again a father. His disappearance also seemed to drive the political system, which Putin rules, to the verge of a nervous breakdown. Looking relaxed before television cameras, however, the Russian president laughed off speculation about his health and told Atembayev that life "would be boring without gossip." That day Putin also made sure to show the world his fitness to lead: he put Russia's Northern Fleet in a full state of readiness in the Arctic. More than 45,000 troops, as well as Russian submarines and aircraft, began major military exercises. Two days later, he attended the "We're Together" concert in Moscow celebrating the one-year anniversary of the annexation of Crimea.
One of the most plausible explanations for Putin's absence is a need for time off after the shock of opposition leader Boris Nemtsov's murder on February 27 and learning who may have been responsible. Putin was furious when he learned of Nemtsov's killing, according to several sources. Investigators arrested five suspects: Chechens who had served in one of the security battalions of Ramzan Kadyrov, the thuggish warlord to whom Putin has given free rein to kill jihadists and create a brutal police state in Chechnya in exchange for money and personal loyalty. Few experts believe that Chechen fighters could have carried off the assassination of Nemtsov without Kadyrov's acquiescence.
Russia's Federal Security Service (FSB) likely knew about the plot as well, since FSB personnel trailed Nemtsov constantly. The killers may also have received help from sympathizers in the security services who supported their goals and either encouraged the plot or let it happen, while at the same time using the shooting to undercut Kadyrov and force his removal. Indeed, after Nemtsov's death, the FSB showed signs it was using the investigation to settle scores with Kadyrov, its bitter rival. But while the FSB may be prepared to go after Kadyrov, who publicly praised the chief suspect in the murder, the Russian president is not. When Putin reappeared, he indicated he was willing to sacrifice the alleged killers but sent a message not to touch Kadyrov, their former commander, by awarding him a medal. The fact that there are competing "official" versions of Nemtsov's murder being leaked to the media, moreover, seems to indicate a struggle within the power structure over how to spin the event.
There is no love lost between the Russian military and the security services, on the one hand, and Kadyrov's fighters, on the other. The Russian siloviki reportedly resent the untrammeled political authority and conspicuous wealth of the Chechens, whom they helped defeat more than a decade ago. The evidence available in the Nemtsov case thus suggests a struggle between the two pillars of Putin's rule, forcing Putin to decide who the true defender of Russia is. But Kadyrov's possible role in Nemtsov's killing—and reports of a "hit list" targeting other opposition figures—raises the prospect that Kadyrov has adopted a strategy of freelancing against the regime's political opponents to keep himself indispensable to the Kremlin. If this is the case, he would, in effect, be taking the entire leadership hostage.
In this brittle and unstable political system, feuds are constantly bubbling up, requiring constant personal intervention from the man in the center. Putin's challenge is to maintain within a single political construction multiple groups with increasingly polarized interests.
Indeed Kadyrov's high visibility, as well as the other circumstances surrounding Nemtsov's murder, suggests that conflicts are intensifying in the upper echelons of Russia's leadership more generally. The struggles, moreover, appear to go beyond the usual infighting over access to Putin or controlling cash flows to more critical issues, such as war and peace and how hard a line to take domestically. Defense minister Sergei Shoygu was reportedly reluctant to deploy Russia's army in Ukraine, thereby clashing with presidential chief of staff Sergei Ivanov and head of the Kremlin's Security Council Nikolai Patrushev. Patrushev and Vladislav Surkov (the Kremlin's most influential spin-doctor, personal advisor to Putin, and a close ally of Kadyrov) have been rivals in the messy job of controlling Ukrainian separatists. In a speech at the Mercury Club in January, former Russian prime minister Yevgeny Primakov took a relatively moderate line on Ukraine by Kremlin standards. Meanwhile, extremists in the "Kremlin periphery" with links to the top have been clamoring for Putin to be tougher both at home and toward the West.
Russia's economy, battered by Western sanctions and declining oil prices, has also caused leadership strains: Igor Sechin's oil giant Rosneft was denied the financial support it sought from the National Welfare Fund. The state monopoly Russian Railways, controlled by oligarch Vladimir Yakunin, has warned that it will need $8 billion in state subsidies through 2020 to offset its losses. Although a coup against Putin does not seem imminent, there exists noticeable dissatisfaction with the president in some quarters, with the strategy for removing him being the replacement of Dmitry Medvedev (his constitutional successor) as prime minister. Sergei Ivanov, who curiously also temporarily disappeared from view the day of Nemtsov's death, has been positioning himself to replace the prime minister for some time.
In this brittle and unstable political system, feuds are constantly bubbling up, requiring constant personal intervention from the man in the center. Putin's challenge is to maintain within a single political construction multiple groups with increasingly polarized interests: the Kadyrovtsy; the siloviki; conservatives and liberals; the non-systemic opposition; and extremist Anti-Maidan forces. But with his freedom to maneuver diminishing, it's unclear whether this is still possible.
What has kept these currents churning has been Russia's crisis of governance, which existed before Nemtsov's death and Putin's subsequent disappearance, but which has been starkly highlighted since. Under the current circumstances, as political scientist Pavel Baev has stated, Putin "can no more easily order the war machine to halt than he can command the economy to grow. Yet he personally both symbolizes the integrity of state institutions and concentrates all of Russia's decision-making processes on every serious matter." The Russian president "has boldly abandoned his trademark political pattern of stability and now presides over management of multiple crises conceptualized as an epic struggle for Russia's identity." Putin's absence has not reconfirmed his indispensability, but rather signaled that the Kremlin court may not be able to manage the appointment of a new tsar without an inter-clan feud, in which Kadyrov, with his "battalions and billions," could be a major force.
Before his death, Nemtsov called attention to the dangers inherent in such a system: "I cannot understand what Putin expects when arming 20,000 Kadyrovtsy gathered today in the stadium in Grozny," Nemtsov wrote in a Facebook post in December, after Mr. Kadyrov led his troops in chants of "God is great!" at a rally in the Chechen capital's new soccer arena. "What will happen next?" he wondered.