Page 1 of 3
On May 7th, Dmitry Medvedev, the third Russian President, officially left office. During his term, he launched a number of promising initiatives, including countrywide modernization, a war on corruption, and founding the Russian Silicon Valley. However, almost all of his endeavors led to the opposite of their intended result. IMR's Olga Khvostunova details Medvedev's progress through the political apparatus to show why these failures were inevitable.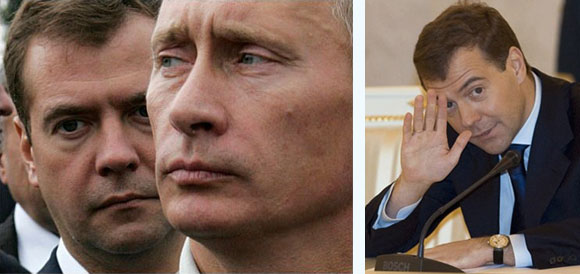 A Young Careerist
Before assessing Medvedev's presidency, it is worth remembering the milestones of his career prior to becoming the head of the state.
Dmitry Medvedev was born in September 1965 in Leningrad into a family of teachers. He graduated from the Law School of the Leningrad State University (now the St.Petersburg State University) with a PhD. His thesis was titled Problems of the Realization of the Legal Personality of a State Enterprise. Medvedev's professors saw him as a capable and hard-working student.
From 1990-1997, Medvedev taught Civil and Roman Law at his alma mater. At the same time, he advised Anatoly Sobchak, who was then the Chairman of the Leningrad Council of People's Deputies. Around that time, Medvedev met Vladimir Putin. After Sobchak was elected the mayor of St. Petersburg, Medvedev became an advisor to the Committee for Foreign Relations of the Mayor's office.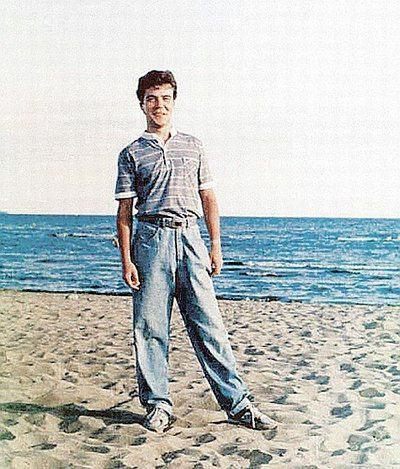 Medvedev graduated from St.Petersburg High School #305 in 1982
A detail worthy of the reader's attention: in 1993 Medvedev, co-founded ZAO Fincell, a legal company that became part of the foundation for Ilim Pulp Enterprises, where Medvedev was Director of Legal Affairs until 1998. Today, the Ilim Group is the largest company in the Russian paper pulp industry.
In November 1999, Vladimir Putin, as the newly appointed Prime Minister of Russia, invited Medvedev to work on his staff. During Putin's presidential campaign, launched in the beginning of 2000, Medvedev became head of his campaign office. After Putin's victory, Medvedev was appointed First Deputy Prime Minister.
When Putin initiated Gazprom management restructuring, the largest Russian gas monopoly, Medvedev was installed as the chairman of the board of directors at only 36 years old. He served in that position until 2008.
Meanwhile, Medvedev's political career was also on the rise. In 2003, he led the presidential administration. Two years later, Putin entrusted him to supervise his four national priority projects. These were in the fields of healthcare, education, housing, and agriculture. Over the course of four years, more than 500 billion rubles (around 17 billion USD) were allocated toward these projects, although the results of these efforts remain decidedly vague. In 2009, the updates on the official website for the projects (http://rost.ru) ceased, and it became obvious that this initiative, too, had been buried.
Medvedev proved that he had neither leadership qualities, nor charisma, nor political bravery. He was neither an opportunist nor a strategist. He was just an intermediate link between two Putin terms.
In 2007, Medvedev registered as a presidential candidate, becoming one of the two possible successors to Vladimir Putin. The other was Sergei Ivanov, the former Defense Minister and then First Deputy Prime Minister. The public and political analysts were kept guessing until December 2007, when finally Putin officially endorsed Medvedev's candidacy. According to a number of policy analysts Medvedev was chosen for loyalty, predictability, and manageability. On March 2nd, 2008 Medvedev was elected the third Russian president with 70.28% of the vote.
Although he was only 42, Dmitry Medvedev's achievements seemed beyond impressive; he received a brilliant education, acquired useful connections, had served at the head of two leading Russian companies, and had a mind-blowing political career, becoming the youngest ruler of Russia in the past 100 years.
Despite his achievements on paper, Medvedev's work came to minimal results. He had hardly influenced any strategic decisions, introduced any prominent initiative, or otherwise stood out among Putin's circle. But he proved himself to be a reliable executor of the wills of others, and as a person who never allows himself to step out of the line.