In the recently-announced Russian cabinet of ministers, led by Prime Minister Dmitry Medvedev, nearly three-quarters of appointees are new to their posts. Many of them had been deputy ministers during Medvedev's presidency, earning the new cabinet the nickname of "Cabinet of Deputy Ministers," while their former bosses have moved into the presidential cabinet. Russian attorney and business consultant Pavel Ivlev profiles the appointees, concluding that the competition among them is unlikely to lead to progress in the country.

Notably absent from Medvedev's new government are Igor Sechin, known to some as the Darth Vader of Russian politics; ex-Minister of Education Andrei Fursenko, Vladimir Putin's longstanding friend and business partner from the notorious Ozero Cooperative Society; and former Minister of Health Tatyana Golikova, who has allegedly been involved in large-scale corruption. Both Fursenko and Golikova are unpopular with the public. Minister of the Interior Rashid Nurgaliev was also sent into retirement, having ruined his reputation with a botched attempt at police reform. Many of former deputy ministers and other career bureaucrats have moved into ministerial seats, but the key positions of Foreign, Defense, and Finance Ministers were retained by Putin's appointees—Sergey Lavrov, Anatoly Serdyukov, and Anton Siluanov, respectively.
On the whole, control of the cabinet does not clearly fall on the side of Putin or Medvedev. In fact, its most prominent characteristic is its multiple centers of influence. Policies will be determined by a number of ministers—by and large, are placeholder functionaries--who are neither entirely under Medvedev's nor Putin's patronage.
In contrast to Putin's cabinet, this administration lacks clear-cut factions, as described in a recent IMR article, such as the executive camp led by Igor Sechin, the stability camp led by Alexey Kudrin, or the advocates of economic growth led by Elvira Nabiullina.
The most important role in the cabinet will be that of the Prime Minister himself, Putin's proxy in the Kremlin, whose complete political dependency on him is a fact of Russian politics.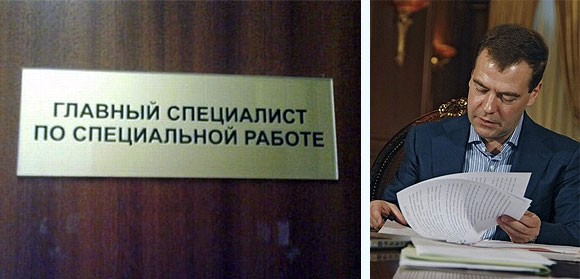 Medvedev's colleagues as a group are epitomized, first of all, by Deputy Prime Minister Arkady Dvorkovich, who is now in charge of industrial policy and the fuel and energy sector; as well as by Minister of Justice Alexander Konovalov, Medvedev's college classmate, and Vladislav Surkov, deputy prime minister in charge of modernization. This latter appointment did not come as a surprise to anyone; putting one of the Kremlin's most influential movers and shakers in charge of the essentially fictitious realm of innovation is an obvious demotion. However, Medvedev did manage to convince Putin to appoint Surkov as the cabinet's chief of staff, a highly important position that gives him complete control over internal negotiations within the cabinet.
Prior to the confirmation of this post, the Russian establishment had basically written Surkov off in light of the fact that  "overseeing innovation" is a bogus responsibility. With his appointment as the chief of staff, he received a new lease on life. His informal realm of responsibility will be agencies that create policy, a bloc that was established during Putin's second cabinet, from 2008 to 2011, when it was under the auspices of Vyacheslav Volodin.
Surkov will not only serve as chief of staff, he will also be in charge of regulating the relationship between the cabinet and the ruling party in the Duma, a relationship that is critical for Medvedev, who has been the head of the United Russia Party since May 26th. Thus, Surkov has actually gained more ground than anyone else in the latest reshuffle: he managed not only to expand his own realm of influence, but also to secure ministerial appointments for people from his inner circle. These include the new Minister for Education and Science Dmitry Livanov, who is the head of the Moscow Institute of Steel and Alloys (MISiS), Surkov's alma  mater, where he has since maintained close ties with the administration.
Oleg Govorun is another now-active player who had been benched a mere 18 months ago. Dismissed from his position as the domestic policy chief, he was "exiled" with an appointment as the Presidential Envoy to the Central Federal District. His exile reportedly came as the result of a conflict between Vladislav Surkov, then the first deputy of presidential chief of staff, and Vyacheslav Volodin, who was chief of staff in the cabinet and supervised Putin's re-election campaign, as well as the formation of the Russian People's Front. Surkov lost that struggle, and Volodin took over his old post in the Kremlin. But now, one could say that the former mastermind is in a position to get even: not only has Surkov acquired control of his own handful of policy-making agencies (whose very existence is new), but he is also bringing his own people back into the highest ranks of government. In the new cabinet, Govorun is the Minister of Regional Development. Although this has not traditionally been an influential post, according to some government insiders, it puts Govorun in charge of election campaigns outside of the capital, in districts where governors are once more to be popularly elected (a change in which Dmitry Medvedev played an instrumental role).
The Ministry of Culture went to Vladimir Medinsky, who also evidently owes his appointment to Surkov.  Medinsky is a well-known PR manager, a defender of Russian sovereignty against the encroachment of "external enemies", and a former United Russia Duma representative. A highly divisive figure, his appointment caused uproar among liberals and human rights advocates. He has never even remotely been involved in cultural affairs, but was actively engaged propagandizing "sovereign democracy." His specialty is countering the revisionism of Russian history–revisionism, to which he has also contributed to substantially as an apologist for Stalinism who has claimed, for instance, that Norilsk wasn't built by forced labor, but volunteers. (Note from the Editor: this important topic will soon be covered by IMR in a separate article). Appointments such as this one further demonstrate the expanded influence of Surkov and MISiS graduates.
Finally, there's Arkady Dvorkovich, the most ambitious figure in Medvedev's administration. When Putin was Prime Minister, Dvorkovich distinguished himself with his willingness to engage in acrimonious debates—first with the Ministry of Finance, on fiscal and budgetary policies, and then with Igor Sechin, arguing with him in favor of the large-scale privatization of industry. Dvorkovich was hardly successful. His biggest miscalculation was not expecting a third presidential term from Putin, which completely undermined the efforts of everyone from Medvedev's circle to stabilize their positions in the upper echelon of Russian government.
It is worth noting that, in spite of his rather broad area of responsibility as Deputy Prime Minister (combining, in fact, the previoust responsibilities of Sechin with those of another former Deputy Prime Minister, Viktor Zubkov), Dvorkovich's appointment nonetheless does not put him in a better spot that Surkov. This is connected to the fact that all of the ministries in his purview are controlled by appointees who are ideologically and politically different from him. The Ministry of Industry and Trade remains in the hands of Denis Manturov, a protégé of Sergey Chemezov, the head of the state-controlled Rostekhnologii. Chemezov is part of the executive camp and owes his career to having known Putin since the latter served in East Germany. Chemezov was also at the center of Medvedev and Dvorkovich's campaign to abolish state corporations.
The Ministry of Economic Development, which is of key importance to Dvorkovich, ended up, as was expected, in the hands of Andrei Belousov, formerly the director of the economic and finance department under the cabinet chief of staff.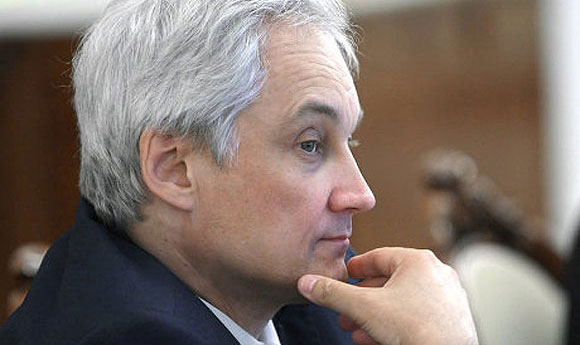 While Belousov is a highly respected and accomplished economist, he is also known as a supporter of the government's interventionist industrial policies, and a proponent of planning in economic policy as well as increasing government investment in the economy. He is a typical representative of the growth camp, advocating for active government regulation and stronger state involvement in strategic sectors of the economy. Currently, he is in charge of the Agency for Strategic Initiatives, established by Putin, a public relations project officially created to spur innovation, but in reality intended to put forth a more modern image of Putin himself.
Finally, the worst news for Dvorkovich is the appointment of Igor Sechin as Rosneft chairman of the board. This means that Sechin will maintain his highly influential role in Russia's fuel and energy sector and the new Deputy Prime Minister will have no choice but to contend with him.
On the other hand, the fact that Sechin has retained his influence in the fuel and energy sector is balanced by the greater strength accorded to his opponent, the new Minister of Natural Resources and the Environment, Sergey Donskoy. Formerly the Deputy of Yuri Trutnev, Donskoy had worked in mid-level positions within the ministry, and later did stints at LUKoil and Zarubezhneft until finally returning to government service in 2005, as the second-in-command within the ministry. During his work under the former minister, who was an active adversary of Sechin's, Donskoy shaped up to share Trutnev's views. One example is his arguing against the expansion of private companies' access to the Russian sea shelf and for developing new, more liberal legislation on underground resources.
With this succession in the Ministry of Natural Resources, a continuity has been preserved, something that cannot be said about the Ministry of Energy, previously led by Sechin's protégé, Sergei Shmatko. The new minister is former Deputy Minister of Finance Alexandr Novak, who made his career in Norilsk Nickel and was consequently promoted by his former boss Alexander Khloponin (who, after leaving the company, served as the Governor of the Krasnoyarsk Krai and is currently the Deputy Prime Minister and Presidential Envoy for the North Caucasus Federal District). However, one should not overestimate the significance of these connections. As is the case with most cabinet members, Novak is largely a nonentity and, most importantly, he has almost no tie to the real players in the fuel and energy sector.
Only two of the cabinet ministers are Medvedev's own people. These are Alexander Konovalov (who aspired to the position of Russia's Attorney General, but failed to obtain it and instead, has remained Minister of Justice) and Mikhail Abyzov, Minister for Relations with the Open Government.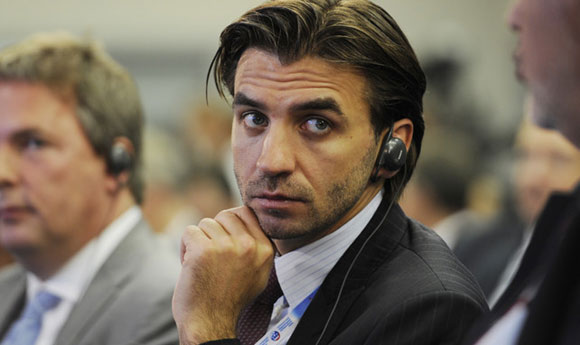 The latter appointment may be the most enigmatic in the new cabinet. Abyzov was seen as Medvedev's right hand and possibly a contender for Sechin's previous role. Instead, he ended up at the helm of a new ministry with nebulous responsibilities. Nothing is entailed in his position other than managing the relationship with something called an "open government," and, as of yet, nobody understands what this project of Medvedev's is all about. Today, the "open government" exists merely as a posse of loyal analysts and unabashed spin doctors, along with a website that is just as trendy as it is useless.
Of the Vice Premiers that are close to Medvedev, beside Dvorkovich and Surkov "the defector," there's only Alexander Khloponin. However, his only area of responsibility will be the North Caucasus, a realm that he reportedly has been looking to escape from for quite a while. Dmitry Kozak will remain in charge of preparing for the 2014 Sochi Olympic Games; Olga Golodets, the new Deputy Prime Minister for Social Issues, is yet another politically-irrelevant technocrat. She was proposed by Mikhail Prokhorov, the billionaire leader of a pro-Kremlin right-wing party that failed to materialize. Until recently, Golodets was in charge of the socio-economic sector in the Moscow municipal administration. However, the people placed at the helm of the two ministries under her purview, namely the Ministry of Healthcare and the Ministry of Labor and Social Security, are the former deputies of the previous Minister for Social Issues Tatiana Golikova, Veronika Skvortsova and Maxim Topilin, respectively.
The post of the Minister of Agriculture—traditionally viewed as a form of punishment for senior government officials fallen out of favor—unexpectedly went to Nikolay Fedorov, the former Governor of the Chuvash Republic and the unsuccessful candidate for the authorship of the election program of All-Russia People's Front. Fedorov, whose inconspicuous path in Russian politics can be traced back to the early Yeltsin years, has returned to Moscow—either to try to revive the Russian agriculture industry, which has stagnated since the collectivization of the 1930s, or simply to make some money for his retirement.
Before the new government appointments were announced, commentators speculated about who was going to represent Putin's interests in Medvedev's cabinet. Putin resolved this issue in his own unique way: instead of deploying a loyal and resourceful squad of his people into the cabinet, he simply prevented Medvedev from appointing politically strong ministers—a move firmly in line with the traditions of authoritarian management.
Putin's personal influence will be further mediated by an array of individuals whose primary loyalty is with him, either on ideological or practical grounds. Thus, First Deputy Prime Minister Igor Shuvalov has remained Putin's principal ally in the cabinet. Putin does not put much trust in Shuvalov and would hardly be found in the trenches with him, but Shuvalov is also a person who will never be an anti-Putin asset. This reflects the new trend in Putin's approach to personnel: offering posts not to his old friends, but rather to the most loyal candidates.
The new cabinet has already been nicknamed "the cabinet of vice ministers". Almost all the appointees come from deputy minister rank, while their former bosses have become assistants to the President. In fact, the Presidential Administration is the locus of an alternative government-in-the-making, the government that will be developing all the main programs and legislation, thereafter submitting them either directly to the Duma or to the cabinet for further refinement.
Alas, in Russia, formal roles and hierarchies are substantially undermined and skewed by informal relationships and degrees of access to the President's ear. Accordingly, those of Medvedev's ministers who are entirely outside of this system of informal relationships will most likely remain nothing but powerless wranglers of endless red tape.
As it is stands in the Russian Constitution, the relationship between the executive branch and the presidency contains the seeds of an a priori conflict between the Cabinet and the Kremlin. Today, this conflict is exacerbated by the two-pronged personnel policies. Instead of setting up a politically powerful and efficient cabinet, with slots for both the President's and the Prime Minister's people, it was decided to keep the two teams apart, each in its own corner. As a result, Medvedev's cabinet increasingly resembles an administrative agency, while Putin's presidential administration seems to have taken on the appearance of the actual government. Against this backdrop, there is even less reason to expect not only substantial reform, but also that Russian officials will be capable of reaching any consensus at all on government policies.