Dmitri Medvedev's political capitulation that started in September 2011 with Vladimir Putin's announcement of his return to the Kremlin has reached a new stage.  With the diminution of the prime minister's role, the positions of officials and businesses associated with him have started to crumble. Political analyst Tatiana Stanovaya talks about those who have lost out in the wake of Medvedev's weakened position.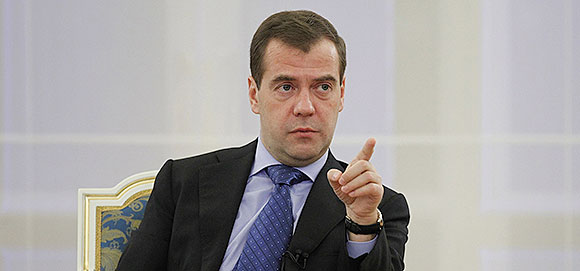 Vladimir Putin is known for blowing up at businessmen and officials. Many people remember how he promised to "send a doctor" to the head of the Mechel steel company because the latter did not show up at one of the conferences, or how he criticized Mikhail Prokhorov for "cashing in" during the crisis and not feeling the urgency to make the "right" investments. Among these flare-ups, one can mention Putin's criticism of three ministers of Prime Minister Dmitri Medvedev's cabinet for failing to implement decrees he had issued. One of the ministers, Oleg Govorun, was dismissed.  Such management style is a distinguishing feature of Putin the politician, and he intends to use it to support his regime's image.
The recent victims of a Putin "dressing-down" are mostly figures that owe their position to Medvedev in one way or another. The most vivid example is his criticism of Akhmed Bilalov, the vice president of the Russian Olympic Committee (ROC) and board chairman of the North Caucasus Resorts Company. Bilalov is a young Dagestani businessman and manager, an influential Avar, who achieved federal-level prominence during Medvedev's presidency. Medvedev paid considerable attention to the development of the North Caucasus and it was on his initiative that the position of a special North Caucasus envoy was created and elevated to the rank of deputy prime minister. Medvedev has repeatedly changed state policy in the North Caucasus. Unlike Putin, who mostly uses force, repression and control in that region, Medvedev preferred to rely on investments, believing that this could help make the North Caucasus an attractive business and resort area, which would quickly lead to improved social and economic conditions and thus decrease the level of terrorist and separatist threats. Implementation of this policy was entrusted to Alexander Khloponin, the former governor of Krasnoyarsk, who has a reputation for being a successful manager and for knowing how to attract investments to the regions.
The recent victims of a Putin "dressing-down" are mostly figures that owe their position to Medvedev.
As the result of Medvedev's policies, the influence of North Caucasus businesses grew. Special projects emerged that were designed to improve conditions in the region. Akhmed Bilalov became one of the managers of such projects. According to certain government sources, he was close to Dmitri Medvedev and the latter's trusted advisor, Deputy Prime Minister Arkady Dvorkovich. Since the early 1990s, Bilalov had been working in banking and oil trading, co-owned a number of oil and gas companies, and was chairman of "Kompania Sever" (the North Company), which he had created. In 1999, Bilalov was elected to the State Duma on the list of the pro-Putin Unity bloc; he was reelected in 2003 on the United Russia party list. In 2007, he became a member of the Legislative Assembly of the Krasnodar Region, and later held the post of its deputy speaker. In 2008, Bilalov joined the president's Olympic Affairs Council. In 2009, he was appointed vice president of the Russian Olympic Committee, and in 2010, board chairman of the North Caucasus Resorts Company.
Vladimir Putin gave Bilalov a public "dressing-down" while on an inspection tour of the Olympics sites in Sochi. A number of venues were considerably behind schedule, among them the ski jump complex, Gornaya Karusel, being built by a company called Krasnaya Polyana. Akhmed Bilalov was one of the shareholders of the company before selling his stake to the state-owned Sberbank.  Examining the Gornaya Karusel complex, which was supposed to be finished almost two years earlier, Putin noted the delay. He then turned to Deputy Prime Minister Dmitri Kozak, who is in charge of Olympic construction, and asked what "Comrade Bilalov" was engaged in at the moment. "The North Caucasus Resorts Company," – the president was told. "Good. What else?" Putin kept on asking. "Where does Bilalov work?" "He is the vice president of the Olympic Committee," the head of state was told. "He is your vice president, is he?" retorted Putin. "So a vice president of the Olympic Committee is slowing down the entire construction?" "He owns a construction company of some sort," explained Kozak. "Have there been increases in the cost of the facility's construction?" inquired Putin. "There has been a rise in the cost, but since it is being constructed with his own money…" answered the deputy prime minister, with a shrug of his shoulders. The cost of the ski jump had soared from 1.2 billion rubles ($40 million) to 8 billion rubles ($265 million). "Well done! You are doing a good job," Putin said sarcastically.
After this exchange of views, Bilalov was removed from his posts as ROC vice president and board chairman of the North Caucasus Resorts Company. On top of that, the Prosecutor General's office began an investigation of the company for embezzlement of budget funds. Bilalov denies any guilt or responsibility for delays in construction: as he stated last February, the state corporation Olympstroy, responsible for the Sochi Olympics preparation, did not fulfill its obligations for infrastructure construction, which resulted in a considerable increase in the facility's cost. That is the reason why Sberbank had to be involved as a major shareholder. In the end, the ski jump was built (and, as Bilalov put it on his page Facebook page, he is proud of the quality of work), but the infrastructure has never been developed. Bilalov blamed Olympstroy for that. Deputy Prime Minister Kozak disagreed, adding that Bilalov's company had not completed the job on time due to mistakes in the design.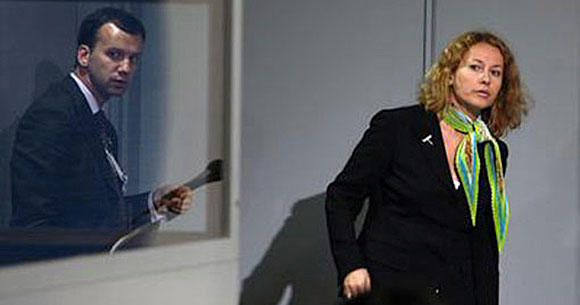 The Bilalov situation illustrates the systemic problem that emerges in relations between the state and private business during the implementation of large politically important projects. The Kremlin demands that business be "socially responsible" and invest in projects that will not necessarily be profitable. Many large organizations, such as Oleg Deripaska's companies, refused to make such investments. However, Putin did not question Deripaska's decision. He did not question Olympstroy's reasons for not wanting to develop the necessary infrastructure either. In effect, Bilalov became the victim of a political showdown as a result of the weakening of his "political family" that has Medvedev at its head. It is unlikely that Putin would be interested in Bilalov himself. He was chosen as a "weak link" among businessmen responsible for the Olympics construction and has fallen prey to the pro-Putin forces that want to take over certain attractive projects by replacing Medvedev's people with their own. It is becoming increasingly risky to rely on the prime minister's political support.
The Summa Group, owned by the Magomedov brothers, provides another example of how Medvedev's weakened position affected businesses close to him. One of the brothers, Ziyavudin Magomedov, was mostly known for his company having been the main contractor for renovating the Bolshoi Theater in Moscow. In addition to being engaged in construction, Summa has telecommunications, metals, gas and other assets. As Magomedov himself confirmed in an interview with Vedomosti, Arkady Dvorkovich, Gennady Timchenko, Semyon Vainshtok and Patriarch Kirill are among his closest friends. In the same interview, he advocated privatization and suggested that  state control should be maintained only in infrastructure companies (Transneft, Russian Railways, the transport part of Gazprom, the Federal Grid Company). It is worth mentioning that when he was president, Medvedev actively insisted on a "large-scale privatization."  Igor Sechin, who opposed this idea, responded by taking measures against Summa Group's port assets including its controlling stake in Russia's largest port operator, Novorossiysk Commercial Sea Port (NCSP).
After Medvedev's departure from the Kremlin, the Summa Group began having problems with its interests in harbor facilities. First of all, according to Forbes magazine, the Federal Service for Supervision of Natural Resources Usage carried out an unscheduled inspection of Primorsk trade port, controlled by the Summa Group (the terminus of the Baltic pipeline system in the Leningrad Region,) and came to the conclusion that the port's operation did not comply with Russia's environmental legislation. Secondly, NCSP met with difficulties. Another shareholder, the state company Rosneft, demanded that the port management, which was loyal to Summa, be changed.  Previously Transneft, the Russian state pipeline monopoly, had supported Summa in opposing Sechin's attempt to nationalize the port by turning it over to Rosneft. But soon discord between the partners arose, probably as a result of Summa's political weakening. Kommersant reported that Transneft President Nikolay Tokarev sent a letter to Ziyavudin Magomedov, NCSP General Director Rado Antolovich and Chairman of the NCSP Board, Marat Shaydaev, in which Transneft called for an urgent meeting of NCSP directors to discuss the fact that "Transneft's opinion was being repeatedly ignored" on vital issues of the port's management. One may conclude that large companies, including state-owned enterprises, take into consideration changes in the political state of affairs, and prefer to work alongside strong and successful players, "dismissing losers," such as the once-influential Dagestanis, who at the time were relying on their relationship with Medvedev.
Not only businesses associated with Medvedev, but also members of his own team are facing problems.
Not only businesses associated with Medvedev, but also members of his own team, like Deputy Prime Minister Arkady Dvorkovich and Medvedev's press secretary, Natalya Timakova are facing problems. Besides the fact that both of them have become the objects of media attacks in the last few months, they also began losing ground in state institutions. In late February, it became known that Timakova's husband, Alexander Budberg, was fired from his post as counselor to the president of VTB Bank (majority-owned by the state). According to Izvestia, which is in the forefront of the smear campaign against Medvedev's cabinet, Budberg was sacked as a result of a series of scandals, including the appearance of a YouTube video entitled "How much does Navalny's retweet cost?". This video says that a certain hacker got into the server of a public relations firm owned by Budberg, and revealed that among his documents there was a price list of "journalists, public activists and bloggers," who allegedly took money for writing blog posts.
Federal TV channels are joining in the attacks. On February 17, three channels – Channel One, Russia 1, and NTV – aired stories about "abuses" in the energy sector, for which Dvorkovich has responsibility. The most emotional one was a story by Dmitri Kiselev, the host on Russia-1 channel, in which he blamed Medvedev's closest teammate for trying to "privatize" the North Caucasus energy sector for the benefit of Akhmed Bilalov.   There has been fall-out as well for Dvorkovich's wife, Zumrud Rustamova, who has been a member of the board of Sheremetyevo Airport since 2008.  Her name was omitted from the latest list of candidates for the airport's board members.
In addition to these well-publicized moves against Medvedev allies, there are many smaller signs that the premier's connections and projects are being attacked. For instance, Russia's Investigative Committee has opened a criminal investigation into the Skolkovo Foundation, which is closely associated with Medvedev, for embezzlement of budget funds. In another matter, the position of Kirov Region Governor Nikita Belykh, appointed on Medvedev's initiative several years ago, is threatened. Belykh has been repeatedly summoned for interrogation in connection with the case against opposition activist Alexei Navalny.
Putin's elite is taking its revenge for Medvedev's four-year political "thaw." Anyone who in any way personified this period in Russian politics has become a potential victim of the authoritarian restoration.