KGB General Sergei Ivanov, once considered a likely successor to Vladimir Putin, lost much of his influence after Dmitri Medvedev's selection as president in 2008. Yet in recent weeks, Ivanov appears to have made a political comeback. Donald N. Jensen, Resident Fellow at the Center for Transatlantic Relations at the Johns Hopkins School of Advanced International Studies, ponders whether Sergei Ivanov is being positioned to succeed Putin after all.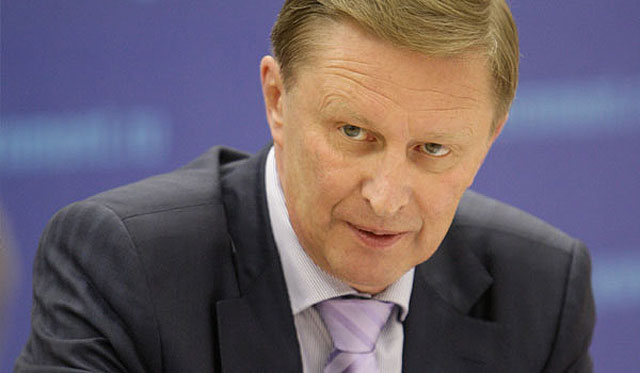 Sergei Ivanov, longtime ally of Vladimir Putin and his chief-of-staff at the Kremlin, returned to the political limelight last month with a rare interview to Komsomolskaya Pravda that expressed his loyalty to the president and laid out his own credentials as a national leader:  his accomplishments in Putin's apparatus—1,600 people now work there; his achievements as defense minister a decade ago; and his earlier work in the intelligence services. Ivanov also emphasized his key role in US-Russia relations when asked about the flattering comments about him in the memoirs of former Secretary of State Condoleezza Rice.  He noted that he sees or talks to Putin daily, and that on many issues "we think more or less identically."  People once called him Putin's successor, he said, but "I never regarded myself as such."
Meanwhile, Ivanov has been accumulating influence.  A presidential decree in February, for example, broadened the authority of Ivanov's secretariat in the Kremlin administration. A recent analysis in the newspaper Nezavisimaya Gazeta named Ivanov the most influential lobbyist in Russia.
Ivanov symbolizes a potential nightmare scenario for Russian opposition leaders struggling for a democratic breakthrough:  Putinism without Putin.  Uncharismatic, but with a reputation for competence—he projects neither the thuggishness of Igor Sechin nor the wimpyness of Dmitri Medvedev.  Like Putin, Ivanov is from Leningrad, where the two men became friends in the local branch of the KGB. In the mid-1990s, after several postings overseas, Ivanov become one of the youngest generals in the Russian intelligence service.  From July 1998 to August 1999, he served as deputy to Putin when the latter was head of the Federal Security Service.  President Boris Yeltsin appointed Ivanov secretary of the Security Council in November 1999.  In March 2001, Ivanov became Russia's first "civilian" defense minister, where his tenure was marred by controversies over hazing in the military and several accidents fatal to Russian soldiers.
Ivanov symbolizes a potential nightmare scenario for Russian opposition leaders:  Putinism without Putin.
In February 2007, Ivanov was elevated to the post of first deputy prime minister, a position from which many observers—including, perhaps, Ivanov himself—expected him to be selected by Putin to be prime minister and then succeed to the Russian presidency after Putin's second term. But Putin picked Medvedev.  According to one of Ivanov's friends, Putin was envious because Ivanov had a more successful career as an intelligence officer.  Another explanation is that Putin, prickly about his own status, decided on Medvedev because he was more pliable. (On one occasion, Ivanov appeared to upstage the president during a public discussion on antiaircraft defenses overseas.)  Still others maintain that "The Family," the clan surrounding Yeltsin which had brought Putin to power, vetoed Ivanov's candidacy.
Whatever the real reason, Ivanov was appointed a deputy prime minister, where he coordinated industrial development, the military industrial complex, transport and communication—a post political analyst Stanislav Belkovsky described as "almost humiliating for a Putin friend of such high rank." Ivanov's relations with the once and future president, if ever damaged at all, were repaired.  The bad blood between Medvedev and Ivanov apparently remains.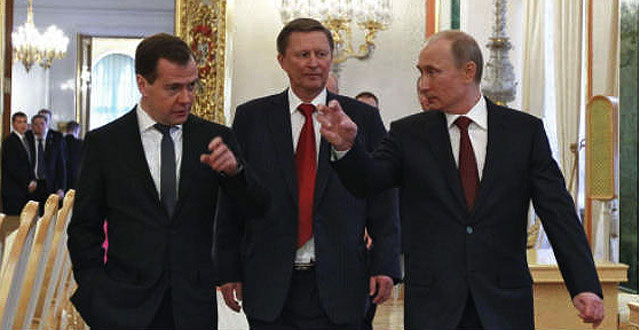 Today, Sergei Ivanov is often described in the media as one of the leaders of the "silovik" faction of the Russian elite, the power ministries' functionaries whose hardline views are hostile to the West.  In reality, the matter is more complex in that Ivanov is properly not a silovik at all.  Although there is often a coincidence of interests and views within these informal groupings, alliances between specific leaders are fluid, with differences over specific issues or financial flows often intruding.  For example, Ivanov and Igor Sechin, formerly deputy chief-of staff at the Kremlin and now CEO of Rosneft, have had difficult relations for years. According to one report, Ivanov's relations with Sechin soured in 2007, when he opposed the creation of a new Investigative Committee. Others say that relations between Sechin and Ivanov deteriorated earlier.  In 2005, Ivanov's oldest son Alexander reportedly struck and killed an elderly woman while driving, though a criminal case against him was closed due to lack of evidence. Some observers think that the story was circulated throughout Russian elite circles and was widely discussed in the media because of Sechin's influence.
It is more accurate to say that Ivanov's importance in the Russian political system is due less to his being the leader of one of the major clans competing for resources and influence—including silovik, political, business, technical—than to the fact that he is a trusted figure near Putin helping maintain intra-elite balance.  Remarkably for a member of the Russian elite, Ivanov does not have overt ties to business (though his sons have worked in prominent Moscow banks and his wife for telecommunications, chemical and pharmaceutical firms).
Despite their professed loyalty to the president, Russian elites are already planning for a life after Putin.
Ivanov's recent rise has been further propelled by the dynamics of power within the Russian elite since the return of Putin to the Kremlin last year.  First, Putin has created around him a "parallel government," centered in the presidential administration, which overlaps the authority of Prime Minister Medvedev's cabinet. This has led to the growth and increased importance of the presidential apparatus, where Ivanov plays a central role.  But having two centers of power has also caused a slowdown and confusion in policy formulation and implementation, with much of the elite placing the blame on Medvedev, Ivanov's old rival.
Second, strains within the elite have intensified since the recent popular protests against the falsified presidential and legislative elections.   Putin's crackdown on the opposition and rhetorical emphasis on "external threats" have mobilized the president's narrower, but more nationalist popular base and strengthened the position of the hardliners around him.  But the tougher approach has also alienated more "liberal" members of the elite.  Putin's anticorruption campaign, intended to address a core popular concern, has given Ivanov the chance to settle old scores, especially against Medvedev and members of his team.  According to media reports, Ivanov has been one of the leaders behind the ouster of former Defense Minister Anatoly Serdyukov.  Also under pressure for a variety of reasons have been Deputy Prime Minister Arkady Dvorkovich, Medvedev press secretary Natalia Timakova, and her husband Alexander Budberg.
"Ivanov wants the throne," political analyst Vladimir Pribylovsky wrote recently.  The first step toward achieving that goal is to get Putin to sack Medvedev as prime minister and appoint Ivanov to that post.  Konstantin Remchukov, the well-connected editor-in-chief of Nezavismaya Gazeta, openly discussed the strains between Putin and Medvedev in a recent interview, but noted that firing Medvedev could provide the opposition with a convenient leader.  It might also be useful for Putin to weaken Medvedev but keep him around to do dirty work like pension and communal services reform.   It is unclear how successful Ivanov's campaign will be.  But the intrigue shows that despite their professed loyalty to the president, Russian elites—even a long-term ally such as Sergei Ivanov—are already thinking about, and planning for, a life after Putin.