The recent summit meeting between Russian President Vladimir Putin and Japanese Prime Minister Shinzo Abe has heightened speculation that Moscow is looking for an Asian counterweight to the increasingly powerful China. However, Donald N. Jensen, Resident Fellow at the Center for Transatlantic Relations at the Johns Hopkins School of Advanced International Studies, argues that Moscow's relations with Beijing will continue to be much closer than its cooperation with Tokyo.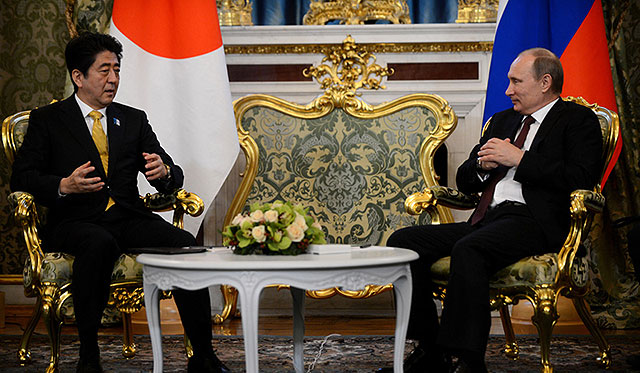 On April 29, Vladimir Putin met in the Kremlin with Japanese Prime Minister Shinzo Abe in the first summit between Russian and Japanese leaders in almost ten years.  At the center of their talks, which lasted several hours, was how to end the state of formal hostilities between the two countries that has existed since the Second World War.  Following their discussions, both leaders acknowledged that the situation "looks abnormal."  The statement directed the foreign ministries of Russia and Japan to intensify efforts to draft a peace agreement and broaden cooperation along a full range of issues.  Accompanying Abe were more than one hundred business leaders, some of them eager to see a "road map" for bilateral cooperation in resources, energy, infrastructure and high tech industries.  Putin and Abe also discussed the crisis in Syria, condemned North Korea's belligerent conduct and urged it to obey UN resolutions.  At a news conference after the talks, Abe said he believed he and Putin had established "personal and trusting relations."
The summit was the latest example of the Kremlin's diplomatic campaign to reposition Russia as a major Asian power, a reorientation announced by Putin in Vladivostok at the APEC summit last September.
Disagreement over ownership of the disputed Kurile Islands off the northern tip of Japan is the main reason the two countries have never signed a peace treaty.  Japan has never accepted the Soviet occupation of the islands.  Russia maintains that it gained legal possession of the Kuriles under wartime agreements between the Western allies and the USSR.  The dispute may have hit a low point in 2010, when then-President Dmitri Medvedev visited Kunashir, the second-largest of the four islands, and asserted that it was part of Russia. (Medvedev, known for his fondness for social media, tweeted photos of the island, adding: "How many beautiful places there are in Russia!")  Then-Japanese Prime Minister Kan called the visit "regrettable" and recalled Tokyo's ambassador to Moscow.  Talks over the Kuriles broke down a few months later, after additional visits to the islands by Russian officials. Kan responded to the visits by demanding the islands' return at a government-sponsored rally.
Japan hoped to use the Abe trip to distract Russia from its growing partnership with China, with whom Tokyo has increasingly tense relations.
Today, economic and geopolitical considerations make an improvement in relations more timely.   Japan hoped to use the Abe trip to distract Russia from its growing partnership with China, with whom Tokyo has increasingly tense relations.   In addition, Japan wants to develop its relations with Russia as a supplier of liquefied natural gas (LNG). After the disaster at its Fukushima nuclear plant, Japan's imports of LNG have increased.  Japan hopes that by forming a strategic partnership with Russia to develop the latter's LNG production and infrastructure it will benefit by lowering the cost of its LNG imports.  Thus among the economic issues on the agenda was possible Japanese participation in the construction of a pipeline connecting East Siberian gas fields and a planned $38 billion gas hub in Vladivostok to be built by Gazprom.
Russia is looking to strengthen its position in Asia amidst China's rise and Washington's much publicized intensification of interest in the region.  Moscow is also eager for foreign investment to develop its resource-rich but largely under-populated Siberia and the Far East.  At the Kremlin summit, the two countries launched a new $1 billion investment initiative aimed at boosting development in those areas.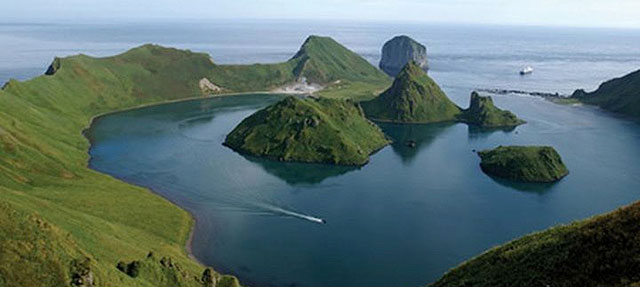 China's state-run media, meanwhile, did not hide its concern that the Abe visit might mean a thaw in the traditionally frigid relationship between Russia and Japan at Beijing's expense.  "An obvious feature of Abe's foreign policy is to use his core belief in 'value diplomacy' — embracing countries that share values of 'freedom, democracy, basic human rights and rule of law' — to seek to encircle and put pressure on China," said the Communist Party's mouthpiece the Global Times in an April 28 article headlined "Abe's visit to Russia is a naive attempt to contain China."  While there is little chance that Putin will be sympathetic to the aforementioned values, he does share with Abe unease over China's growing influence in the Pacific region. On the other hand, Beijing is also concerned that too many joint Russo-Japanese energy projects would undermine China's access to Russia's abundant oil and gas resources.
There are differences between Russia and China on a number of issues, which Tokyo is no doubt seeking to exploit.
The Kremlin's warm welcome for Abe appeared to quiet widespread international speculation that a full-fledged alliance between Russia and China may be in the offing.  In March, Putin hosted Chinese President Xi Jinping at a lavish Kremlin summit only a few days after the latter assumed his post.  That summit produced 17 agreements on economic cooperation and other issues; promises to expand joint military cooperation; and Chinese pledges to invest in the Russian Far East.  On the diplomatic side there were indications that Russia may increase large-scale weapons sales to China, and declarations by the two sides that they have similar views on Iran, Syria and other global crises.  Despite the progress, however, there are differences between Russia and China on a number of issues, which Tokyo is no doubt seeking to exploit. For example, Moscow and Beijing have repeatedly fallen out over the price Russia charges for its oil, and this has stalled energy negotiations several times in the past.  The two countries are suspicious of each other's activities in Central Asia.  Russia, like Japan, is also wary of the Chinese geostrategic rise in the Pacific region, and is mistrustful of Beijing's intentions.
Despite the good atmosphere surrounding Abe's visit, China, and not Japan, is likely to remain Moscow's major preoccupation in East Asia. Following his talks with Abe, Putin told the press he did not expect a quick settlement to the dispute over the Kuriles, which he called a "complicated but important" issue.  Even the Global Times, which, at first, openly worried about what might happen at the summit, called the results of the meeting "neutral to positive" after Abe departed.  Right now "all eyes in Moscow are focused on China," said Sergei Strokan, foreign affairs correspondent for Kommersant newspaper. "The Chinese lobby is very strong and those who think Japan might be our best partner are marginalized.  Abe's visit was positive, and good for both countries, but it doesn't look like it was a game-changer."