In June, former Russian Prime Minister Mikhail Kasyanov, co-leader of the Republican Party of Russia–People's Freedom Party (RPR–PARNAS), visited the United States. In an interview with IMR Advisor Olga Khvostunova, Kasyanov discussed the opposition's plans for the new political season and shared his views on the situation in Russia.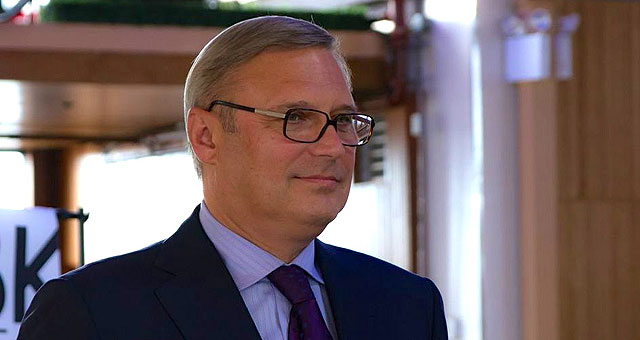 Recent political developments in the country suggest that the Russian government is preparing for a third Yukos case. On June 25, one day before Mikhail Khodorkovsky's 50th birthday, NTV showed a "documentary" insinuating that Khodorkovsky was behind the murder of the mayor of Nefteyugansk that took place in 1998. Why is this happening now and what is your assessment of the situation?
Mikhail Khodorkovsky has spent ten years in jail for no reason, and next year he has to be released. I think that this madness must stop, and I hope that there are some remnants of common sense still left in the minds of the Russian officials. Of course, recent developments suggest that Putin himself or some people in his circle are trying to push for a new trial by insinuating that Khodorkovsky, allegedly, approved some murders, which makes the situation even more insane than it already is. I hope there will be no third Yukos case. But if in fact there is, it will be beyond absurd.
There is another high-profile political case in the works—the case of Kirovles against Alexei Navalny. What do you make of this trial and what do you think the verdict will be?
I looked at the allegations against Navalny, and I can assure you that the charges of fraud against him have nothing to do with reality. In essence, these charges are against standard practices of entrepreneurship, which means that the very nature of entrepreneurship is being questioned. In my opinion, Navalny will not be jailed, even though he might receive a guilty verdict. He will most likely receive a suspended sentence, which would prevent him from running for Moscow mayor. This trial is actually a conscious move by the regime aimed at neutralizing Navalny as a political opponent.
"Navalny will most likely receive a suspended sentence, which would prevent him from running for Moscow mayor."
If Navalny is not convicted before the Moscow mayoral election, what do you think his chances are? Why did your party decide to nominate him?
My assessment of our chances is positive. Boris Nemtsov and I initiated Navalny's nomination for the Moscow mayor's office. Navalny wanted the same. At the moment, he is one of the most popular public figures in Moscow, which gives us an opportunity to consolidate opposition votes, including votes of young people, who have great respect for Navalny. Besides, we share a common vision of the situation. All of this gives me reason to believe that we have a chance of winning. The key thing will be for the authorities not to stonewall our campaign.
Next year there will be another election—to the Moscow City Duma. Does the opposition have plans for this election as well?
We have united the efforts of three parties—or own, RPR–PARNAS. and two other parties that have not been registered: "People's Alliance" and the "December 5 Party." Next year we plan to hold primaries for a unified list of candidates from all three parties. The list will be titled "RPR-PARNAS" and will include primary winners who will later participate in the City Duma elections and will run for seats in various districts of Moscow. It's a very important election for us and we will definitely participate in it.
How do you assess your chances?
I think our chances are good.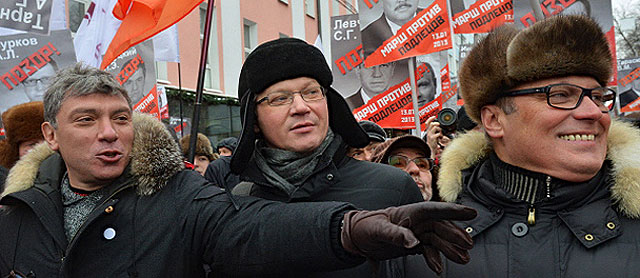 Even when the regime is tightening the screws in the political field?
Tightening of the screws increases our chances. If we work in the right way with people who sympathize with the opposition, support us, share our values and our vision of the situation, we can achieve good results. We are different from other political forces because we are the only party that is genuinely independent from the Kremlin. Other parties have certain connections with the Kremlin, or other constraints. We don't have any of that. I think that people who share our approach—and there are many such people in Moscow—will vote for us. I can't say that our chances are great, but they are sufficient to win enough votes to form our own party caucus in the Moscow City Duma.
You sound very optimistic, but judging by the news coming from Russia, there is an opposite picture: new restrictive legislation is being passed; cases are being opened against opposition members; people are leaving the country. Where does your optimism come from?
My optimism is rooted in the idea that changes in Russia are inevitable. And our party is a part of an engine that brings these changes closer. Yes, on the one hand, the situation has been deteriorating, but on the other hand, it draws the changes nearer. The collapse of the regime is inevitable.
How soon do you think it will happen?
If the economic situation continues to worsen, the collapse will happen much sooner. If the Russian authorities lack common sense, they will bring the country to revolution. Our party is against the revolutionary scenario; we advocate changes under the Russian Constitution and try to bring together people who also oppose revolution. It's the reason we participate in elections, despite our understanding that these are not real elections, but only an imitation. But the very fact of our participation in an election gives it a touch of legitimacy. If we succeed in the Moscow elections and in elections in other regions, despite interference from the authorities, it will be a very important victory. Thus, step by step, the opposition will do everything in its power to change the country's political course and to change the regime. But we will do it peacefully and under the auspices of the Constitution.
"Changes in Russia are inevitable. And our party is a part of an engine that brings these changes closer."
Your party colleague Boris Nemtsov thinks that Vladimir Putin will be out of power in 2024. Do you agree?
I think it will happen much sooner. I'm more optimistic on that issue. A lot will depend on the ripening of public opinion and on the shaping of public reaction to the tightening of the screws. Another important factor is the economic situation. Today, even with high oil prices, economic growth in Russia has almost stopped. It means that further increase of pensions and salaries is impossible. And it is also questionable whether the authorities will be able to sustain the current standards of living.
What prevents people from taking to the streets?
Fear. People are afraid that the authorities will punish them, that they will be deprived of their basic daily rights, such as the right to run a business, to have a job and earn money. People are afraid of losing their freedom, and they don't want to be humiliated.
But despite all that, some people still come to protest. What motivates them?
Of course, there are many such people. The 100,000 people who came out to our demonstration last year are a good illustration. Our voters and those who have been taking to the streets recently are members of the middle class. These are well-situated people who want the authorities to respect the rights and freedoms guaranteed them by the Constitution. They will struggle for these rights. The protests will not go anywhere. The next political event that will indicate the direction in which the political situation in Russia is developing is the fall elections, particularly the Moscow mayoral election. Then, a new wave of consolidation of the middle class will form, and there will be a new basis for forecasts.