Russian oligarch Roman Abramovich has recently resigned from his post as chairman of the legislature in the Chukotka autonomous district in the Russian Far East, bringing to an end one of the oddest political pairings in Russian politics. As Donald N. Jensen, resident fellow at the Center for Transatlantic Relations at the Johns Hopkins School of Advanced International Studies, points out, this resignation is another sign of a broader Kremlin campaign to consolidate its grip on power.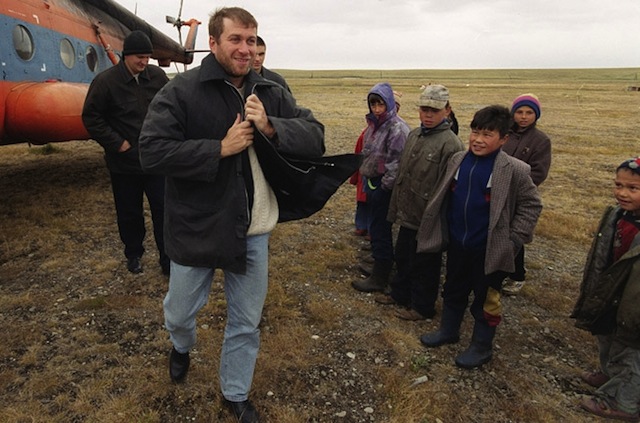 Roman Abramovich's job as chairman of the Chukotka legislature will be assumed by Aramais Dallakyan, a political ally. Abramovich synchronized his move with the decision of another protégé, Roman Kopin, to resign from his position as Chukotka governor, a post that in recent years has been an appointed one. Kopin intends to run for another term when gubernatorial elections are reinstated by the Kremlin this fall. Abramovich, whose wealth is estimated at $10.2 billion by Forbes' Russian edition and who owns London's glamorous Chelsea Football Club, served as governor of Chukotka from 2000 to 2008.
Abramovich rarely visited Chukotka (he frequently attends Chelsea soccer matches, making a commute difficult) but was widely popular there. Bloomberg has estimated that Abramovich spent more than $2.5 billion of his own money on the region. He started the Pole of Hope charity to help the region's children. Under Abramovich, living standards improved and schools and homes were restored. Chukotka, moreover, now has one of the highest birth rates in Russia, which is viewed as a positive indicator within the context of Russia poor demographics. An Abramovich spokesman announced unconvincingly that his boss would not be moving away from the area, which is located 7,000 miles northeast of Moscow, along the Bering Strait, and would continue to invest there.
As some policy experts point out, Abramovich was relieved when Putin announced a decree that forces elected officials to get rid of their foreign property if they wish to hold office in Russia. Apparently, Abramovich was tired of playing "papa" to the distant Chukotka.
Abramovich's career demonstrates the continuity with the Yeltsin era of the politics, business, and fortunes of key members of today's elite. In the 1990s, as well as today, money and connections mattered. Abramovich got his start as a street trader in the 1980s, sold rubber ducks from his Moscow apartment, and set up a company with his then-wife Olga to make dolls. Within a decade, he had started and liquidated at least 20 companies in various sectors but gradually came to specialize in the trading of oil and oil products (serving time along the way in prison on charges of theft of government property).
In 1995, Abramovich and Boris Berezovsky, an ally of Boris Yeltsin, acquired a controlling interest in the Sibneft oil company after shares were sold at artificially low prices through the controversial Loans for Shares program. (Abramovich later admitted in court that in order to acquire his assets, he paid huge bribes to government officials and obtained protection from organized crime groups.)
By 1996, at the age of 30, Abramovich was so rich and politically connected that he had become close to President Yeltsin and had moved into an apartment in the Kremlin at the invitation of the Yeltsin family. The Abramovich-Berezovsky alliance ended bitterly a decade later, but by then Abramovich, along with some members of The Yeltsin Family, had switched his loyalty to Vladimir Putin.
A United Russia source said that Abramovich's decision to leave Chukotka was motivated by Putin's decree that elected officials must get rid of their foreign property if they wish to hold office in Russia. Faced with the choice between wealth overseas or political power at home, many officials have already departed, though not always willingly. Nine members of the Federation Council (five of whom are on the Forbes list of richest Russians) have left since Putin first floated the ban last December. Federation Council member Valentina Matviyenko said she expected two more wealthy council members to quit in the autumn. By contrast, Mikhail Rostovskiy writes that Abramovich was relieved when Putin announced the policy, since he was tired of playing "papa" to the distant Chukotka okrug.
This "nationalization of the elite" provides Putin with a lever to enforce the loyalty of those individuals in positions of leadership of whom he is reportedly very suspicious after the events of the winter and spring of 2011–12, when some elites were sympathetic to the opposition protesting in the streets. If a businessman serving in public office moved his assets home, the reasoning went, that person would be more beholden to the Kremlin. The policy also is part of a broader Kremlin campaign to reestablish the regime's legitimacy after the turmoil of 2011–12. Other steps toward this end include the anticorruption campaign, the revival of the National Front, Putin's further efforts to distance himself from United Russia, and reforms to party registration and gubernatorial registration (while blocking real competition). The Kremlin expects that these steps will help it consolidate, not loosen, its grip on power.
The "nationalization of the elite" provides Putin with a lever to enforce the loyalty of those individuals in positions of leadership of whom he is reportedly very suspicious after the events of the winter and spring of 2011–12.
Indeed, in a working meeting with experts and political analysts on July 9, Vyacheslav Volodin, deputy chief of the presidential administration, explicitly linked regime reset to such hard-line measures as the crackdown on nongovernmental organizations and the restructuring of the Human Rights Council. Volodin said the ultimate goal of the reforms is the creation of a political system that, on the one hand, is not managed in a hands-on way and works without reliance on administrative levers, and, on the other hand, preserves "stability and predictability"—a euphemism for authoritarian rule.
These changes are reminiscent of the institutional design of the political system as it was a decade ago, but the problems facing Russia are quite different today. It is doubtful that the Kremlin will solve these problems. The outcome of efforts to rein in the elite is particularly uncertain. The changes could lead to more competition and a strengthened pro-system coalition, or, alternatively, they could produce increased divisions. Other questions include whether the nationalization campaign will make the regime more popular, create the illusion of renewal, and keep corruption within strict limits, or whether it could discredit vlast (the authorities), as such campaigns did shortly before the collapse of the Soviet Union. In this regard, Abramovich's amicable divorce from his constituency in the Russian Far East may be more a symbol of how the Kremlin hopes to reclaim lost political ground than a bellwether of how easy the road ahead is likely to be.