In October, the head of the Federal Service for Supervision of Consumer Rights and Human Welfare Gennady Onishchenko—a legendary figure in Russian politics—lost his job. He was a key player in the Kremlin's introduction of trade sanctions against "problem countries." Sources in the media say that a possible reason for his resignation was mental insanity. However, political scientist Tatyana Stanovaya believes that insanity has become the norm in Russia's new political reality.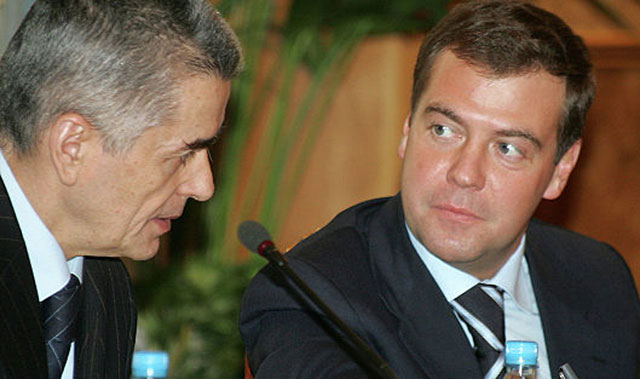 In recent years, one of the peculiarities of the Russian system of governance has been the devaluation of key government posts. Political centralism, built on the principle of "manual control," leads to strange phenomena, a prime example of which is the personality of Gennady Onishchenko. Since political responsibility is concentrated in the Kremlin and at the top of the government, an ordinary head of a supervisory authority is denied any opportunity not only to take the initiative (instead, they must walk across the hall to someone more influential), but also simply to perform his or her duty. After all, under the system of "manual control," the law applies only to enemies.
Gennady Onishchenko was in this respect a unique figure. After becoming the chief sanitary inspector of Russia in 1996, starting in 2004, he combined these duties with those of the post of head of the Federal Service for Supervision of Consumer Rights and Human Welfare (Rospotrebnadzor), a strange institution designed to deal with consumer rights protection. In fact, this office tries to combine the functions of an antimonopoly authority and a human rights organization. However, human rights activists refused to recognize Onishchenko as their colleague. Recently, the Consumer Rights Defense Society complained to Dmitry Medvedev about Onishchenko's professional inadequacy, with organization head Mikhail Anshakov saying that Onishchenko's resignation was the best response: "Despite the requirements of the law, they stopped responding to appeals from consumers. All complaints are left unattended. Though the Federal Service for Supervision of Consumer Rights and Human Welfare has 100,000 employees, the quality of products on store shelves has only worsened in recent years. It is no coincidence that this organization missed the situation with the vegetable warehouse" (in reference to the vegetable market riots in the Biryulevo region of Moscow).
Within the Russian government, Onishchenko's agency had a special status: it was subordinated not to the Ministry of Health, as it logically should have been, but directly to the prime minister. This is understandable: Onishchenko was entrusted with not only direct responsibility, but also informal assignments that were closely associated with foreign policy. For example, in 2006, during the conflict between Russia and Georgia, Onishchenko initiated a ban on imports of Georgian wine and mineral water. In the same year, Moldovan wine also fell under the ban after Moscow became involved in some disputes with Moldovan president Vladimir Voronin. Bans have been widely implemented in the last two years: Onishchenko banned products from the Ukrainian confectionery factory Roshen, Lithuanian cheese, and (again) Moldovan wine. A new wave of sanctions was related to preparations for the November EU Eastern Partnership Summit in Vilnius.
What is important, however, is not only the trade sanctions, but also Onishchenko's own personality. The Russian press repeatedly prints his catchphrases and quotes, many of which are seen as a sign of his mental illness and some as evidence of his sincere stupidity. For example, Onishchenko criticized Georgia for the fact that it "wastes the holy product" by making wine from grapes. He recommended that Russians eat snow—but warned that this can cause a person's teeth to fall out. At the same time, he advised Russians not to go abroad on holidays, because such a thing is dangerous! Onishchenko fought with Japanese sushi and American hamburgers. The head of the Consumer Rights and Human Welfare agency distinguished himself for his bad reputation and his role as a tool of the Kremlin—a man who was involved with solving the government's geopolitical problems without a clear understanding of them. Gennady Onishchenko was a kind of Kalashnikov of Russian foreign policy. He did not disdain participation in lobbying campaigns: in 2000, Onishchenko became one of the most active fighters against beer; in response to this, representatives of Russian brewing companies accused the chief sanitary inspector of lobbying for the interests of vodka producers.
To some extent, Gennady Onishchenko can be compared with the former deputy head of the Federal Service for Supervision of Natural Resource Usage (Rosprirodnadzor) Oleg Mitvol. Mitvol was also publicly active, scandalous, and in search of the guilty. However, Mitvol was still an adequate person. One government source suggested that "maybe he [Onishchenko] lost his mind."
Onishchenko banned products from the Ukrainian confectionery factory Roshen, Lithuanian cheese, and Moldovan wine. A new wave of sanctions was related to preparations for the EU Eastern Partnership Summit in Vilnius.
The peculiarity of Gennady Onishchenko also manifested itself on the day of his dismissal. Deputy Prime Minister Olga Golodets, who oversees the Consumer Rights and Human Welfare agency, had every reason to announce his resignation. However, Onishchenko not only refused to acknowledge his resignation, but also made extremely rude comments about the deputy prime minister, calling her "a strange creature who does not make decisions." This dialogue between Golodets and Onishchenko reflected the current government system in which formal status is much less important than political weight. Although subordinate to Golodets, Onishchenko clearly felt himself to hold a special position in the Cabinet of Ministers. He had received key assignments from the Kremlin. However, in this situation, he managed to quarrel with almost all of the deputy prime ministers. The worst relationships he had were with Golodets and with First Deputy Prime Minister Igor Shuvalov, who is in charge of the Customs Union (CU), one of the key priorities of the Kremlin.
According to the Russian press, in early October, Onishchenko staged a walk-out at a meeting of the Eurasian Economic Commission chaired by Shuvalov in Kazan. He left the event to protest the veterinary authorities' expansion of the Federal Service for Veterinary and Phytosanitary Surveillance (Rosselkhoznadzor) to inspect ready-to-eat food products, which since 2009 had been under Onishchenko's jurisdiction. The reason for such an expansion concerned the Customs Union's technical regulations for meat and milk. The Federal Service for Veterinary and Phytosanitary Surveillance intended to issue CU veterinary certificates, which among other things could revoke the import bans. Onishchenko's office called the introduction of certificates an "unjustified and corrupt measure, which imposes additional costs on manufacturers and trade." In return, the Veterinary and Phytosanitary Surveillance agency publicly criticized Onishchenko for the introduction of the ban on Lithuanian cheese. "Before making a statement on Lithuania, Gennady Onishchenko did not inform any veterinary or customs authorities in advance—they were obliged to direct special requests to the Federal Service for Supervision of Consumer Rights and Human Welfare to get details on that," a source in the Ministry of Agriculture told Kommersant.
It is noteworthy that three days before Onishchenko's resignation, the Eurasian Economic Commission—a supranational body that oversees the Customs Union—held a meeting in Minsk. The meeting went far from smoothly: the presidents of Belarus and Kazakhstan criticized Russia on the ground that since the Customs Union had begun operating, trade barriers had only increased among its members. What is the meaning of integration, they asked, when Moscow introduces trade restrictions against Belarus because of that country's arrest of Uralkalyi top manager Vladislav Baumgertner? Recall that it was Onishchenko who announced his intention to scrutinize dairy products from Belarus. Perhaps Onishchenko's dismissal was intended to somehow soften the atmosphere at the Minsk summit.
It was always possible to give Gennady Onishchenko tasks that discredited him and his service. He always got down to business diligently, and with a sincere belief in his rightness. Putin likes such faithful dogs of his regime. But Onishchenko's time is up. Inadequacy has its limits. Unfortunately for the Consumer Rights and Human Welfare head, his fights with wines, cheeses, and milk stood in the way of the Customs Union, which implies a common market and common supervisory rules. For the Kremlin, the CU is more important than Russia's relationship with "problem countries."
Today, Gennady Onishchenko is the assistant to Prime Minister Dmitry Medvedev. In today's Russia, it is not customary to dismiss an honored crusader of the regime's interests to nowhere. Such an assistant, however, is rather a burden for Medvedev. The relationship between the head of the cabinet and the former Consumer Rights and Human Welfare head has been difficult. On the one hand, the prime minister does not have the opportunity to supervise Onishchenko's work fully. On the other hand, Onishchenko has defended such odious Medvedev initiatives as the "zero per mille" policy for drivers. Russian bloggers actively derided the appointment, pointing out that now the former chief sanitary inspector will dictate to Medvedev what he can and cannot eat and will beat him on his hands if they are poorly washed. Medvedev himself has said that his new assistant will "monitor the quality of the law" and deal with issues similar to those of his previous work. It is hoped that Russian legislation can be saved from the former chief nurse.