Presidential amnesty project passed by the Russian State Duma on December 18th will likely pardon former defense minister Anatoly Serdyukov who has been recently charged with negligence. As Donald N. Jensen, Resident Fellow at the Center for Transatlantic Relations notes, recent developments are a part a political maneuver by Putin to find an acceptable way out of the much criticized Oboronservis affair.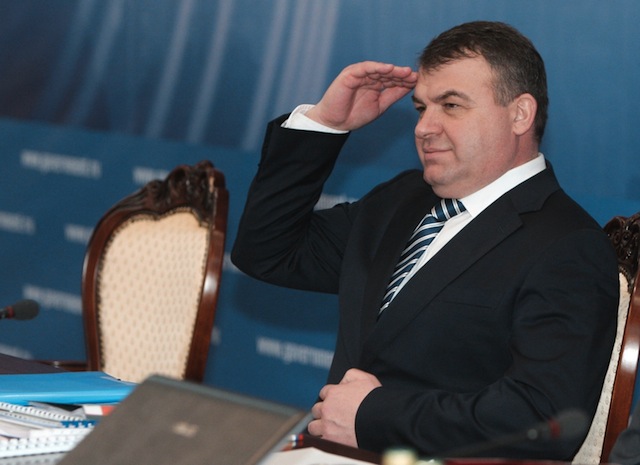 Russian investigators brought criminal charges against former defense minister Anatoly Serdyukov, who was fired a year ago but never prosecuted in a major corruption scandal at the end of November. Serdyukov was charged with negligence for using servicemen to refurbish the Zhitnoye resort complex near Astrakhan (supposedly planned for the use of Ministry of Defense personnel) and building a road to it. So notorious has been the Serdyukov case over the past year in the popular mind that the word "Serdyukovshchina"—based on the disgraced minister's last name—has been used by ordinary Russians to describe thievery that destroys the state. If convicted, the former defense minister faces up to three months in prison or a year in a corrections camp.
Serdyukov's fate has been seen as an important test of Vladimir Putin's battle against corruption. The charges mark an abrupt and unexpected turn in the case, since Serdyukov had appeared untouchable. His appointment on November 1st to be general director of a federal research and testing center that is part of Rostekhnadzor (Rostekh), a state organization which oversees ecological, technological and nuclear issues, was widely interpreted as a return to official favor. Many Russians had expected him to be spared criminal charges.
Serdyukov's downfall last year was triggered when Yevgeniya Vasilyeva, his reputed mistress, was charged with fraud related to more than $100 million in stolen funds from Oboronservis, the MOD-owned military real estate company, which the two individuals ran until 2011. The military prosecutor's office, for example, said the Oboronservis officials had illegally sold a navy fuel terminal in the Murmansk region that supplied Russia's Northern Fleet. The powerful Investigations Committee (SK) also alleged that Vasilyeva liquidated state assets at bargain prices to pay kickbacks to Russian officials. During a raid on her 13-room apartment in downtown Moscow the police found more than $1 million in jewelry, cash, antiques and 19th century art taken from the Ministry of Defense museum. (Embarrassingly for Serdyukov, the police also found the former defense minister in his bathrobe). Allegations against Vasilyeva and other defendants soon grew to include the "misallocation" of state funds at a cost to the government of an estimated $400 million. Vasilyeva was placed under house arrest, (though reportedly living under luxurious conditions), while Chief of the General Staff Nikolay Makarov was removed. During questioning by the Investigations Committee Serdyukov reportedly invoked his constitutional right against incriminating himself or close relatives. Some media reports that Serdyukov and Vasilyeva have pressured witnesses or tried to move them away from Moscow.
In any case, Serdyukov apparently was originally removed not only for breaking the law. In a system fueled by widespread corruption there clearly were other forces working to push Serdyukov out. First, Serdyukov's affair with Vasilyeva apparently cost him the protection of his father-in-law and patron, Viktor Zubkov, a Putin crony and former Prime Minister.  Second, Serdyukov had numerous powerful enemies who had clashed with him over defense orders and purchasing foreign weaponry, including Dmitry Rogozin and Igor Sechin. Third, Serdyukov's effort to reform the armed forces generated opposition within the military. He was at odds, for example, with the military prosecutor's office over the creation of a military police. Finally, Serdyukov was criticized by Prime Minister Medvedev during a government meeting in the summer of 2012 for delays in the implementation of army reform and offered his resignation, which was not then accepted by Putin. When the elite balance turns against a player like Serdyukov—someone who has too many enemies or loses a krysha like Zubkov—his status can be jeopardized for reasons beyond those officially given. Putin may have concluded he needed to make a change partly to ease the tension in the system and replacing him with a more popular figure (Sergei Shoygu).
By filing charges against Serdyukov, Putin has signaled to other members of the elite that there are certain limits which cannot be crossed. But the president, no doubt, also realizes he cannot go too far in punishing someone who moves in Kremlin circles.
Opposition leader Vladimir Ryzhkov believes that after months of inaction a legal case was brought only now against Serdyukov in order to address popular concerns about corruption, especially after the news of the new job was made public. Serdyukov's zig-zagging legal status also may be the result of divisions in the elite. There are two competing factions arguing about Serdyukov's fate, according to Pavel Salin of the Center for Political Research at the government's Financial University. One is insisting that Serdyukov will be convicted and saw his appointment to the Rostekh job as a political setback. The second fears that Serdyukov's conviction would help delegitimize the system and is pressing to keep him out of jail and for an end to Putin's anti-corruption campaign. Although Salin's division of the leadership into two distinct camps almost certainly oversimplifies the situation, the case does seem to have exposed elite divisions. After the news broke in November that Serdyukov had a new job, representatives of the SK were publicly dissatisfied and warned that they would continue to press for legal action since they had enough material to implicate him.
The latest developments are probably in part a political maneuver by Putin to find an acceptable way out of the Oboronservis affair. By filing charges—though relatively minor ones—against Serdyukov, Putin has signaled to other members of the elite that there are certain limits which cannot be crossed. But the president, no doubt, also realizes he is dependent on the elite and cannot go too far in punishing someone who moves in Kremlin circles. Throwing a former defense minister in jail would be risky, since Serdyukov likely has kompromat on other leaders, hitherto even more untouchable, who are at the core of the system.
During Putin's Direct Line show last April Komsomolskaya Pravda military expert Viktor Baranets asked Putin about double standards in the Oboronservis case—some of the accused were in jail and some, like Vasilyeva, were simply under house arrest, with Serdyukov not prosecuted at all. Putin responded that corruption was like inflation: one controls it as much as possible. Putin also reportedly told SK chief Aleksandr Bastrykin early on in the scandal that he didn't want to send the former defense minister to jail. Putin also may be trying to manage public expectations. The Presidential Administration has recently instructed law enforcement agencies to stop publicizing high-profile corruption scandals that have little chance of being successful, since the public gets a negative image of the authorities if they fail.
Many observers think the charges against Serdyukov are weak and he will be acquitted. A source familiar with the case told Interfax on November 29th that the statute of limitations on the negligence inquiry has already expired. An amnesty marking the 20th anniversary of the adoption of the Russian Constitution can help Serdyukov. On December 18th, Russian State Duma approved the presidential amnesty project that, according to first media reports, will mean full pardon of the former defense minister.
However, law enforcement officials continue to press forward on their investigation of Serdyukov's activities even as the prospects recede he will ever go to prison. An Audit Chamber source told Izvestia that it would take another look at all contracts concluded during Serdyukov's tenure at the MOD, and the review could turn up more violations.