The Russian Duma is considering new "antiterrorist" legislation that would further tighten state control over Russian citizens. Among other things, "destabilization of government bodies" will be equated with "terrorist activity." Author and analyst Alexander Podrabinek notes that the Kremlin has once again used terrorist attacks as a pretext to expand its own powers.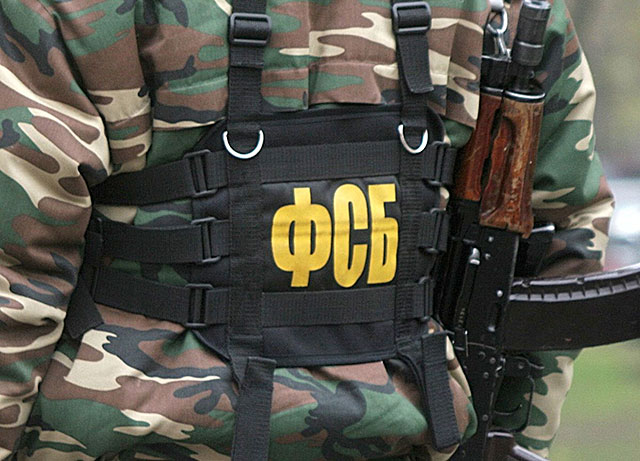 Any bloody terrorist attack in Russia is a double shot: first terrorists shoot at people, and then the government does. This has become as common and predictable a pattern as thunder following lightning during a storm. That is why it is no surprise that only a few weeks after the terrorist bombings in Volgograd, bills have already been introduced to the State Duma that would further extend the authority of the law enforcement bodies and encroach upon citizens' rights and interests.
Deputies from all four party caucuses in the State Duma presented the fruit of their labors—a package of three bills. One of them would extend the authority of the Federal Security Service, the second one would tighten government control over electronic payments, and the third one would create new possibilities for government control of the Internet.
Until the bills are published in open sources—which deputies are in no haste to do—one can only assess their contents by what their authors are saying about them.
Under the first bill, FSB operatives would have the right to search citizens, their cars, and their belongings if the authorities suspected them of anything improper. Until now, this right has been reserved to policemen, whereas FSB operatives can only conduct searches in a state of emergency or within the zone of counterterrorism operations. Thus, the offending discrimination against Chekists would be eliminated, and FSB operatives would no longer feel like second-rate policemen!
Additionally, under this legislation, the penalties outlined in the Criminal Code for aiding and abetting terrorism, organizing and financing terrorism, receiving training in terrorist training camps, and organizing terrorist communities and illegal armed groups would be toughened. The new law would impose either a 15- to 20-year prison term or life imprisonment for these offenses, depending on the discretion of the judge. In fact, one might not object to such sanctions, especially since terrorists in Russia are almost never brought to court—the security forces generally try to kill them before they can give testimony. However, the toughening of criminal charges is nothing but window-dressing on the new bills.
As far as essential modifications to legislation are concerned, the bills would abolish the period of limitation for propaganda, support, and justification of terrorism. This obscure wording would make it possible for the authorities to initiate criminal proceedings against any journalist writing about terrorism, its sources, and its consequences. This provision of the law is directed not against terrorism but against commentators and analysts. Furthermore, this provision would now have no period of limitation.
Another important change concerns the proposition to equate infringement on the life of a public figure, takeover or retention of power, and armed rebellion to terrorism. It is still unclear whether all these would be equated to terrorism in terms of punishment or by defining these crimes as terrorist activities. However, the bill does mention a new and unprecedented criterion of terrorist activity—the "destabilization of government bodies."
This criterion is directed not against terrorists but against all those who "destabilize" the regime: the opposition movement, journalists, political analysts, and critics of the regime. Boris Nemtsov's efforts to organize public protests obviously destabilize this semi-dictatorial regime. Information on corruption among top government officials, which is being published by Alexei Navalny, certainly destabilizes this regime of thieves. Andrei Soldatov's articles on the FSB's illegal activity undoubtedly destabilize this police regime. Any person's demand that the government respect Russia's constitution destabilizes this illegal regime. It is against such actions that this new law would be directed.
The second bill would establish additional government control over electronic payments. Currently, anonymous online payments within Russia are limited to 15,000 rubles (around $450) at a time or 40,000 rubles per month. The opposition movement and public organizations use the online payment system for crowdfunding—raising money for public and opposition projects. In today's Russia, anonymity guarantees safety, which is well known to both those who contribute money for socially significant purposes and those who strive to prevent them from doing so. This is why the new law would limit anonymous online payments to no more than 1,000 rubles ($30) per day or 15,000 rubles per month for one user.
The bill mentions a new and unprecedented criterion of terrorist activity—the "destabilization of government bodies."
It goes without saying that legislators have included a prohibition on cross-border payments on anonymous accounts and anonymous accounts outside of Russia. The "Iron Curtain" is coming down slowly and quietly, by almost undetectable degrees.
Press secretary of the Yandex.Dengi service Nadezhda Kiyatkina told Vedomosti and Kommersant that she did not see any point in restricting electronic transfers of money, because one could pay a million dollars in cash without anybody being able to trace what this money was paid for and by whom.
This is both absolutely true and also very important, because the regime is forcing citizens out of the anonymous opposition and into the open civil protest movement with its own hands. The government hopes that by depriving individuals of anonymity, civil protest will disappear. The government measures another man's foot by its own. In reality, people who have once experienced a sense of civil dignity will probably stop hiding behind anonymous contributions and will join the open civil opposition movement.
The third bill concerns government control over the Internet. All electronic postal services, social networks, torrents, and media that allow their users to leave comments would have to notify the Federal Supervision Agency for Information Technologies and Communications about the beginning of any organizational activity directed at distributing and exchanging information among Internet users. Owners of such Internet service providers would be required to store information about their clients for at least six months and provide it to law enforcement agencies. Otherwise they would be fined: 3,000 to 5,000 rubles for individuals and 100,000 to 200,000 rubles (approximately $6,000) for legal entities.
This legislation also stipulates that if the organization providing communication services is located abroad and its users are in Russia, this foreign organization would have to store information about the reception, transmission, delivery, and processing of different electronic information for six months and share those data with the state authorities, if requested. This provision of the law seems to be somewhat funny, considering that foreign organizations are not under Russia's legal jurisdiction. However, there is more in this than meets the eye.
This third bill was not even passed in the first reading, and the Microsoft corporation, which owns the Internet call service Skype, has already declared that it is prepared to store information about its users' conversations, correspondence, and data exchange for six months and share it with Russian law enforcement bodies. At least, this conclusion is what follows from the response of Microsoft's press office to ITAR-TASS news agency: "Microsoft confirms its commitment to work in full compliance with the Russian law, the way it does in all countries of its operations. If any new law is adopted, the company will comply with it as well."
What an extraordinary willingness of an American company to fall on its knees before the KGB's successors! But nobody really expects any actions in support of human rights in Russia from American business in general or Bill Gates in particular. However, for decency's sake, Microsoft could at least have waited until the law came into force. It could be less eager to follow the order to fetch before the master threw the stick.
The bills introduced to the State Duma will probably be adopted. These bills were prepared during closed meetings of deputies with officials of the Federal Financial Monitoring Service, the FSB, and the Interior Ministry. The government has long forgotten about the separation of powers. The authors of the bills are rather well-known people: Irina Yarovaya, a United Russia member and former official of the Prosecutor's Office; Oleg Denisenko, a member of the Communist Party of the Russian Federation and former operative of the FSB's Alpha fast-response team; Andrei Lugovoi, a member of the Liberal Democratic Party of Russia and a former FSB operative; and Leonid Levin, a member of A Just Russia party and a PR specialist. Andrei Lugovoi's participation in drafting the antiterrorist laws is especially touching, since the British legal authorities have accused him of murdering Alexander Litvinenko.
It is obvious that State Duma deputies had already been working on these bills for a long time. The first attack on the Volgograd train station took place on December 29, 2013. On December 31, the deputies went on holiday until January 9, during which period nobody drafted anything. They could not have prepared the bills in the following few days, which means that the work had been underway for a long time and deputies had just been waiting for an occasion. The occasion presented itself and was used immediately, as has already happened many times in today's Russia.