Today, on February 21, Moscow's Zamoskvoretsky court will read the verdict for eight prisoners of the Bolotnaya Square Case. Hardly anyone doubts that the verdict in this politically motivated show trial will be guilty. The defendants are facing five to six years in a penal colony. The only question left at the moment is how cruel the sentence will actually be.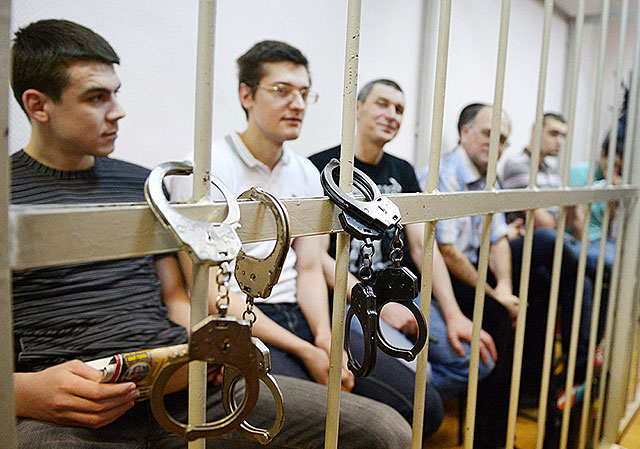 The Bolotnaya case was initiated soon after a mass protest on Bolotnaya Square in Moscow on May 6, 2012. The protest resulted in clashes with the police and the detainment of over 600 people. The prosecution qualified these clashes as organized mass riots accompanied by violence against law enforcement agencies. However, according to numerous witnesses and independent observers, the clashes were provoked by the police themselves, as they were brutally driving protesters away, using force, and beating people with rubber batons.
Since the very beginning of the Bolotnaya case, it became clear that it is a politically motivated show trial that means to serve as a lesson for members of the protest movement. About 30 people were arrested in the proceedings of this case on what prominent legal experts and independent observers note are trumped-up charges. Many human rights organizations (Center "Memorial," Moscow Helsinki Group, All-Russia Movement "For Human Rights", Amnesty International) and international bodies (European Parliament) called this case politically motivated.
On February 21, the verdict will be announced for eight defendants of the Bolotnaya case. They are: Andrei Barabanov, Yaroslav Belousov, Alexandra Dukhanina, Sergei Krivov, Denis Lutskevich, Alexei Polikhovich, Artem Savyolov, and Stepan Zimin. They are charged with participation in the organization of mass riots and violent actions against the representatives of the law enforcement agencies (see short descriptions of each case in IMR's summary below). Despite the fact that the prosecution lacks any adequate evidential base, there is no doubt that the verdict will be guilty, and the defendants will face five to six years in a general regime penal colony.
In the course of the almost two-year-long trial process, many people supported prisoners of the Bolotnaya case: they organized protests, published articles in the media, and spread the word through social networks. However, public pressure on the authorities might not have been strong enough, and the activists' support of prisoners has not become universal. As Mikhail Khodorkovsky, former head of Yukos and, until recently, a political prisoner himself, put it in his statement of support for the Bolotnaya prisoners, this case means that "the history of Russia will have one more shameful page about innocent people being held hostage, and we did not do anything to prevent it."
The Institute of Modern Russia will continue to monitor developments of this case as a part of our project dedicated to Russian political prisoners. We will continue raising awareness and publishing articles, detailing each political prisoner's case.
IMR Summary: Bolotnaya Prisoners, "The Case of Eight" (UPDATED!)
Andrei Barabanov, 23

Artist, graduate of Moscow Mathematics College.

On May 6, 2012, Barabanov was detained for disobeying a police officer. While being taken into custody, he was brutally beaten. Later, Barabanov was arrested on charges of "participating in mass riots" and using force against the police. Investigators suggest that Barabanov and a number of other protesters attacked and kicked a police officer. According to Barabanov's attorney, however, no evidence, including witness testimony, was presented during the trial that would prove that he had kicked the officer. The prosecutor requested a sentence of 5 and a half years in prison for Barabanov. In his closing statement, he said that he had come to Bolotnaya Square to "express [his] views as a citizen … I want to live in a country, where human rights are honored." He pleads not guilty, claiming that he did not cause any harm to the police.

Sentenced to 3 years and 7 months of the general regime penal colony.
Yaroslav Belousov, 22

Student, Department of Political Science, Moscow State University.

Yaroslav Belousov was arrested in June 2012. He is charged with "participating in mass riots" and using force against the police. Investigators argue that Belousov chanted anti-government slogans, threw an "an unidentified yellow object" at an officer of the Russian special police forces, and did not follow orders "to stop unlawful activity." Belousov maintains that he came to Bolotnaya for "research purposes, [he was] collecting data for his thesis." According to Belousov's defense, there is no evidence that he performed the actions of which he is accused. Furthermore, the police officer identified by the prosecution as a victim was "illegally focused on Belousov as an individual who had committed a violent act against him." Additionally, the statements made by police officers contradicted each other. In January 2014, Moscow's Zamoskvoretsky court rejected amnesty for both Yaroslav Belousov and Alexandra Dukhanina, another participant in the Bolotnaya case. The prosecutor demanded a sentence of 5 years in prison for Belousov. In his closing statement, Belousov said: "I do not plead guilty because I was not involved in any wrongdoing."

Sentenced to 2 years and 6 months of the general regime penal colony.
Alexandra Dukhanina, 20

Former student at the Higher School of Translation and Interpretation, Moscow State University, civic activist.

Alexandra Dukhanina was arrested on May 28, 2012. Upon the Basmanny court's decision, she was put under house arrest. Investigators argue that Dukhanina was directly involved in mass riots. In particular, it was alleged that she threw "no less than 8" pieces of asphalt and one bottle at police officers. Key evidence presented by the prosecution is a video, in which a young girl who looks like Alexandra Dukhanina holds and then throws a piece of asphalt. At that moment, the video stops. Later, it was also argued that her guilt is supported by the testimony of a victim who said that Dukhanina "actively participated in the riot, threw stones at him, and poured kvas on him." Alexandra Dukhanina did not plead guilty and said the following in her closing statement: "My conscience will be clean. Those who stay out of prison will live in an eternal cage remembering their illegal and unlawful acts. You can choke, imprison… Violence and lies will never help you achieve anything."

Sentenced to 3 years and 3 months of the general regime penal colony (conditionally).
Sergei Krivov, 53

Political activist of People's Freedom Party (PARNAS) and the Russian opposition movement "Solidarnost," PhD in Physics and Mathematics.

Sergei Krivov was arrested in October 2012 on charges of "participating in mass riots" and using force against the police. According to investigators, Krivov grabbed a police officer's truncheon, hit the officer, and pushed another officer. Prosecutors demanded a sentence of 6 years in prison for Sergei Krivov. The defendant says he is not guilty and points out that "his actions did not cause physical pain to anyone." Also, during the trial, Krivov repeatedly spoke about numerous contradictions in the testimonies of "so-called 'victims' and witnesses." Krivov called the events of May 6 a planned provocation by the authorities. While in detention, Sergei Krivov declared two hunger strikes, the most recent of which lasted over 2 months. His defense attorney and friends claim that he had two heart attacks in November. Krivov continues to maintain his innocence and said in his closing statement that "the Bolotnaya case was fabricated to mask the authorities' sabotage of the peaceful protest."

Sentenced to 4 years of the general regime penal colony.
Denis Lutskevich, 21

Former marine, student of the State Academic University for the Humanities.

The protest on Bolotnaya Square was the first that Lutskevich attended, accompanied by other students and professors from his school. During clashes with police, he was brutally beaten with police batons, which was proved by documentary evidence. Two months later, he was arrested by officers of the Investigative Committee on charges that he had thrown stones at police during the riots and had torn off the helmet of an officer of the special police forces. Later on, the same officer admitted in an interview with Russian Esquire that he does not remember who actually tore off his helmet that day. From the moment of his arrest, Lutskevich has spent a year and a half in a pre-trial detention center (SIZO-5). During the trial period, he was subjected to physical violence and psychological pressure by law enforcement agents. All complaints filed by Lutskevich's lawyers were denied. In one of his interviews, Lutskevich said that in prison, he was able to see with his own eyes "the tragic depth of the crisis of Russian authority," "the powerlessness of an ordinary Russian citizen and monstrous soullessness [of the state machine]." He is facing a sentence of 5 and a half years in a general regime penal colony.

Sentenced to 3 years and 6 months of the general regime penal colony.
Alexei Polikhovich, 23

Student of the Russian State Social University, worked as a delivery person at an insurance company.

Polikhovich served in the Russian Navy and was offered a job in the Federal Protection Service, but he decided to go to university. He was involved in protecting the Tsagov Forest (located near Moscow) from illegal clearing and volunteered to collect goods for the victims of the Krymsk flood. Polikhovich was arrested on July 26, 2012, on charges of active resistance to law enforcement officers and special police forces during the protest on Bolotnaya Square. His file says that, during the protest, he was allegedly "wrenching detainees out of the hands of police officers." Camera footage of the Bolotnaya protest that showed a man, who allegedly looked like Alexei, wearing a mask was presented as proof by the investigation. The lawyers tried to reason that such evidence is absurd, but their appeals were dismissed by the court. However, the prosecution's argument that Polikhovich is a "member of a youth organization of a destructive nature" (he considers himself an anarchist) was noted in the case. In his closing statement, Polikhovich raised questions regarding the legitimacy of actions by the police. In his words, "it doesn't matter how selective your perception is, or how many stars you have on your shoulder straps, you can't call kicking and beating a man lying on the ground with a baton a detainment." The prosecution demanded a sentence of 5 and a half years in a general regime penal colony for Polikhovich.

Sentenced to 3 years and 6 months of the general regime penal colony.
Artem Savyolov, 34

Sportsman, former employee of the Moscow Metro.

Savyolov was first detained for 24 hours during clashes with police at the Bolotnaya Square protest on May 6. He did not resist arrest and, in his own words, "was only taken by the officers on the spur of the moment." On June 10, police conducted a search of his apartment, after which Savyolov was arrested on charges of participating in mass riots on Bolotnaya Square, and in particular, that he allegedly broke through the police cordons "using violence against unidentified police officers." After the arrest, Savyolov was pressured by law enforcement officers who forced him to give false testimony that he participated in the riots on the orders of Alexei Navalny, a prominent opposition figure. The Moscow Public Oversight Commission visited Savyolov in the detention center and pointed out that the accused suffers from a severe stutter. Therefore, it is hard to imagine that he could shout "Down with the police state!" at the protest, as the prosecution claims he did. The defense presented video footage from the protest proving that Savyolov did not act violently against the police and that, in fact, he stayed on Bolotnaya Square for no longer than 3 minutes. Deputy Chief Editor of Novaya Gazeta Sergei Sokolov petitioned to change Savyolov's measure of restraint, however, his petition, as well as the argument presented by the defense, was ignored by the court. The prosecution requested a sentence of 5 and a half years in a general regime penal colony for Savyolov.

Sentenced to 2 years and 7 months of the general regime penal colony.
Stepan Zimin, 22

Student at the Department of Political Science, Russian State University for the Humanities.

Zimin's major is Eastern Studies, and his hobby is restoration of old costumes; he also worked as a blacksmith. He does not hide that he is an anarchist and anti-fascist. His friends describe him as an exceptionally kind and decent man with a "heightened sense of justice." Zimin was arrested on June 8, 2012, on charges of participation in alleged mass riots during the protest on Bolotnaya Square, where he was allegedly throwing pieces of asphalt at officers of the special police forces and injured an officer's hand. However, there are documents proving that the injured officer's testimony was forged and contained numerous contradictions. During a search of Zimin's apartment, police seized a bottle of household dissolvent that was described as a gasoline bomb and textbooks on Egypt studies that passed for extremist literature. Despite several appeals, Zimin's petition for change of measure of restraint, from imprisonment in pre-trial detention center to recognizance not to leave, was rejected. On February 5, 2014, the state prosecutor requested a sentence of 5 and a half years in a general regime penal colony for Zimin.

Sentenced to 3 years and 6 months of the general regime penal colony.