The Institute of Modern Russia continues its series of publications on Russia's political prisoners with the portrait of "Bolotnaya prisoner" Sergei Krivov.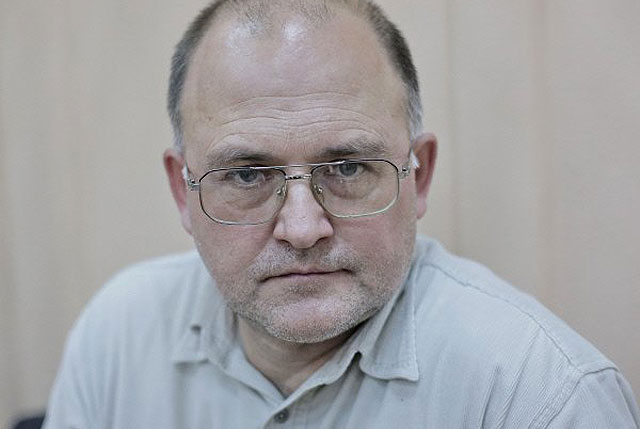 Full Name: Sergei Vladimirovich Krivov
Date of Birth: September 8, 1961
Sentenced by the Zamoskvoretsky District Court of the City of Moscow to four years at a general regime penal colony
Sergei Krivov, PhD (in Physics and Mathematics), activist of the Republican Party of Russia – People's Freedom Party and the opposition movement "Solidarnost," was arrested on October 18, 2012, on charges of "participating in mass riots" on May 6, 2012, on Bolotnaya Square in Moscow, and of using force against the police. According to investigators, while confronting the police after the "March of Millions" mass demonstration, Krivov grabbed a police officer's truncheon, hit the officer, and pushed another one. Prosecutors demanded a sentence of six years in prison for Krivov. On February 24, Moscow's Zamoskvoretsky Court sentenced him to four years at a general regime penal colony.
Krivov did not plead guilty and commented on what happened on Bolotnaya Square as follows: "I saw the police officers organizing in groups, rushing to people, and beating them. I saw some black objects flying around—later, I understood those were pieces of asphalt… Special force officers beat us. I was keeping hold of the barrier. When the officer started beating me, it happened that I took the truncheon. I passed it to somebody. I am sure my actions did not cause physical pain to anyone." In his closing statement, Krivov said that he had tried to prevent police violence against innocent people.
In the words of Maria Arkhipova, a member of the grassroots initiative known as the May 6 Committee, which calls for an end to the political crackdown on the Russian opposition, Krivov was singled out as a strong defender of the Bolotnaya Square activists (the arrests of the protesters began three weeks after the events of May 2012). Arkhipova told IMR that Krivov dedicated the last several years to fighting injustice: he participated in protests and filed complaints and petitions. According to Krivov, who more than a few times served as an election monitor, the "election falsifications that [he] witnessed" became "the point of no return" for him.
During the hunger strike, Krivov was taken to court forcibly. He fainted several times in the courtroom.
Krivov has continued his fight after the arrest: He built his own line of defense and regularly filed petitions in an effort to prove his innocence. He has spent much of his time studying the Bolotnaya case, analyzing arguments of the prosecution and uncovering numerous contradictions in testimonies. While in pre-trial detention, Krivov went on two hunger strikes. The most recent hunger strike started on September 19, 2013, in protest against violations of his rights—in particular, Krivov and his attorney were not provided with transcripts of the court hearings. During the hunger strike, Krivov was taken to court forcibly, violating the guidelines for organizing medical assistance for detainees. Given that court hearings were held three to four times a week and transportation took between six and eight hours a day, Krivov fainted several times in the courtroom.
On November 18, 2013, when one such incident occurred, despite Krivov's lawyer's demand to interrupt the hearing and allow ambulance professionals to help him, Judge Natalia Nikishina refused to let them into the courtroom. She based her decision on the argument that she had a "written notice indicating [Krivov's] ability to participate in the hearings and that his health condition was satisfactory." The next day, Krivov's defense sent a petition to the European Court of Human Rights (ECtHR) requesting that it "take prompt and effective measures to ensure the applicant's access to medical assistance." A few days later, the Russian government received a request from the ECtHR for information about Krivov's hunger strike, his health condition, and all medical examinations performed on him.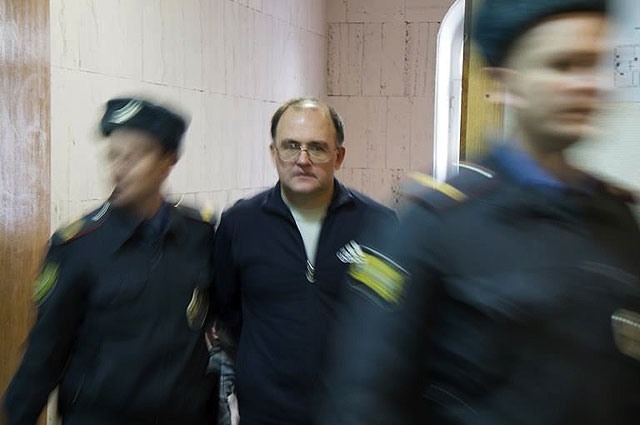 Dmitri Borko, member of the May 6 Committee, public defender in the Bolotnaya case, and Grani.ru journalist, told IMR that Krivov's condition was quite severe and all who cared about him "sounded all the alarms." At that time, Russian human rights ombudsman Vladimir Lukin requested that the court postpone any hearings that required Krivov's participation. On November 23, after talking with Elizaveta Glinka, executive director of the foundation Spravedlivaya Pomosh (Fair Aid), Krivov decided to stop the hunger strike.
According to Borko, "Sergei Krivov is a very positive, friendly, and rational person." Borko says that during the events of May 6, Krivov did not show aggression, but rather tried to bring some order to the situation: "It is hardly possible to believe that he could attack somebody and start beating." Arkhipova describes Sergei Krivov as "an honest, decent, and responsive person of utmost modesty." According to Arkhipova, within a relatively short time, Krivov, who had been "an ordinary good man, turned into a tough fighter" for justice.
A few months ago, Krivov wrote a letter to Arkhipova, stating the following: "Now it's not that important what the sentence will be. What is important is that now—at the court hearings stage—we do everything we can to show how fabricated the case was and all the violations." Indeed, for his part, Sergei Krivov has done everything he could.
Sergei Krivov's two children, wife, and disabled mother are waiting for him.