On October 22, founder of the Open Russia movement Mikhail Khodorkovsky spoke at the 2014 Oslo Freedom Forum. His speech was dedicated to Russia's political prisoners, in particular the "Bolotnaya Case" prisoners. The highlights of his speech are summarized by IMR.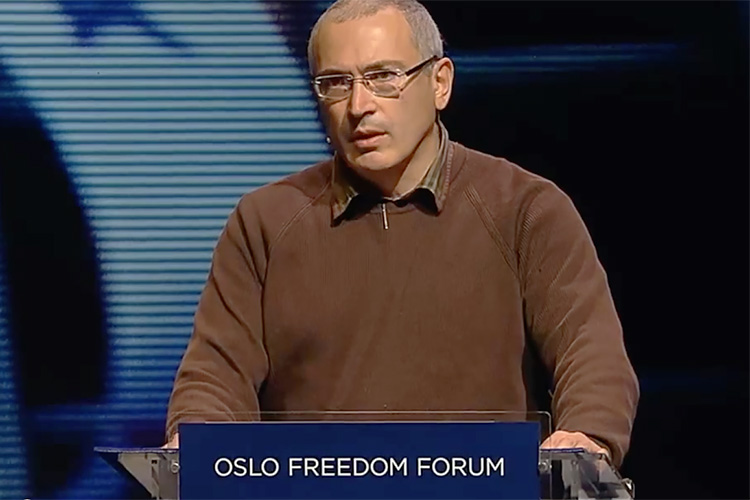 Dear Friends! What it means to be a prisoner in Russia is something I know firsthand. But I am not going to speak about myself today; I want to speak about today's Russian political prisoners. [...]
In August of '68, when Soviet troops entered Prague, out of 250 million Soviet citizens, only seven cared enough to take to Red Square on August 25 to protest the occupation of the country. The Soviet court sent them into internal exile, to camps, and to psychiatric hospitals. The most famous slogan back then, in '68, sounded like this: "For your freedom and ours!"
On May 6 of 2012, it was no longer just seven people who turned out to protest "for your freedom and ours" in Moscow, the way it had been in '68, but more than fifty thousand. This was a lawful civic action. Mass falsifications in the Russian parliamentary and presidential elections in the winter and spring of 2011–2012 made the people take to the streets.
On May 6, entire families of Muscovites came out [to Bolotnaya Square] together, with children, with friends. They carried satirical posters, balloons, flowers, and white ribbons—the symbol of the winter protests. The people were in a peaceful mood—something that cannot be said of the police. The third inauguration of president Vladimir Putin was to take place the next day, on May 7, and the police had apparently received orders to act roughly. [...]
Around 450 demonstrators were detained right there at the rally. And about a month later, in June of 2012, began the arrests of people who, according to investigators, had participated in clashes with the police. It became obvious that the authorities were preparing a political show trial, which was given the name the "Bolotnaya Case" by the press.
According to unofficial data, approximately fifty participants in the demonstration were forced to flee the country; some even had to seek political asylum abroad. Among these was Alexander Dolmatov, a young aircraft designer from a closed defense enterprise, who committed suicide in Rotterdam's deportation center after his request for political asylum in the Netherlands was denied. [...]
Few of those arrested were actually political activists; most of them were simply concerned citizens who had come out to protest against the authorities' brazen cheating in the elections. The alleged offenders behaved with courage and dignity during the trial.
Denis Lutskevich, [at the time of his arrest, was] a twenty-year-old student at a university of humanitarian sciences, a former marine, and had been a participant in the Victory Parade on Red Square. May 6 was the first time he had ever taken part in a demonstration; he went together with his girlfriend. Video footage of Denis being beaten by police was widely distributed on the Russian Internet.
Artyom Savelov is a former worker at the Moscow metro. He was charged, among other things, with shouting anti-government slogans, despite the fact that he suffers from a severe stutter and even had difficulty delivering his closing statement at trial—the shortest of all the closing statements by the Bolotnaya prisoners.
Alexey Polikhovich was originally indicted on only one charge—participation in mass disorders—until President Putin said in December of 2012 that, and I quote, "people ought not be arrested for participating in mass actions." The investigators interpreted the president's words in their own special way. Instead of releasing Polikhovich, they immediately added another charge of "use of force against a representative of authority" and kept him behind bars.
Yelena Kokhtaryova is a fifty-nine-year-old Muscovite and a defendant in the so-called "second wave" of the Bolotnaya trials. She was given a suspended sentence of three years and three months. A pensioner, she fully admitted her "guilt"—that she had been protecting a young person from being beaten by OMON [Special Purpose Mobile Unit] officers.
Dmitry Ishevsky, a military college graduate and counselor in a cadet corps, was the last to be arrested, at the end of May 2014, two years after the protests on Bolotnaya Square. A week ago, the court sentenced him to three years and two months in a general-regime colony.
The case of Mikhail Kosenko was separate and was one of the most complicated. Mikhail had suffered an injury while serving in the Soviet Army, as a result of which he was enrolled as a patient at a psycho-neurological clinic and is [classified as] a group II invalid. He has always received treatment on an outpatient basis.
Kosenko happened to find himself [nearby when] a scuffle [between protesters and] one of the OMON fighters took place. There is neither video nor photo evidence showing that Kosenko took part in the actual fight. And indeed, the injured OMON serviceman was not able to identify Mikhail. Nevertheless, he was charged with a serious offense: use of force dangerous to life and health against a representative of authority. [...]
This summer, after being locked away for two years, Mikhail Kosenko was released from a psychiatric infirmary after repeated expert examinations that took place under the close scrutiny of a professional community of doctors, and society at large. Kosenko's release is an example of consistent civic participation, and of the importance of public attention to the fate of an individual who has fallen under the wheels of the state's machinery. I am glad that I was able to make what contribution I could to his release.
Yet another trial of the defendants in the Bolotnaya case—the sixth one already—took place several months ago. Three of the people were given actual prison sentences.
The forty-three-year-old publisher Alexander Margolin received three and a half years in jail.
Ilya Gushchin, a twenty-five-year-old graduate of the Moscow City Psychological-Pedagogical University, received two and a half years in jail.
Alexey Gaskarov is a civic activist and one of the leaders of the Antifascist movement. Over the course the year following the events on Bolotnaya Square, he attempted to organize a criminal investigation into his beating by policemen. During the mass detentions at the rally, he had asked OMON officers, "What are you doing?" In response, they struck him with a rubber truncheon in the face, after which they threw him to the ground and began kicking him. Gaskarov received laceration wounds to the head. [...]
What can we do for the political prisoners in Russia? What we can do is tell the world about the kind of values the people who turned out on Bolotnaya Square on May 6 stood for. For the sake of what was all this being done? It seems to me that the key words here are freedom and love for the motherland, a sense of responsibility for our country's future.
And today, just like in the long-ago year of '68, these desires run completely counter to the plans of the regime. For their desire for freedom, people are [being forced] to pay with their own freedom. Let us not forget about them! ... Thank you!
The full text of Mikhail Khodorkovsky's speech is available here.