The Institute of Modern Russia continues its series of publications on Russia's political prisoners with a profile of Alexey Gaskarov, an activist and a defendant in the Bolotnaya Square case. The pretrial hearing for his case is scheduled for April 14.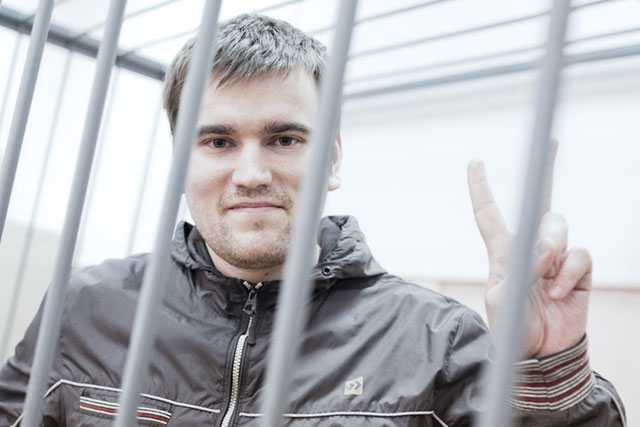 Name: Alexey Vladimirovich Gaskarov
Date of Birth: June 18, 1985
In late March, Gaskarov's case was sent to court. The pretrial hearing will be held on April 14.
Alexey Gaskarov, a widely known activist and participant in Russia's antifascist movement, was taken into custody on April 28, 2013, shortly before the subsequent rally in support of the "May 6 prisoners." Gaskarov was the last person arrested in the Bolotnaya Square case. He was charged with participation in the organization of mass riots and violent actions (not threatening life or health) against representatives of authority. In late March 2014, Gaskarov's case, along with the cases of Ilya Guschin, Elena Kokhtareva, and Alexander Margolin, was sent to the Zamoskvoretskiy District Court in Moscow.
Less than two months after Gaskarov's arrest, the Moscow City Court considered an appeal from the defense to change the pretrial restriction measure to that not requiring placement in detention. As part of the appeal proceedings, the court took into consideration information provided by the General Administration for Combating Extremism (or Center E). According to the Center E, Gaskarov "did not reside at the address where he was registered, used secrecy to conceal his criminal activity, and possesses the financial capability to leave the Russian Federation." Previously, the police and the investigators characterized Gaskarov as an "extremist" and an antifascist leader who, "together with the Left Front and anarchists, destabilized the situation."
The defense's appeal was rejected despite the fact that Russian Duma deputy Dmitriy Gudkov, human rights advocate Lev Ponomarev, and Novaya Gazeta editor in chief Dmitriy Muratov personally vouched that Gaskarov would not flee, and regardless of letters of reference and multiple pieces of evidence from the defense demonstrating that Gaskarov's situation had been misportrayed. Materials that, according to Gaskarov's lawyers, indicated that Center E had a vested interest in prosecuting Gaskarov, were also found "unimportant."
In his native town of Zhukovskiy, Alexey was called an "unofficial mayor." According to Gaskarov, his own major goal was to encourage members of society to self-organize for the protection of their rights.
The investigators suggested that the collected materials and video recordings, as well as the victims' and witnesses' testimonies, all established the defendant's guilt. Personal information about the witnesses is not disclosed in records; only their pseudonyms are listed: "Maxim Ivanov," an officer from the police forces, and "Dmitriy Petrov," the driver of a special police vehicle. The witnesses said that Gaskarov "had given orders to a group of people who actively participated in the 'mass riots'." Additionally, the prosecutor reported that the defendant pulled internal forces soldier named Bulychev by his hand and "pulled [Igor] Ibattulin—an officer of Russia's OMON (Special Purpose Mobile Unit) riot police—away from another activist, who was being detained by the police." In both cases, no harm came to the police officers. In the words of Dmitriy Dinze, Gaskarov's lawyer, "Gaskarov's actions cannot be considered the use of violence."
The "Bolotnaya prisoner" said that he had pulled a police officer away from an activist because he had deemed it impossible to not get involved, seeing as how "people who did not demonstrate any aggressive behavior were being beaten and detained." As a result, Gaskarov himself was beaten by the riot police. He later filed a request with the investigative committee to open a criminal case against the riot police officer who beat him. The case was not opened, however.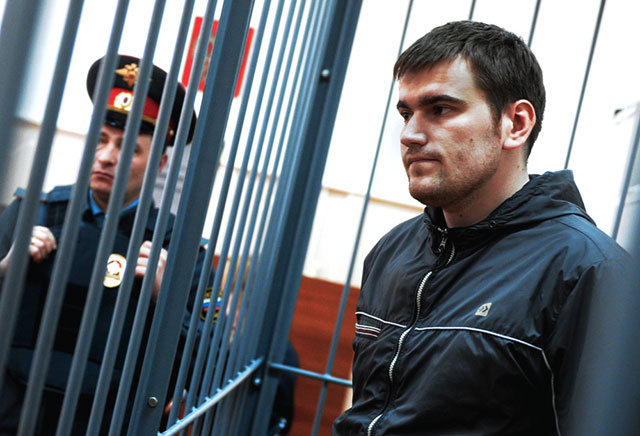 Before Gaskarov was arrested, he was actively involved in public activities. He was a member of the Institute for Collective Action (which investigates public movements and provided informational support for social initiatives), the Opposition Coordination Council, and the Zhukovskiy People's Council. He also served as a spokesperson for the antifascist movement, and participated in rallies and other public and political events, including demonstrations in support of preserving the Khimki and Tsagovski forests. In late July 2010, as a journalist for the Institute for Collective Action, Gaskarov participated in a demonstration opposing the destruction of the Khimki forest and, a few days later, was arrested on charges of hooliganism. His arrest was later recognized as illegal and the charges were dropped.
According to another antifascist Maksim Solopov, in his native town of Zhukovskiy, Gaskarov was called an "unofficial mayor": "He organized a homeowners association, a soccer club, participated in creating a coffee shop, opened a movie theater, organized screenings and concerts…" According to Gaskarov, his own major goal is to encourage members of society to self-organize for the protection of their rights.
Currently, Alexey Gaskarov is preparing for the pretrial hearing that will begin on April 14. As Anna Karpova, Gaskarov's fiancée, conveyed in her comment to the Institute of Modern Russia, it is difficult, if not impossible, to describe the competitiveness of the process that started approximately a year ago; however, "Alexey is very seriously preparing for the trial. He wants to utilize his legal base to its full extent and is going to participate in the process to the fullest extent. Even despite the circumstances, when one might think it impossible to influence the process, he is very active in terms of defending and asserting his position." Judging by Alexey's letters from prison, he is not thinking about giving up.