The U.S. Senate Committee on Foreign Relations met with current and former officials on March 10 to discuss U.S. policy in Ukraine and the challenges posed by Russian aggression in the country. Many senators expressed frustration with the Obama administration for delaying a decision on whether to send lethal weapons to the Ukrainian government.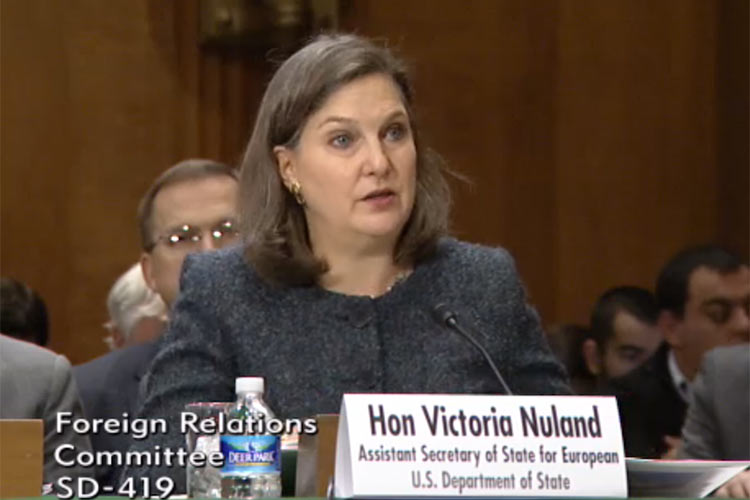 The first of two panels to give testimony was comprised of Victoria Nuland, assistant secretary of state for Europe and Eurasia; Brian P. McKeon, undersecretary of defense for policy; Ramin Toloui, assistant treasury secretary for international finance; and Frank Pandolfe, a vice admiral and director for strategic plans at the Pentagon. The second panel consisted of two former officials: John C. Kornblum, former assistant secretary of state for Europe, and John Herbst, a former U.S. Ambassador to Ukraine.
Purpose of Weapons
Most participants in the hearing agreed that the purpose of sending arms to Ukraine was to increase the cost for Russia of advancing further into Ukraine. Senator Bob Corker (R-TN) said arms would help to level the playing field and give Ukraine the ability to defend itself but said there was no expectation that Ukraine could actually defeat Russia no matter what supplies the U.S. provided.
Corker and Senator Bob Menendez (D-NJ) asked Nuland about the stipulations of the 1994 Budapest Memorandum. The senators said they were under the impression that the agreement required the U.S. to defend Ukraine if its territorial integrity was violated, but Nuland explained that this was not the case. She said the memorandum was merely a political agreement that did not entail any concrete military obligations.
Conditions in Ukraine
Nuland said she could not report on the number of Russian soldiers killed in the Ukraine conflict because the U.S. could not obtain reliable information on the matter. She said that observers from the Organization for Security and Cooperation in Europe (OSCE) were able to provide some information from on the ground but that they were limited in what they could do because they were unarmed.
Sanctions, Economic Aid
The senators agreed that support for Ukraine must go beyond military aid, arguing that it would be a defeat for the U.S. if Ukraine's economy collapsed. In addition to other forms of economic aid, $1 billion in loan guarantees have already been provided to the Ukrainian government, with $2 billion more having been approved. Menendez said he was concerned about Russia demanding faster repayment of a $3 billion loan it gave Ukraine under the previous government, but Toloui said this has not happened yet. Toloui refused to confirm or deny whether the U.S. was considering denying Russia access to the SWIFT international payment system.
Europe
Menendez argued that the U.S. must work with Europe on implementing sanctions, especially those targeting the energy sector. The general consensus among senators was that the U.S. should lead the way and work to strengthen NATO and EU integration. Pandolfe said that if Russia were to invade one of the Baltic countries, the U.S. would honor its ironclad commitment to Article 5 of NATO and come to the nation's aid.
Nuland said the U.S. was working with Europe to address Russia's use of energy as a weapon and also its use of corrupt practices and propaganda. She said that by "propaganda" she meant not only biased media coverage but also support for certain nongovernmental organizations. Kornblum emphasized that the U.S. was losing the narrative about Russia in Europe.
Ukraine's Future
Nuland said she was hopeful about the future of the current Ukrainian regime, since it was able to pass budget reforms that followed the guidelines of the International Monetary Fund. The reforms were aimed at decentralizing economic and political functions, reducing state pension obligations by increasing the retirement age, cutting wasteful gas subsidies, and establishing e-governance platforms. The IMF has said that Ukraine has lived up to its economic reform commitments, Toloui noted.
U.S. Military
McKeon reported that the U.S. Department of Defense has halted defense cooperation with Russia and that sanctions are in place on Russian defense firms. He said U.S. funds from the European Reassurance Initiative would be used to bolster assistance to Ukraine and the Baltics. He noted that there are training flights in Poland, and last month NATO created a rapid reaction force.
Senator Johnny Isakson (R-GA) posed the question: What is the greatest threat to U.S. security? McKeon replied that the administration is taking Russia seriously, just as it is taking seriously the threats posed by ISIS and terrorism.
Putin's Goals
Senator David Perdue (R-GA) asked whether Putin's objective was to create a frozen conflict in Ukraine, to which Pandolfe answered that he thought Putin wanted to keep the conflict stable so that Ukraine would be unable to strengthen integration with the West. Herbst dissented, saying he did not think Putin would keep the conflict frozen and would act aggressively in the Baltics if he succeeded in Ukraine. Pandolfe said he believed that Putin was trying to keep neighboring countries within Russia's sphere of influence, a statement Nuland said she agreed with.
Senator Chris Murphy (D-CT) asked whether the U.S. would have to send additional weapons if Russia was not paying "a big enough price." McKeon said the administration had been looking at all options for increasing the costs for Russia, but that Putin did not need to be provoked further. He said he did not know whether Putin wanted to make deeper incursions into Ukraine. Senator Ron Johnson (R-WI) expressed concern that Russia could become more dangerous and unpredictable militarily if it becomes weaker economically.