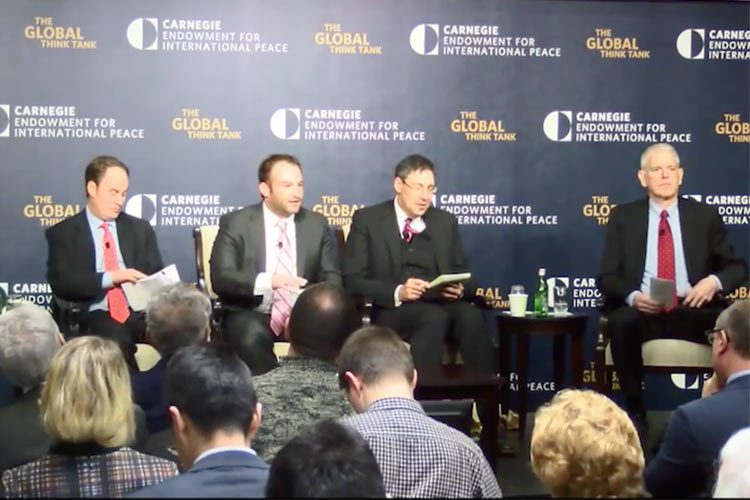 Book presentation at the Brookings Institution in Washington D.C. (February 18)
Fiona Hill, director of the Center on the United States and Europe at the Brookings Institution
Clifford G. Gaddy, senior fellow in the Foreign Policy Program at the Brookings Institution
Hill and Gaddy presented an expanded edition of their book Putin: Operative in the Kremlin, which includes a new chapter on Putin's foreign policy.
Hill said she thinks the United States must develop a new strategy with regard to Russia. The foundation upon which U.S.-Russian relations were formerly built has been destroyed, and a new realistic plan for dealing with Russia in the future must be created, she said. Hill emphasized that this is a difficult task given the challenge of understanding and explaining Putin's goals and actions, since he is an expert at deceiving people and creating confusion, she said.
Gaddy recommended that relations between the United States and Russia be restored as soon as possible. He argued that Ukraine would never be able to become a liberal, modern, and economically strong country if Russia does not choose such a path of development.
Hill said she believes that if the U.S. supplies lethal weapons to Ukraine, Putin will use the action as an excuse to escalate the conflict. She argued that the Ukraine conflict is essentially a "hot proxy war" between Russia and the United States.
Debate at the Carnegie Endowment for International Peace in Washington, D.C. (February 19)
John Herbst, director of the Eurasia Center
Steven Pifer, senior fellow at the Brookings Institution
Jeremy Shapiro, director of the Russia and Eurasia Program at the Brookings Institution
Eugene Rumer, director of the Carnegie Endowment's Russia and Eurasia Program 
Herbst and Pifer said they supported the idea of supplying lethal weapons to Ukraine, while Shapiro and Rumer presented the opposing view.
Pifer said he thinks the United States must provide assistance to Ukraine under the terms of the Budapest Memorandum. Arms shipments to Ukraine would help weaken Russia's military threat and create the conditions necessary for a swift resolution to the conflict, he said.
Herbst said he believes that if Putin's actions in Ukraine are not restrained now, he will not be able to be stopped in the future. Putin will take further aggressive actions if there is no pushback, because his ambitions go beyond Ukraine, Herbst said. "By imposing sanctions and supplying weapons to Ukraine we have to make it clear to Mr. Putin that he will have to pay a high price for aggression in Ukraine," he said.
Rumer argued that supplying arms to Ukraine would result in an indirect war between the U.S. and Russia. Putin would most likely take countermeasures, and no one can predict how events would develop further, Rumer warned. If the United States sends military personnel to Ukraine in order to train Ukrainian troops, this could result in even graver consequences, Rumer said.
According to Shapiro, the conflict will escalate if the United States supplies weapons to Ukraine, and the Kremlin's propaganda machine will depict the situation as a war between the West and Russia. "In a sense, this will be a war," Shapiro said.
Panel Discussion at the Harriman Institute at Columbia University in New York (March 3)
Rilka Dragneva, senior lecturer in law at the University of Birmingham (U.K.)
Nate Schenkkan, program officer in Eurasia programs at Freedom House
Marlene Laruelle, professor of international affairs at George Washington University
According to Dragneva, the creation of the Eurasian Economic Union (EEU) has had practically no effect on the integration process in the post-Soviet space. Instead, the EEU should be seen as a foreign policy instrument of the Kremlin. In Dragneva's opinion, the creation of the EEU is hardly an "epic event," as Putin deemed it, and it is still unclear what advantages EEU membership offers.
Schenkkan said he believes that Russia has lost interest in the integration process and is basically moving back to its traditional view of the world. In Russia's eyes, supranational institutions can be seen as a threat to state sovereignty. Russia is trying to preserve the EEU's "propaganda value," but it is unlikely that the Kremlin will seek to use it to achieve a dominant position on the world stage.
Laruelle said that Russian President Vladimir Putin, Kazakh President Nursultan Nazarbayev, and Belarus President Alexander Lukashenko see the EEU as an important strategic project linked to the question of legitimacy. But the issue of economic integration is currently being pushed to the sidelines in Russia. Instead, the focus is being put on guaranteeing the country's sovereignty and protecting its economy.