On October 8, the U.S. Senate Armed Services Committee, chaired by Senator John McCain (R-AZ), held a hearing to discuss Russia's intervention in Syria and its aggressive posturing in Eastern Europe. Four experts on Russia and its military capabilities gave testimony, arguing that the United States should react more assertively to Russia's hawkish behavior.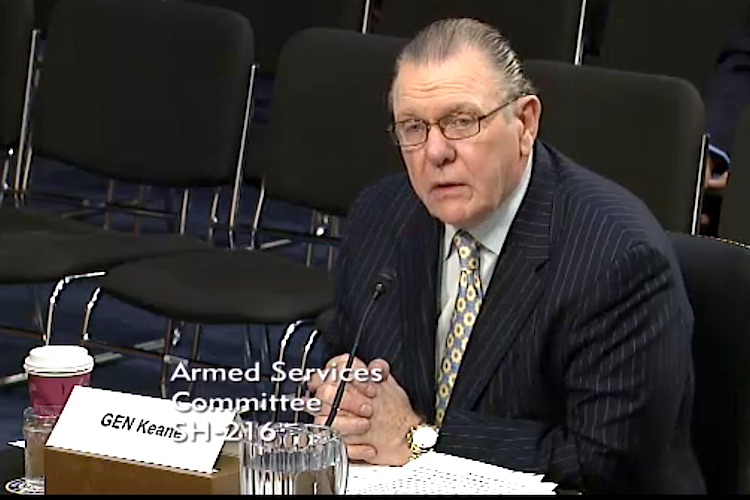 The Senate Armed Services Committee held a hearing on October 8 titled "Russian Strategy and Military Operations," which focused on Russian actions in Syria and Ukraine and the U.S. response. Committee members heard testimony from a panel of four prominent experts: General John M. Keane, chairman of the Institute for the Study of War and former vice chief of staff of the U.S. Army; General James Jones, chairman of the Atlantic Council's Brent Scowcroft Center on International Security and former national security advisor; Heather Conley, senior vice president for Europe, Eurasia, and the Arctic at the Center for Strategic & International Studies and director of the center's Europe program; and Dr. Stephen Sestanovich, senior fellow for Russian and Eurasian studies at the Council on Foreign Relations and former U.S. ambassador-at-large for ex-Soviet nations. Committee chairman Senator John McCain (R-AZ) presided over the hearing (see below for a full list of senators who spoke).
A More Assertive Russia
Senator McCain opened the hearing by reading a statement in which he warned against U.S. inaction in the face of Russia's invasion of Ukraine and sudden intervention in the Syria conflict. He said the West was confronting a challenge that "many had assumed was resigned to the history books: a strong, militarily capable Russia that is hostile to our interests and to our values." Citing U.S. Chairman of the Joint Chiefs of Staff General Joseph Dunford's assertion that Russia represents the greatest global threat to America, McCain said that "whether we agree with that assessment or not," it serves as a wakeup call regarding the threat Russia poses.
Ranking committee member Senator Jack Reed (D-RI) called Russia "increasingly aggressive and revanchist" and identified three main goals Vladimir Putin appears to have: 1) retaining his grip on power in the face of economic recession and social decline; 2) securing Russia's periphery by pressuring its neighbors against integrating with the West; and 3) exploiting opportunities to weaken Western unity by dividing member states of the EU and NATO. Russia's actions, however, often appear to be harmful to its long-term interests, Reed said.
Campaign in Syria
Senator McCain called Putin's intervention on behalf of Bashar Assad "historically unprecedented," noting that since the fall of the Soviet Union, Russia has never before acted militarily outside of former Soviet states. He said the West should expect Russian ground troops to enter Syria in support of the Assad regime, a prediction that Dr. Sestanovich agreed with, citing as evidence the fact that Russian officials have already broached the possibility of "volunteer" forces entering the fight as they did in Ukraine. (General Keane said he thought Russia would hold off on deploying ground forces, noting the existing presence of sympathetic groups such as Hezbollah and Iraqi Shia militias.)
General Keane and Dr. Sestanovich both argued that Russia's intervention in Syria was motivated partly by the increasing fragility of the Assad regime, which Keane said now held only about 20 percent of Syria's territory. General Keane also said that Russia placed extremely high value on its military base at the Syrian port of Tartous. Putin's actions in Syria are intended to force the West to take Russia into account, according to Dr. Sestanovitch. He argued it is Putin's way of saying: "You have to deconflict with us, not the other way around."
Senator McCain recommended that the U.S. respond to Russia's actions by rallying an international coalition to fight both Assad and Islamic State. He said that if Russia continues to strike rebel groups that have partnered with the West, the U.S. must impose greater costs on Russia's interests. Such steps could include: 1) ordering strikes on key Assad regime targets; 2) bolstering economic sanctions against Russia; and 3) deepening Russia's international isolation in other ways. "U.S. strategy should be to assure our allies and friends, deter Russian aggression, and defeat ISIS," said General Keane. He said the U.S. gets paralyzed by the "fear of escalation" and Putin sees that and will take advantage of it.
Putin's Mindset
General Jones recalled a meeting between Obama and Putin in 2009 at which he was present, and Jones said he understood from the meeting that 1) the Russian leader was a product of his "KGB upbringing," 2) he was committed to righting the "injustice" of the Soviet collapse, and 3) Putin believed that NATO was a great evil and must be weakened. Given Putin's priorities, General Jones said it should be no surprise that he is more interested in modernizing Russia's military than in reforming the country's corrupt and dysfunctional political and economic systems.
Conley argued that the Kremlin was attempting to create a 21st-century version of the Iron Curtain designed to secure a Russian sphere of influence in Eastern Europe. In this way, Russia hopes to cut off the spread of democracy to former Soviet states, return Russia's great power status, and deny the West military access to nearby territories, she said. Conley also argued that Putin sees Russia as engaged in a "civilizational" battle against the decadence of the West.
According to Dr. Sestanovitch, the U.S. will only be successful in the Middle East, and in cooperating with Russia, if it has its own strategy that it will adhere to even if Russia does not want to cooperate. He said the U.S. needs to think through what it wants and what is important to it, and only then can it have a meaningful conversation with Russia.
Russian Presence in Ukraine
The panel members all agreed that Russia is preparing for the possibility of renewed hostilities in eastern Ukraine, noting that Russia has been stationing troops and setting up military bases near its western border. Conley said there were still around 12,000 Russian troops stationed in eastern Ukraine, according to intelligence estimates, and said Ukrainian separatists had "fully integrated" into the Russian command structure. Russia has dialed down the conflict for the moment in an attempt to convince the EU to ease economic sanctions, Conley said.</>
Senator Reed said the U.S. needed to be "firm in its support of Ukraine right now," or it will face a bigger problem later because Russian aggression will be repeated elsewhere.
NATO Strategy in Europe
Responding to a question by Senator Kelly Ayotte (R-NH) about the worst-case scenario for NATO given the current regional dynamics, General Jones said he thought it was possible that NATO could break up. General Keane said he agreed that NATO could cease to exist in the near future. General Jones, who served from 2003 to 2006 as the commander of NATO forces in Europe, recommended that the military alliance be strengthened by adding rotation forces in Eastern European nations such as Romania and Bulgaria. He also warned against long periods of deliberation: "Sitting back and being reactive and then debating it for six months, hoping for 100 percent consensus among 28 countries, is not a formula for success with Vladimir Putin."
General Keane said the U.S. should reevaluate the number of troops it stations in Europe, which he said currently stands at about 50,000, compared to 600,000 during the Cold War. Conley recommended that the U.S. consider sending a third combat brigade to Europe to reinforce its flanks and encourage its European allies to increase their military capabilities.
General Keane said that he thought leaders of the Baltic states had concerns about NATO's commitment to defending their borders from possible Russian provocations. But, he said, he also knew that they appreciated the forward positioning of troops and air power in their countries. General Jones argued that U.S. allies in northeast Europe are legitimately concerned that Russia could use a snap military exercise as a pretext for conducting a small-scale invasion of one of their countries. 
Competition in Arctic
Conley said that Russia is building an "ice curtain" in the Arctic by modernizing its military forces in the Far North. She said Russia had held three major military exercises in the region over the past 24 months, demonstrating more efficient tactical units and a streamlined command structure, at the same time as the U.S. lacks a security architecture in the Arctic. Senator Dan Sullivan (R-AK) asked whether Russian military exercises in the Arctic were "provocative," to which Conley responded that she thought snap exercises ordered by Russia in March were potentially dangerous because they were unannounced and therefore risked accidents.
Senators who posed questions at the hearing (in order of who spoke):
John McCain (R-AZ), chairman
Jack Reed (D-RI), ranking member
Jim Inhofe (R-OK)
Angus King (ME)
Roger Wicker (R-MS)
Tom Cotton (R-AR)
Kelly Ayotte (R-NH)
Joe Donnelly (D-IN)
Joni Ernst (R-IA)
Jeff Sessions (R-AL)
Dan Sullivan (R-AK)
Mazie Hirono (D-HI)
Thom Tillis (R-NC)