On November 15, 2016, the Atlantic Council launched a report titled "The Kremlin's Trojan Horses: Russian Influence in France, Germany, and the United Kingdom" and held a panel discussion on the ultra-right forces in the West with a number of prominent experts, including Marlene Laruelle, Mitchell Orenstein, Péter Krekó, Andreas Umland, as well as Neil Barnett and Josh Rogin. Atlantic Council's Alina Polyakova moderated the discussion.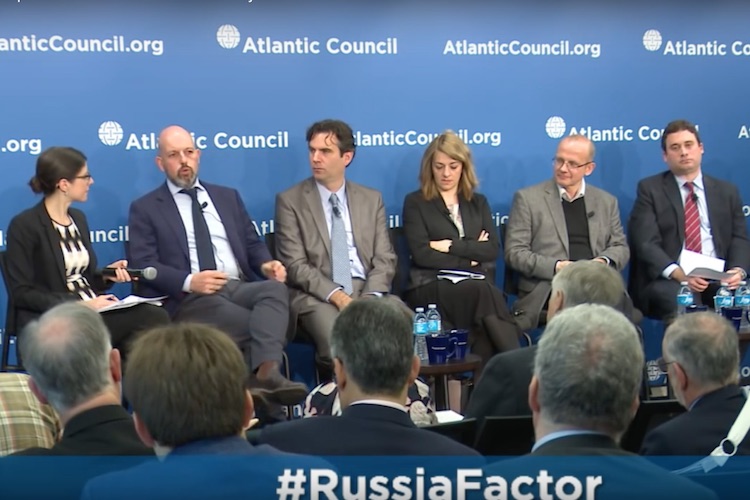 Panelists:

Dr. Marlene Laruelle, Director, Central Asia Program; Associate Director, Institute for European, Russian, and Eurasian Studies, Elliott School of International Affairs, The George Washington University

Mr. Neil Barnett, Chief Executive Officer, Istok Associates

Dr. Andreas Umland, Senior Research Fellow, Institute for Euro-Atlantic Cooperation in Kyiv

Dr. Mitchell Orenstein, Senior Fellow, Foreign Policy Research Institute; Professor of Russian and East European Studies, Chair of the Department of Slavic Languages and Literatures, University of Pennsylvania 

Dr. Péter Krekó, Fulbright Visiting Professor, Central Eurasian Studies, Indiana University

Mr. Josh Rogin, Columnist, Global Opinions, Washington Post

Moderated by:

Dr. Alina Polyakova, Deputy Director, Dinu Patriciu Eurasia Center; Senior Fellow, Future Europe Initiative, Atlantic Council
Laruelle:
Far right European leaders have their own agenda, and should not be seen as puppets of the Kremlin.
They are mainly driven by domestic political concerns:

The situation in the Middle East is pushing France's agenda closer to Russia's;
France sees Russia as a partner on common issues such as terrorism.
Umland:
Relative to other European countries, Germany is hawkish on policy toward Russia.
No major changes in German politics are likely to occur over the next two years:

Merkel will likely remain Chancellor for the foreseeable future.
Barnett:
Political parties worldwide are being challenged by populist movements, and Russia sees this as an opportunity.
Issues regarding the Brexit process will continue to feature in U.K. elections.
It is very difficult to trace Kremlin money directly to populist movements in Europe.     
Polyakova:
Populist movements are critical of political elites, and they use Russia as an illiberal political model.
S. President-elect Trump will bring bigger changes to Europe than to the U.S.                       
Rogin:
With Russia, we are witnessing a shift from classic espionage to information warfare (what Putin has referred to as "active measures").
Main thing to watch with Trump: will he refuse to cooperate with mainstream political groups in Europe?

If he does, this could prove to be a huge boon for populist movements in Europe
Orenstein:
To most of the populist leaders in France, Germany, and the UK, the main issue of focus is Islamic terrorism. Domestic protectionism is their modus operandi.
These populists are operating paradoxically: they are attempting to protect democracy with quasi-illiberal political methods.
Russia does not want the U.S. to have a leading role in the world, and sees the relationship as a zero-sum game:

Putin needs an enemy to shore up political support at home, and the U.S. is currently that enemy.
Barnett:
Trump's détente with the Kremlin may improve U.S.-Russian relations in the short term (U.S. recognition of Russian sovereignty over Crimea, easing of sanctions, etc.)

Putin sees this as politically advantageous—Russia will be seen as an equal to the U.S.

In the medium term, however, U.S.-Russian relations are likely to sour again, as nationalistic fervor requires additional sources of energy (return to the "foreign enemy" paradigm).
Krekó:
It is interesting that populist movements are taking a pro-Russia stance, while Russia has contributed to the refugee crisis that is partly to blame for European populist movements in the first place.
Russia is bombing civilians and anti-Assad rebels indiscriminately, contributing to the refugee crisis.
Q & A:
What should be the West's response to the problem of Kremlin-backed European populism? What can the EU do to combat Russian propaganda?
Rogin:
The U.S. needs to bolster its public PR efforts to more effectively push back against Russian propaganda (e.g. support Voice of America, RFE/RL, etc.).
The media needs to be more scrupulous about pushing back against misinformation.
The world is now a more chaotic and frightening place for journalism than ever before in modern times

This applies even more so in the U.S. because of the new union between the Republican party and the alt-right.
Barnett:
The West needs to track political funding more scrupulously (i.e. money from the Kremlin).
Laruelle:
If the West wants to reduce Russian influence on European politics, it must first work on the domestic political issues that have made it vulnerable to populism in the first place (e.g. Islamic terrorism).
You can watch the full discussion below.
* Daniel Frey is an independent writer and Russia analyst.