On February 9, 2017, the U.S. Senate Committee on Foreign Relations held a hearing on the U.S.-Russia relationship and the challenges facing the two countries in the near future. General Philip M. Breedlove, former NATO supreme allied commander in Europe, and Julianne Smith of the Center for New American Strategy presented their testimonies to the senators.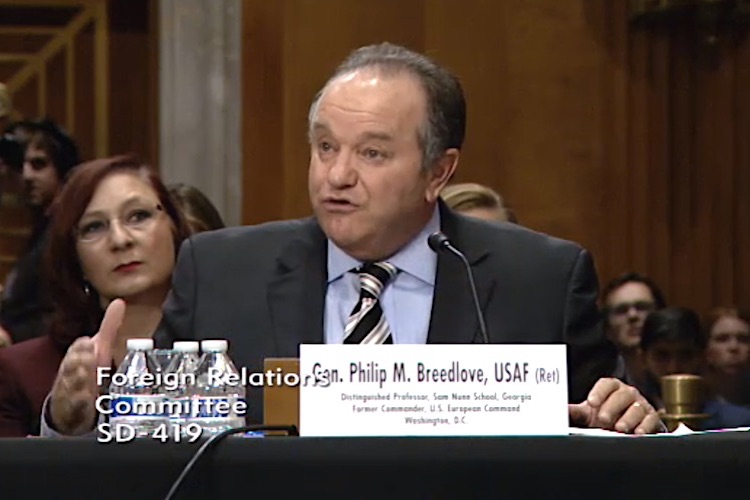 Hearing: The United States, the Russian Federation and the Challenges Ahead 
Witnesses:
General Philip M. Breedlove, USAF (Ret), Distinguished Professor, Sam Nunn School, Georgia Institute of Technology; Board Director, Atlantic Council; Former NATO Supreme Allied Commander Europe; Former Commander, U.S. European Command 
Ms. Julianne Smith, Senior Fellow and Director, Strategy and Statecraft Program, Center for New American Strategy
Introductory remarks
Senator Bob Corker (Committee Chairman, R-TN):
Russia's military is the second strongest in the world in all areas except for nuclear weapons, next to the United States.
Russia has acted as a destabilizing force on the United Nations Security Council.
Russia has violated international law by pursuing development of cruise missiles that violate the Intermediate-Range Nuclear Forces (INF) Treaty.
By intervening in Syria, Russia has contributed to the refugee crisis that has gripped Europe.
Vladimir Kara-Murza's poisoning, as well as Alexander Navalny's recent conviction, stand as testaments to the dangers that Russians face when speaking out against the increasingly autocratic Putin regime.
Senator Ben Cardin (D-MD):
Russia violated the Budapest Memorandum by invading eastern Ukraine.
Russia is complicit in war crimes committed by the Assad regime.
Russian hacking in the U.S. election could also happen in upcoming European elections.
Witness Testimonies
General Breedlove:
Russia's buzzing of Western military presents a major security issue.
Once NATO and the U.S. resolve this issue, they can then discuss other matters with the Russian government, such as nuclear disarmament and joint operations against ISIS.
Moscow's main priority in Syria is to buttress the Assad regime, and it has been killing civilians indiscriminately in the process.
Russia's overarching goal is to weaken NATO, the EU, and transatlantic relations.
If Russia proves successful in Ukraine, it might attack the Baltics next, where ethnic Russians comprise large portions of the local populations.
NATO needs to bolster its presence on the eastern front.
Trump should meet with America's NATO allies before he meets with Putin.
Sanctions should be seen as a test for the Kremlin; if they are withdrawn without Moscow complying with the Minsk Agreements, that's a major issue.
Julianne Smith:
Russia aims to undermine democratic institutions, divide NATO and the EU, and gain influence on the world stage.
Russia is aiming diplomatic, military, economic, and intelligence efforts against the United States.
Russia's intervention in Syria totally changed the power dynamics in the country.
Russia has been supporting right-wing nationalists in Europe to advance its own interests.
Cyber is part of Russia's larger strategy to wage asymmetric warfare against the West.
Europe's energy dependence on Russia continues to give the Kremlin the upper hand.
At best, the Russian economy faces slow growth; at worst, it faces prolonged stagnation.
President Trump will likely seek an entirely new relationship with Russia.
Policy recommendations:

Any changes in U.S. policy should be conditional on Russian behavior;
The U.S. should be wary of aligning with Russia on Syria because Putin's ultimate goal is to keep Assad in power;
European allies should be consulted before Trump meets with Putin;
Congress needs to make the investigation of election hacking a top priority;
Congress needs to bolster counter-cybersecurity efforts;
It is in the U.S. interest to defend the liberal international order, as it has done for the past 70 years.
Q & A:
Senator Ben Cardin: How can the U.S. demonstrate strength against Russia?
Breedlove:
Don't reward bad behavior, and don't let bad behavior go unaddressed;
U.S. should consider supplying weapons to the Ukrainians;
Russia constantly tests other nations with "war by other means" to gauge potential reactions to aggression.
Senator Rand Paul (R-KY): Is it possible to discuss policy toward Russia separately from the issues of Syria, cyber warfare, etc.?
Breedlove:
There are subareas that we can look at for cooperation with Russia in the future, but they do not currently exist:

Russia has a hierarchy of priorities in Syria, and fighting terrorism is at the bottom of its list;
Propping up Assad and raising Russia to great power status are the Kremlin's higher priorities. 
Senator Rob Portman (R-OH): Should the U.S. be doing more to defend against Russian cyber attacks?
Smith:
Yes, the U.S. needs to invest more in detection, deterrence, and defense in the cyber realm; it also needs to utilize more private sector cyber expertise.
Senator Jeanne Shaheen (D-NH): What should our sanctions policy be moving forward?
Smith:
The U.S. should re-impose sanctions, and even intensify them; the government needs to discuss the election hacking issue much more publicly.
Senator Todd Young (R-IN): In terms of military posture, what do you recommend, and where should new forces be placed?
Breedlove:
The West should pursue increased "forward defense"—the prepositioning of weaponry and other equipment to reduce reaction time in the event of Russian aggression. 
Senator Bob Menendez (D-NJ): Would it be wrong to remove sanctions unless Russia begins to act in accordance with the international order?
Smith:
Yes, the sanctions are in place for a reason, and sanctions should not be removed unless Russia changes its behavior in Ukraine.
Senator Cory Gardner (R-CO): What are the steps the U.S. needs to take to combat Russia's cyberwar tactics?
Smith:
NATO needs to equip itself for cyber warfare and figure out whether a cyberattack warrants an Article 5 response.
Senator Marco Rubio (R-FL): Russia's foreign policy is defined by its domestic issues. How can the idea of a "grand bargain" with Putin's Russia be justified in the light of his repressive and aggressive policies? Is it a fantasy?
Breedlove:
It's a yes or no question (implies yes — ed.)
Smith:
Agreed. Putin may say that Russia is combating ISIL in Syria, but we know it's not true.
The list of things we can give Russia is huge, starting with lifting sanctions; and the list of things that Russia can bring us is a big fat zero.
Putin is leading a declined power; he is at threat, and that's why he's creating a Russia-as-victim narrative.
Knowing the situation at home is important to understand Putin's calculus.
Senator Chris Murphy (D-CT): How can the U.S. reassure its European allies?
Breedlove:
We should bolster military operations in Europe, and also encourage Europe to seek energy independence from Moscow.
Smith:
Europe wants military reassurance, but investing in institutions, communications, and cyber defense should also be a large part of the West's toolkit.
You can watch the full video of the hearing below.