On February 9, 2017, the Carnegie Endowment for International Peace and the Chicago Council on Global Affairs hosted a joint event dedicated to the launch of a report on the findings of a high-level bipartisan task force on U.S. policy toward Russia, Ukraine, and Eurasia. As part of the launch, a group of distinguished U.S. experts and officials discussed the guiding principles for a sustainable U.S. policy approach.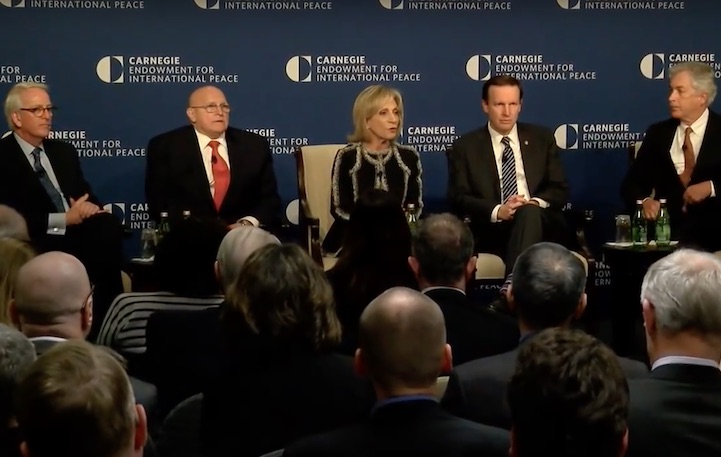 Event title: Guiding Principles for U.S. Policy Toward Russia, Ukraine, and Eurasia
Panelists: 
Richard Armitage, President, Armitage International; previously served as U.S. Deputy Secretary of State
William Burns, President, Carnegie Endowment for International Peace; former U.S. Deputy Secretary of State
Ivo Daalder, President, Chicago Council on Global Affairs
Chris Murphy, U.S. Senator (D-CT).
Moderator: Andrea Mitchell, Chief Foreign Affairs Correspondent, NBC News; host of Andrea Mitchell Reports.
The panelists discussed the following questions:
How can the U.S. manage its relationship with Russia?
Murphy:
The U.S. should compartmentalize its issues with Russia and remain committed to working with the Kremlin in other areas, such as nuclear nonproliferation;

In other areas it will be harder to find agreement on: Syria, Ukraine, etc.

There is no way to cooperate militarily with Russia in Syria if it continues its misbehavior in Ukraine. 
What is Putin's modus operandi?
Daalder:
Putin's primary motivation is to strengthen Russian interests by weakening NATO and the United States; he is trying to weaken the forces that are united against him. 
How would Congress react to working with Putin on issues such as combating ISIS? 
Murphy:
Not very favorably—but the problem is that there aren't many congressional checks on the U.S. president regarding foreign policy; Trump holds many of the cards in this domain.
There is growing concern that Trump is not as dedicated to multilateralism as former presidents have been, how one should address it? 
Daalder:
The upcoming Munich Security Conference presents a good opportunity to reassure European allies about U.S. commitments. 
Murphy:
Trump's inward-looking worldview is giving the Kremlin more confidence in Ukraine and the Balkans.
If the United States does not push back, Putin will behave even more aggressively in these regions.
How important is the investigation into the U.S. election hacking scandal?
Murphy:
Election hacking requires a forceful, bipartisan response.
The U.S. needs to send a message to Russia that this sort of meddling is unacceptable – otherwise we will see similar incidents in Europe.
How can the U.S. manage its differences with Moscow?
Armitage:
Every U.S. president since George H.W. Bush has started off with good relations with Russia, only to find them significantly damaged by the end of their term in office.
The U.S. needs to approach the relationship based on its values and principles.
How does the surge of nationalism/populism figure into the Western-Russian relationship? 
Daalder:
It's an important part of the story: Putin is now supporting nationalistic elements all over Europe.
Europe is now talking about the possibility of a post-American Europe, which is remarkable considering that such an arrangement hasn't existed since World War II.
Q & A:
What kind of deal is Trump looking to pursue with Putin?
Burns:
Trump's policy toward Russia should be analyzed through the prism of:

1) fighting Islamic terrorism
2) challenging the rise of China

Trump's decision-making on Russia will be influenced by these two priorities.
A problem is that the U.S. and Russia lack a real common threat, and that makes working together on particular issues quite challenging. 
How can the West prevent Russian aggression in the Baltics?
Daalder:
The difference between Ukraine and the Baltics is that Estonia, Latvia, and Lithuania are NATO members:

The European Reassurance Initiative is strengthening NATO's presence in the region;
The Baltics are as defensible as West Berlin was during the Cold War—there is no doubt that they would be protected under the Article 5 agreement. 
What can the U.S. do to help Ukrainian reform efforts?
Murphy:
The U.S. needs to invest more money in Ukraine in support of economic and political reform efforts.
Russia has been trying to weaken Ukraine internally to dissuade Europe from bolstering reforms in the country.
It is worrisome that the Trump administration may give up on reforming Ukraine
Armitage:
It will take a generation of reform to see real change in Ukraine.