On March 9, 2017, the House Foreign Affairs Committee held a hearing entitled "Undermining Democratic Institutions and Splintering NATO: Russian Disinformation Aims." A group of witnesses, including a former president of Estonia, a former U.S. diplomat, and a senior State Department official, discussed the Kremlin's goals and optimal ways for the West to deter its aggressive policies.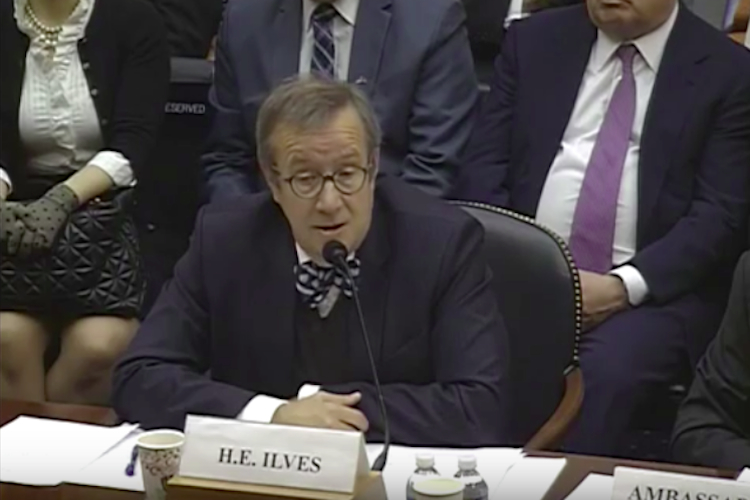 Witnesses:
His Excellency Toomas Hendrik Ilves, former president of the Republic of Estonia
The Honorable Lincoln P. Bloomfield, Jr., chairman emeritus and distinguished fellow
at the Stimson Center; former assistant secretary for political military affairs, U.S. Department of State
Mr. Peter B. Doran, executive vice president of the Center for European Policy Analysis
The Honorable Daniel Baer, former U.S. representative to the OSCE 
Introductory remarks:
Chairman Ed Royce (R-CA):
Following its involvement in the U.S. election, it has become clear that Russia could also interfere in upcoming European elections.
Kremlin-sponsored media outlets such as RT and Sputnik publish "false news to undermine" pro-European candidates.

This strategy follows in the footsteps of "Russia's media war against the Baltic States," which "goes back over a decade."
Russian disinformation has been growing in sophistication, intensity, reach, and impact.
Moscow's ultimate objective is to break NATO apart and boost Russia's geopolitical influence in Europe.
The United States must intensity its international broadcasting efforts in response to Russia's disinformation campaign.
Eliot Engel (D-NY):
The House Foreign Affairs Committee must push an investigation on the Trump administration's Russian connections.
Congress should pass a bill establishing sanctions against actors conspiring to attack the integrity of American democracy and electoral processes. 
Testimonies: 
President Ilves:
Russian disinformation became a larger issue following Moscow's annexation of Crimea.
The Kremlin's disinformation targets NATO and the European Union.
Russia has an advantage in the information war in that the West cannot spread disinformation—to do so would undermine its moral credibility.
The Kremlin strongly supports Marine Le Pen, a French presidential candidate who is vehemently anti-EU; she has received funding from Kremlin-friendly banks. 
Ambassador Bloomfield:
Putin and Russia's security services see democracy as a threat to their power.
The best defense the West has against Russia is to ensure good governance at home.
Peter Doran:
Russia is a rival to the U.S., and its interests are in fundamental opposition to America's.
Russia wants to establish a sphere of influence in Europe by dividing NATO and weakening the EU.
Russia is relatively weak in the face of transatlantic unity, and that is why the Kremlin is focused on undermining Western cohesion.
Russian propaganda is calibrated to erode Western citizens' trust in democratic institutions.
Ambassador Baer:
Putin's foreign policy is dictated by his political aims—the preservation of power and corrupt authoritarianism.
It is possible to trace Russian disinformation to intermediaries disguised as independent sources.
Disinformation is easily spread on social media, and picked up by unknowing Western audiences.
European strength remains a source of American security.
In response to Russia's disinformation campaign, the U.S. should work with European civil society, establish punitive measures to protect against future meddling in U.S. elections, and conduct an investigation of Russian interference in the U.S. election.
Discussion:
Eliot Engel (D-NY): Is there a moral equivalency between the U.S. and Russia?
Baer: There is no equivalence, and Trump should make that clear. Putin often uses "weaponized relativism" to distract from Russia's domestic problems.
Bloomfield: Russia is very vulnerable to a reverse information campaign from the West.
Dana Rohrabacher (R-CA): Russia is merely defending its national interests. The U.S. is acting hostilely toward Russia, which will eventually lead to war. What are some examples of military aggression Estonia suffered at the hands of Russia in the past 10 years? 
Ilves: 1) The kidnapping of an Estonian border guard; 2) the Russian air force's violations of the Estonian border; 3) Russia's explicitly anti-Western military exercises conducted near the Baltics.
Steve Chabot (R-OH): How does Russia's interference in the U.S. election benefit Moscow?
Doran: As soon as Western citizens begin to doubt the efficacy of democratic institutions, Moscow will have gained an edge. Moscow gains insofar as the people of the West lose trust in their political systems. 
Gerry Connolly (D-VA): Would it be harmful for the United States to abandon NATO?
Bloomfield: Yes, NATO is not a charity project for Europe—it directly defends the interests of the United States.
Ilves: Russia has been pursuing military provocations in the Baltics, and NATO is necessary to defend against this threat.
Bill Keating (D-MA): What are some of Putin's tactics in the Russian disinformation campaign?
Baer: 1) Putin has funded extremist, pro-Russian politicians in Europe; 2) Russian security services, meanwhile, have pursued personal and business-oriented blackmail against targets of interest.
Tom Garrett (R-VA):
The United States' conflicts with Russia over Syria, Ukraine, and Crimea should be dealt with and considered independently of each other.
The U.S. should continue to pursue sanctions against Russia.
Ami Bera (D-CA): Would you support an independent investigation into Russian meddling?
Bloomfield: Yes, but an investigation should not be considered an appropriate final response in the matter.
Brian Fitzpatrick (R-PA): What can this committee do to show support for Ukraine in its fight against Russia? 
Doran: 1) Provide the Ukrainians with lethal weapons; 2) consistent attention and rhetoric from Congress on this issue would also help.
Baer: The U.S. needs to continue supporting independent journalism and civil society in Ukraine. 
Tom Suozzi (D-NY): Russia is fomenting chaos, unrest, and insecurity around the world. What can the U.S. government do to send a clear message to the Russians that America won't accept meddling in its elections?
Ilves: Make it more difficult for Russia to finance pro-Kremlin actors internationally.
Bloomfield: Fight back with truth and transparency.
Doran: Reveal Russia's trickery publically.
Baer: Maintain the current sanctions regime, and assess whether additional punitive measures are necessary. 
Ted Lieu (D-CA): If Trump's most recent assertion is true (that the Obama administration wiretapped his phones), then it means that the intelligence community has had reason to believe that he was (or still is) acting as a foreign agent. Do you have any concerns about the President's business interests in/connections to Russia?
Baer: It is in the best interest of the President to release his tax returns and demonstrate his exclusive responsibility to the American people.
You can watch full video of the hearing below: