On March 30, 2017 the Atlantic Council held a panel discussion entitled "The State of Human Rights in Putin's Russia." U.S. Senators Ben Cardin and Marco Rubio spoke on the issue, with Vladimir Kara-Murza (Open Russia), Carl Gershman (NED), and Tomasz Malinowski (former U.S. State Department) following up with the discussion.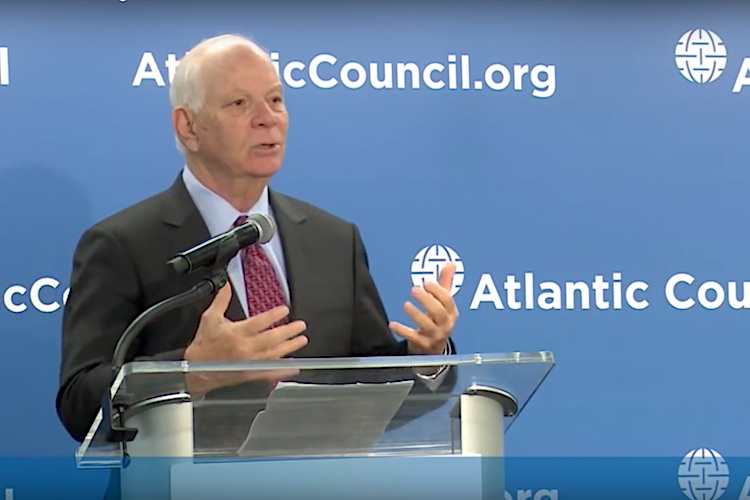 Participants:
  
Introduction: Amb. Paula Dobriansky Senior Fellow, The Future of Diplomacy Project, John F. Kennedy Belfer Center for Science and International Affairs, Harvard University
The Hon. Benjamin Cardin, U.S. Senator for Maryland
 
The Hon. Marco Rubio, U.S. Senator for Florida
 
Mr. Vladimir Kara-Murza, Vice Chairman, Open Russia
  
Mr. Carl Gershman, President, National Endowment for Democracy
  
Mr. Tomasz Malinowski, Former Assistant Secretary of State for Democracy, Human Rights and Labor, US Department of State
 
Moderator: Dr. Alina Polyakova, Director of Research, Europe and Eurasia, Atlantic Council
Keynote remarks: 
Sen. Ben Cardin:
America is a great power because of its broader goals: protection of human rights, rrosion of corruption, establishment of good governance and democracy around the world.
The protests in Russia on March 26 demonstrated that Russians want change.
Human rights are not a Western imposition, but rather a demand from the Russian people.
The Russian government is a perennial violator of human rights.

Journalists, opposition activists, and minority groups are in danger.
NGOs are often labeled "undesirable" foreign agents.
Corruption leads to global instability
Putin is ready to hurt America; in fact, he has already done so by hacking the U.S. election; he is now actively trying to influence elections in Europe, as well.
In expanding Russia's geopolitical influence, Putin believes that he must also weaken the West.
Why should the United States be concerned with Russia's human rights violations, authoritarian tendencies, and corrupt governance practices? Three reasons:
Corruption leads to global instability
Putin is ready to hurt America; in fact, he has already done so by hacking the U.S. election; he is now actively trying to influence elections in Europe, as well.
In expanding Russia's geopolitical influence, Putin believes that he must also weaken the West.
What should Congress do in response? U.S. sanctions are affecting Russia; strengthening those sanctions would prove beneficial.
Sen. Marco Rubio:
Putin's government has cracked down on its critics. Political opponents have been murdered with regularity: Vladimir Kara-Murza has been poisoned twice; Boris Nemtsov was killed by the Kremlin two years ago—a crime that, to this very day, has gone unpunished.
Young Russians protested on March 26 in favor of a more transparent, accountable government.
It is critical that America stand with the Russian people in opposition to the Putin regime, and that it continues supporting human rights in the country and around the world.
Vladimir Kara-Murza:
Russia's political situation under the Putin regime has been defined by: suppression of independent media; rigging of elections; politically motivated prosecutions and imprisonments (over 100 political prisoners remain in Russian prisons today; they include Sergei Udaltsov, Oleg Navalny, Oleg Sentsov, Aleksei Pichugin).
When Russian opposition leaders, like Boris Nemtsov, get killed by the walls of the Kremlin, it becomes pointless to speak about human rights in Russia. 
On March 26, tens of thousands of Russians said "no" to the corruption, authoritarianism, and lack of accountability that have victimized their country since Putin rose to power 17 years ago.
These protests (that took place in more than 80 cities across Russia) represented the most geographically widespread opposition action in Russia since the fall of the Soviet Union.
It was particularly striking how young many of these protesters were, many of whom have never known any other political reality.
For over two years, since Open Russia was launched, numerous events were organized by activists all across Russia to keep the public debate going; and despite all attempts by the regime to sabotage these events, people refused to leave.
Today, most of the Open Russia work is directed at the new generation of activists, the future faces of the post-Putin Russia—the country that will be based on the rule of law, democratic institutions, human rights.
Russia is so much more diverse, so much bigger and better than what Putin represents.
Alina Polyakova: What can the United States do to support democratic movements and independent media in Russia and other authoritarian countries?
Tomasz Malinowski:
The U.S. can still engage with Russian-speaking populations in states neighboring Russia.
The U.S. needs to replace the original model of depending on the president to push for freedom and democratization around the world, because Donald Trump does not believe that America should act as a leader on the international stage.
The U.S. government must continue to support Russian civil society through financial means.
However, the prospects of such a policy have been challenged by Trump's proposed budgets cuts to the State Department.
Q & A: 
Are sanctions the West's only option in its strategy toward Russia?
Kara-Murza:
It should be noted that by far the most damaging sanctions have been placed on Russia by Putin himself--via the Western food ban.
This policy has resulted in a significant inflation of Russian food prices.
It is essential that the United States regulates how it presents the sanctions—that it is not attacking the Russian people for the actions of its government.
The most effective sanctions are ones that have targeted Putin and his inner circle specifically, such as the ones enforced under the Magnitsky Act.
Malinowski:
It is important that the West maintain and enforce the sanctions against Russia.
The EU's Russia sanctions are up for review once again in July—it is essential that the United States lobby its European partners to renew them.
Is there any coordination among human rights activists internationally?
Kara-Murza:
Yes, there is. It is most important for Russian activists to cooperate with activists from countries of similar backgrounds and historical experiences, such as Ukraine.
The primary reason for Putin's aggression in Ukraine was that he feared a similar revolution in Russia. Russian activists have a lot to gain from coordinating with Ukrainians on human rights issues.
You can watch full video of the event below.