On April 4, 2017, Freedom House presented its latest edition of Nations in Transit annual report focusing on the state of democracy in Central and Eastern Europe, the Balkans and Eurasia. The roundtable that followed discussed the emergence of populism in this countries, the future of liberal democracy, European security, and the spectre of illiberalism across the West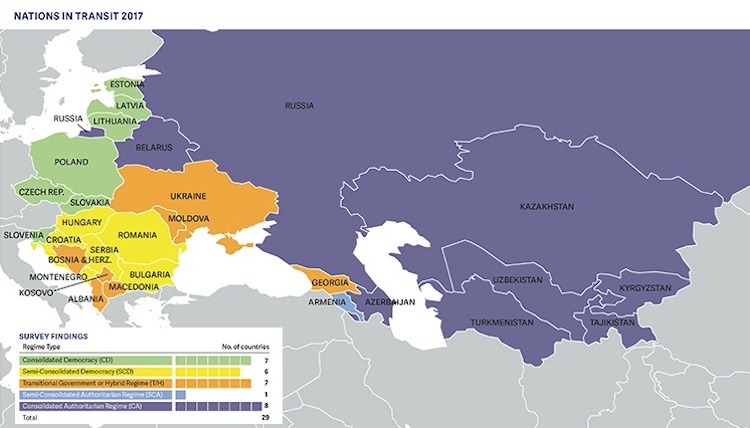 Panelists:
Celeste Wallander, CEO and President of the U.S. Russia Foundation 
Ben Judah, journalist
Dimitar Bechev, research fellow at the Center for Slavic, Eurasian and East European Studies at the University of North Carolina—Chapel Hill
Moderator:
Nate Schenkkan, project director for Nations in Transit at Freedom House
The panelists discussed the following questions:
How is populism affecting security for the United States and Europe?
Wallander:
Populism is undermining the unified security framework for Europe.
NATO must become an instrument to enforce democratization through integration.
The U.S. cannot operate on a global scale without NATO & EU.
Bechev:
Populism is reversing the legacy of liberal democracy in Western Europe. There is a shift towards the indigenous illiberalism of Eastern Europe.
Populist rejections of NATO & EU would result in de facto German leadership.
Individual security treaties would severely complicate U.S. strategy and commitments to Europe
What is the future of populism?
Wallander:
Populism and illiberalism are inherently vulnerable to demagoguery and authoritarianism.
Liberal democracy must have a policy reaction to the demands of populism and illiberalism.
Bechev:
Illiberalism does not have a coherent ideology but is unified in opposition to liberal democracy.
Populism in the West is not a reflection of Putinism in Russia. 
Judah:
Populism will continue to be the struggle between democracy and human rights
Is there room for populism in Russia? Can Alexei Navalny overthrow the elite and corruption?
Wallander:
Putin reflects the backlash against the globalization of Russia in the 1990s and the insecurity of Chechen Islamic separatism;

Russia demonstrates that elections themselves are not a protection against democratic backsliding.

Democratic opposition cannot be the liberal elites that symbolize Russia in the 1990s.
Recent anti-Medvedev corruption protests reflect an evolution of demonstrations against the Russian government:

Emphasis on social and economic conditions;
Younger generations becoming active in politics;
Protests consisted of both allies and critics of Putin.
Bechev:
Russia without Putin is not a realistic demand.
Medvedev could become dispensable to the Russian regime. 
Judah:
Navalny is the first true internet populist.
Putin has developed a framework for containing populism through internet manipulation.
Q&A
What are the solutions for reversing populism and demagogues?
Wallander:
Political parties are the vehicles for contesting policies and accountability.
We need mechanisms to train and support journalism and combat fake news.
Bechev:
The U.S. and EU need a media that engages everyone to support key democratic values.
Judah:
The vision of democracy needs to be exciting to younger generations.
What makes you hopeful or worried?
Wallander:
Important for political scientists to remember that people are citizens before subjects
People have the right to prosperity and their expectations will be known.
Bechev:
Studies have unfortunately shown that cultural and demographic changes are a greater concern than economic issues.
You can watch full video of the event below.
 This report was prepared by Matthew Seyffert.