On July 27, Hermitage Capital CEO Bill Browder testified before the U.S. Senate Judiciary Committee on the Putin regime's lobbying efforts against the Magnitsky Act and interference in the 2016 U.S. election. In his testimony, Browder discusses Sergei Magnitsky's murder, the Putin regime's propensity toward corruption, the Kremlin's methods of influence in the U.S. political process, and the role of the Foreign Agents Registration Act (FARA) in protecting the United States from foreign influence—Russian or otherwise.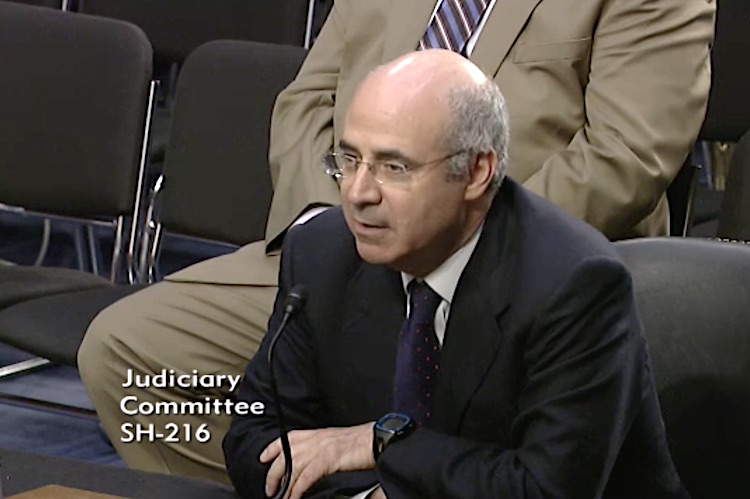 Editor's note: Bill Browder, founder and CEO of Hermitage Capital Management, is an internationally renowned businessman who, over the past decade or so, has made a name for himself as a critic of Kremlin-sponsored corruption and human rights abuses. His lawyer, Sergei Magnitsky, died in a Russian prison in 2009 after uncovering a $230 million tax embezzlement scheme that reached all the way to the upper echelons of the Russian government. In 2012, the U.S. Congress subsequently passed the Magnitsky Act, which sanctions human rights abusers in the Russian Federation.
During the hearing Browder presented his arguments on the real reasons why the Russian lawyer Natalia Veselnitskaya met with Donald Trump Jr. in June 2016. It was not to discuss either discrediting information that the Russian government had collected on Hillary Clinton, or the Russian adoption ban, but to lobby against the Magnitsky Act. After that, Browder answered the Committee's questions.
Browder's written testimony is available here. The full video of the hearing is available here.
Bill Browder:
Natalia Veselnitskaya is a pro-Kremlin lobbyist in Washington, D.C., with ties to both the Russian government and Prevezon Holdings, a Kremlin-friendly company
Veselnitskaya has pushed the story that Magnitsky was not murdered, and has tried to smear Browder's and Magnitsky's reputations
She has engaged with the opposition research firms Fusion GPS and Potomac Strategies to advance the Kremlin's agenda.
Senator Dianne Feinstein (D-CA), ranking member: Why does the Magnitsky Act remain a topic of such intense concern for the Russian government? 
Browder:
It remains the Russian government's priority because its sanctions put Putin at risk of losing access to many of his assets.
Putin is estimated to be worth around $200 billion –making him the richest man in the world – and he will defend that fortune at any cost.
Senator Sheldon Whitehouse (D-RI): If U.S. sanctions target only the Russian elite sans Putin, why would Putin himself consider the sanctions a threat to his own personal financial interests? 
Browder:
These elites—the oligarchs—hold many of Putin's assets on paper. So by sanctioning Russia's oligarchs, you are effectively sanctioning Putin himself. Because of this, in Russia, individual-specific sanctions have generally proven more effective than broader ones leveled at the country as a whole.
Senator Whitehouse: When pro-Kremlin associates mention the "adoptions" issue as a pretext for meeting with American policymakers or other influential figures in Washington, is that truly their subject of focus?
Browder:
No, the "adoptions" issue is merely code for issues related to the Magnitsky Act.
Senator Lindsey Graham (R-SC): Is it common for Russia to attempt to influence multiple political factions at once in countries of interest?
Browder:
That behavior is certainly within the realm of possibility for the Kremlin, there is no real ideology involved here.
Moscow is in the business of sowing chaos, and if that requires it to endear itself to both the President of the United States (re: Veselnitskaya's meeting with Trump campaign associates) and the Democratic Party (re: the salacious Trump dossier), then so be it.
Senator Mazie Hirono (D-HI): How would you recommend that the U.S. government improve the Foreign Agents Registration Act (FARA)?
Browder:
The U.S. government must recognize that companies do, indeed, act on behalf of the Kremlin, and so it must work to ensure that FARA applies not only to individuals, but also to larger entities.
Senator Richard Blumenthal (D-CT): Why is it important that certain Russian elites are put on the U.S. Treasury's list of sanctioned individuals and entities? 
Browder:
Those who are put on the Office of Foreign Assets Control (OFAC) sanctions list effectively become financial pariahs worldwide. No bank, American or otherwise, wants to be found in violation of the Treasury Department's sanctions policy.
Senator Blumenthal: Would it have been appropriate for Donald Trump Jr., Jared Kushner, or Paul Manafort—members of Trump's family and 2016 presidential campaign—to have reported the meeting they had with the pro-Kremlin lawyer Natalia Veselnitskaya? 
Browder:
For people concerned with U.S. national security interests, the meeting should certainly have been reported to the appropriate American authorities.
Senator Whitehouse: Might someone who is currently involved in a Russian bribery scheme later be subjected to Russian blackmail or under threat of criminal exposure (for the initial act of accepting a bribe)?
Browder:
Yes. Once someone enters the world of shady Russian government dealings, they can never leave—they are "owned" for life.