On January 16, Freedom House, along with the American Enterprise Institute, Center for American Progress, and a group of internationally renowned experts, unveiled its latest report, "Freedom in the World 2018." The report notes that 2017 marked yet another year of decline for freedom worldwide—the 12th consecutive one on record, by Freedom House's count—as well as a continuation of democratic backsliding in the United States itself. Among the event's notable panelists and speakers were Open Russia's Vladimir Kara-Murza and U.S. Senator Ben Sasse (R-NE).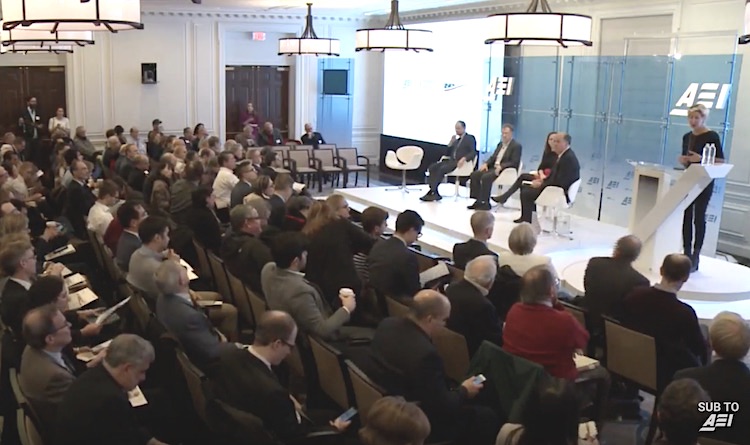 Participants (panel one):
Mike Abramowitz, President, Freedom House
Vladimir Kara-Murza, Vice Chairman, Open Russia; Chairman, Boris Nemtsov Foundation for Freedom
John Norris, Executive Director, Sustainable Security and Peacebuilding Initiative, Center for American Progress
Laura Rosenberger, Director, Alliance for Securing Democracy; Senior Fellow, German Marshall Fund
Danielle Pletka (Moderator), Senior Vice President for Foreign and Defense Policy Studies, AEI
Keynote Speaker:
Senator Ben Sasse (R-NE)
"There is an inseparable connection between the advancement of freedom and basic human flourishing" – Senator Ben Sasse (R-NE)
Panel I: Freedom in the World
Pletka: What has caused the backsliding of freedom and democracy we have witnessed over the past 12 years?
Abramowitz:
Part of the answer lies in the 2008 global financial crisis, which made it more difficult for some democracies to deliver widespread economic prosperity.
The refugee crisis has also been to blame – mass migration has disrupted politics, and catalyzed the rise of populism.
Part of the answer also lies with the increasingly aggressive Chinese and Russian governments, which have aimed to challenge the U.S.-led liberal international order.
It may also be due to a U.S. retreat from the world stage in the wake of the failures of the Iraq War.
Rosenberger:
Whereas during the Arab Spring, commentators believed that technology would act solely as a force for good – i.e. freedom and democracy – Russian disinformation has proven that this is not necessarily the case.
Putin and Xi Jinping are eroding democracy abroad to consolidate weak holds on power at home. 
Norris:
Economic crises are largely to blame for the unleashing of populist political forces in recent years.
Russia and China are acting aggressively abroad and repressing dissent at home not because their governments are strong, but because they are weak.
Kara-Murza:
Strong governments don't need to repress or imprison their citizens.
The recent mass protests that took place in Russia are not a good sign for an aging authoritarian like Putin.
Pletka: Is Vladimir Putin a product or an influencer of the illiberal trend we have seen around the world?
Kara-Murza:
Putin transformed Russia into an autocratic country slowly, but very deliberately, and this process began from the very first day he assumed the presidency on December 31st, 1999.
2003 was also a key year in terms of Putin's consolidation of power:

The Kremlin shut down the country's last independent TV channel.
Mikhail Khodorkovsky was arrested for his political disobedience.
2003 also marked the first time since the fall of the Soviet Union that international election observers considered an election in Russia to be neither "free" nor "fair."

Putin is only "popular" because he has never been tested in a free and fair election.
There were two candidates who once posed a potential challenge to Vladimir Putin's hold over Russia: Boris Nemtsov and Alexei Navalny.

Nemtsov was killed virtually in front of the Kremlin in 2015; Navalny was recently disqualified from running by the Russian authorities.
Pletka: Why have American youth recently demonstrated more negative attitudes toward democracy?
Rosenberger:
With no historical memory of life under alternative, more repressive political systems, youth tend to treat democracy as an "invisible good."
Russia and China are not creating rifts in American society – they are exploiting preexisting ones.
Abramowitz:
The White House's messaging on repressive dictatorships has not been aggressive enough – and this is certainly not doing much to alleviate Americans' increasingly negative attitudes toward democracy.
Norris:
The Trump administration's rhetoric has proven less supportive of democracy and human rights than that of its predecessors. 
Kara-Murza:
Democracy and human rights should not be held to the whims of bipartisan politics.
The U.S. Congress has realized this; a number of U.S. presidents, however – from George W. Bush to Trump – have proven too soft with Putin.
Q & A: Sometimes opposition movements soften their views to mollify the government and improve their chances of political survival. To what extent does this erode democracy?
Norris:
Opposition movements around the world often underestimate how far their opponents are willing to go to ensure their long-term repression, and the need to put aside petty differences and unify collectively against the government.
Kara-Murza:
Russia's current political system bears a lot of resemblance to the German Democratic Republic of the Cold War; more than one political party exists, but they are all more or less controlled by the powers that be.

Russia's genuine opposition is either not allowed on the ballot, or is repressed, exiled, or threatened with violence; it can only express its views through street protests.

It is ironic that Kremlin officials accuse Russian democracy activists of meeting with Western officials to help effect regime change; they do nothing of the sort, while the Kremlin-aligned officials and cronies themselves steal from Russia and spend in the West.
We merely ask our Western counterparts to not enable this behavior.
You can watch full video of the event here.