In this week's media highlights, Paul R. Gregory writes in Politco about the Kremlin's novel tactic of relying on mercenaries in its incursions into Ukraine and Syria. Also, Vladimir Lukin writes in The National Interest about the balance of Europeanism and Eurasianism in the policies of Russian rulers, and argues that Eurasianism has always spelled doom for the country.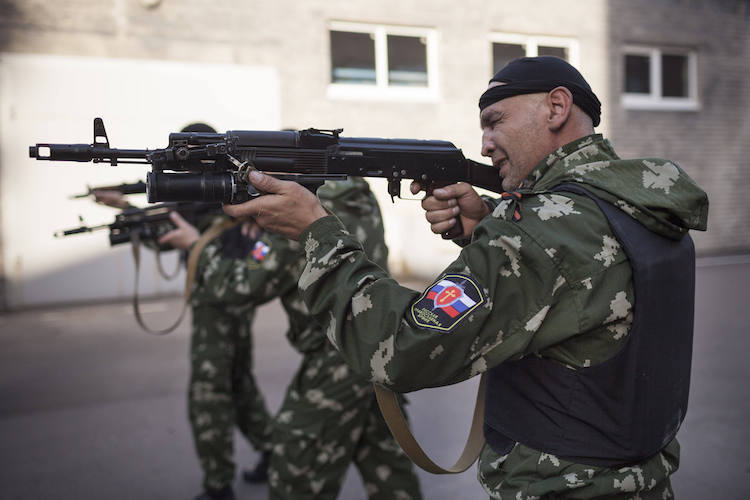 Paul R. Gregory, Politico Magazine
Gregory argues that recent examinations of Russia's military revival have overlooked an important novelty in the Kremlin's tactics: a reliance on mercenaries instead of a regular army.
Adrian Karatnycky and Alexander J. Motyl, Foreign Policy
Karatnycky and Motyl examine the changes that have occurred over the last year in the conflict between Ukraine and Russia. While Russia had seemingly been close to seizing more Ukrainian territory with ease, today the conflict is frozen and Ukraine is looking more like the winner. The authors explain what they think Ukraine and the West should do now to take full advantage of Russia's new vulnerability.
Andrei Kolesnikov, The Moscow Times
As the Russian economy continues to flounder, the government unexpectedly added 320 rubles to retirees' pension payouts. But the bonus is barely of any use or value to the average pensioner, says Kolesnikov. What does this money actually mean to people whose quality of life is sacrificed for the sake of Russian military power?
Leonid Bershidsky, Bloomberg View
Saudi Arabia recently began selling oil to Poland, a move into the European market that is making Russia nervous. Saudi oil has never had much success in Europe and has mostly been sold in Asia, but now, as Europe seeks to decrease its reliance on Russian oil, the game is changing. Bershidsky explains how the expansion of Saudi oil sales could effect Russia's role in the Middle East and the world.
Masha Gessen, The New Yorker
On October 8, Belarusian author Svetlana Alexievich joined the likes of Boris Pasternak and Aleksandr Solzhenitsyn as a Nobel laureate of literature who writes in Russian. Gessen examines Alexievich's literary legacy, citing past interviews with her and describing how the stories she tells have sparked controversy among Russians.
Vladimir Lukin, The National Interest
The age-old struggle between Europeanism and Eurasianism in Russia has shaped the policy direction of rulers throughout the country's history. Lukin argues that Eurasianism has always spelled doom for Russia, and that Putin's era is no exception.