In this week's Western media highlights, Alina Polyakova explains in Foreign Policy why Vladimir Putin's influence in Europe should neither be blamed on the EU nor taken lightly. And in the newest installment of her American Interest series of articles, Lilia Shevtsova notes that Western "pragmatists" often borrow their arguments directly from the Kremlin's playbook. Meanwhile, in Russia, Novaya Gazeta published a must-read investigation into Boris Nemtsov's murder. And Lev Gudkov, head of the Levada Center, analyzes the effects of the propaganda campaign in Russia.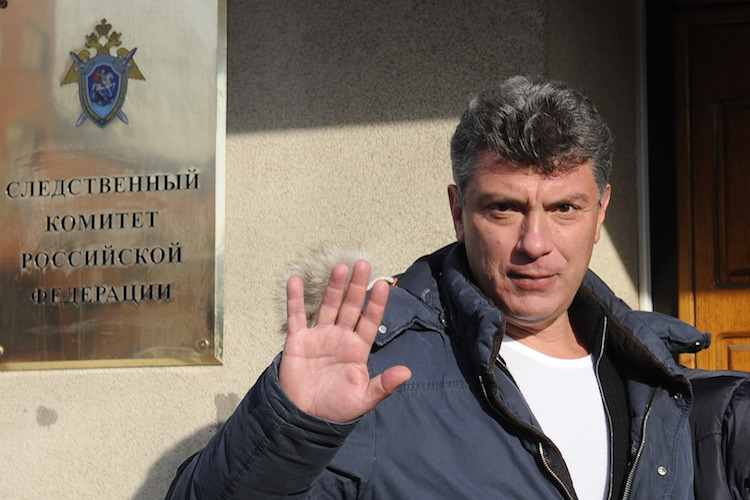 From Russia
Novaya Gazeta
As we near the one-year anniversary of Boris Nemtsov's assassination, Novaya Gazeta investigates the circumstances surrounding the opposition leader's murder. The writers construct a meticulous timeline of the tragedy and explore possible motives behind the killing. Novaya Gazeta discounts the notion that Nemtsov's assassination was a response to his comments about the Charlie Hebdo attacks; instead, the writers affirm that the killing was politically motivated—that it was carried out because he had led opposition marches, supported Ukraine, and offended the president of Russia. Who inspired the killers? Who ordered the murder? Why hasn't the Federal Protective Service released videos of the attack? Novaya Gazeta asks the right questions in this timely—and important—piece.
Lev Gudkov, Slon.ru 
In this write-up for Slon.ru, sociologist Lev Gudkov investigates how average Russians consume information and analyzes why the Kremlin's propaganda has proven so effective. Gudkov observes that the Kremlin has built much of its political strategy around a "negative identity." The Putin regime sets itself apart from the West and its "foreign agents" because, Gudkov believes, it does not have any solid grounding of its own. Ultimately, Gudkov argues that the Kremlin's propaganda has proved effective because it is natural for people to turn to simple, authoritative storylines when faced with uncertainty. This propaganda's effects are also widespread because the Russian populace is still suffering the consequences of having lived in the closed, paternalistic Soviet society, in which the state controlled perceptions of reality.
Mikhail Dmitriev, RBC.ru
In this opinion piece for RBC.ru, Mikhail Dmitriev, head of the consulting firm New Economic Growth, writes that Russia can no longer depend on raw material production (e.g., oil and gas) for economic growth; instead, he says the government should invest in infrastructure. Dmitriev suggests a Keynesian approach to economic development and looks to U.S. president Franklin D. Roosevelt's public works programs as an example. He also stresses the importance of strengthening property rights and streamlining financial rules and regulations, which, up to this point, have proven significant barriers to investment. Ultimately, if Russia were to follow these steps, Dmitriev is optimistic that its economy could experience growth 1.5%–2% higher than current trends and a 3.5%–4% increase in average wages—establishing Russia as a "high-income" country by 2030.
From the West
Alina Polyakova, Foreign Policy
In this piece for Foreign Policy, Alina Polyakova critiques Scott Radnitz's recent essay, "Europe's Extremists Aren't Putin's Fault." She argues that Radnitz does not place enough emphasis on Putin's role in European far-right politics. Polyakova writes that the West should be mindful of Putin's "useful idiots" because they "vote for pro-Kremlin policies in the EU parliament" and even participate in "election observation missions" in Crimea and Ukraine. Putin's influence abroad, Polyakova believes, should not be taken lightly.
The Economist
In this editorial, analysts from The Economist dissect the ceasefire agreement that will soon take hold in Syria. The agreement, the writers argue, "meets all of Mr Putin's diplomatic and military requirements. It confirms the survival of Mr Assad's regime, potentially divides the rebels, puts Turkey on the back foot and panders to Western concerns." According to the authors, the ceasefire represents a clear-cut victory for the Kremlin—in Syria, it seems, Putin is the one calling the shots.
Lilia Shevtsova, American Interest
In her latest essay for the American Interest, Russia expert Lilia Shevtsova takes on the Russian "pragmatists" who blame Russia's misbehavior on its exclusion from NATO and NATO's eastward expansion. Even if these factors were to blame for the current conflict, Shevtsova still believes that Russian inclusion would not have been a practical move in the 1990s, given NATO's reform-minded membership requirements. Ultimately, Shevtsova places much of the blame for Russia's aggression abroad on the Putin regime itself.
 This week's roundup was compiled by Daniel Frey.