In this week's Russian media roundup: Andrei Pertsev suggests that Aleksei Ulyukayev's arrest may be a sign of a dangerous rift inside the Kremlin; Vladimir Milov argues that the whole Ulyukauev affair is Igor Sechin's revenge; Vedomosti's editorial notes that fighting corruption in Russia is just a show; Andrei Movchan analyzes Russia's budget plan for 2017-2019 and makes insightful observations; and Vladimir Frolov discusses the deals that Putin and Donald Trump may attempt to strike.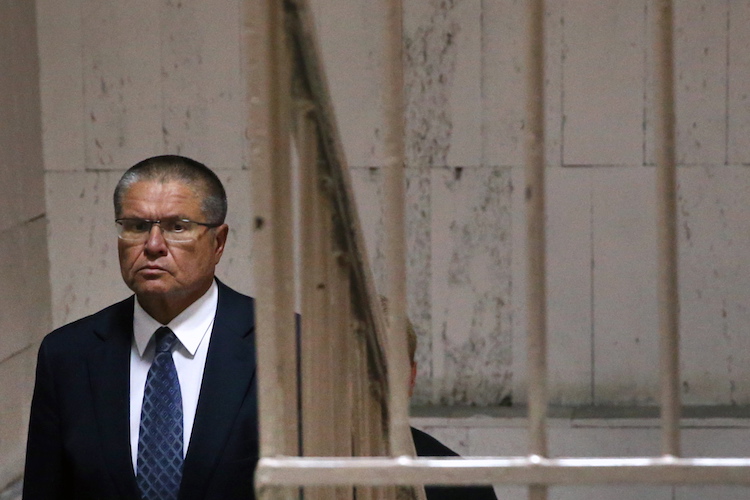 * We are reminding our readers that every Friday IMR is now publishing a short digest of the five best articles from the Russian media to provide an in-depth look into expert discussions inside Russia. If you want this roundup to be delivered to your mailbox, please let us know by sending a request to info@imrussia.org.
Carnegie.ru: Beyond Ulyukayev: Why Arresting a Minister Is Now Possible in Russia
Author: Kommersant journalist Andrei Pertsev.
On November 15, state media reported that Russia's Minister for Economic Development Aleksei Ulyukayev had been arrested on charges of attempting to extort a $2 million bribe from Rosneft for greenlighting the latter's plan to acquire Bashneft.
This is the first time since Vladimir Putin came to power that an acting minister has been arrested, which highlights the supposed anti-corruption efforts undertaken by the Kremlin.
High-profile arrests of other Russian top officials (e.g. governor of Kirov region Nikita Belykh, or governor of Sakhalin Alexander Khoroshavin) have already shaken up the political class this year, but those arrests were presented as show trials for public consumption with extensive media coverage, while the Ulyukayev affair is different, almost private, without any footage.
One version of what has happened is that this arrest was the result of an insider feud between Rosneft CEO Igor Sechin and the liberal faction of the government (including Ulyukayev) that opposed the acquisition of the state oil company Bashneft by the state corporation Rosneft. Sechin came out on top by securing Putin's support and took his revenge on Ulyukayev.
However, as Pertsev argues, this revenge would suggest that Russian ministers are independent political actors with the ability to exert influence on strategic decisions through their public statements. But such thinking goes against the whole political system in Russia.
The problem is that it seems that no one actually benefits from Ulyukayev's arrest.

1) the news of the arrest may create legal grounds to revise the acquisition deal;
2) the arrest strikes a blow not just against the liberal faction, but the whole government headed by Prime Minister Medvedev;
3) it also casts a shadow over Putin himself: "It wasn't the evil Obama who approved the government's composition."

Putting Ulyukayev under house arrest as part of a police probe, a soft measure of restraint for such high-profile corruption cases, shows that the law-enforcement agencies may not have enough evidence against the minister.
And if this was, in fact, an ad hoc revenge launched by Sechin, then the system may have got carried away by over-confidence and shot itself in the foot by crossing a certain line. The stakes inside Putin's close circle have been raised, and the feuds are becoming more public and heavy-handed, indicating that some members of the circle are losing their nerve on the eve of the president's fourth term.
Carnegie.ru, За гранью Улюкаева: почему в России стал возможен арест министра, Андрей Перцев, 15 ноября 2016 г.
RBC: Revenge of the Untouchables: What the Ulyukayev Case Tells Us
Author: Vladimir Milov, director of the Institute of Energy Policy.
Noting the controversy surrounding the arrest of Aleksei Ulyukaev, Russia's Minister for Economic Development, Milov speculates that the affair could be revenge for the minister's obstruction of Rosneft's acquisition of Bashneft.  
Ulyukayev acted as one of the main hindrances in the deal, with a view to postponing the privatization of Bashneft until the following year.  
The author argues that Ulyukayev's career in high office since 2000 and his offshore activity revealed in the Panama Papers are no coincidence. He should have resigned his position following the exposé.  
Milov also observes the atmosphere of fear that plagues big business heads and government ministers day and night. The fear of being bugged is rampant. Therefore, it's hard to believe that an official of Ulyukayev's rank would try to extort a bribe knowing that he may be under the gaze of the security services.  
The usual practice in Russia after initiating a corruption investigation is to set about revising the deal in question. But in Ulyukayev's case, the arrest looks like an attempt to weaken any future resistance to deals such as the one pursued by Rosneft.  
It's also hardly likely that the arrest can be interpreted as a threat to Dmitry Medvedev's cabinet. But Milov argues that it is a personal dealing linked to the interests of a number of specific individuals.  
This arrest may serve as a lesson for the future, writes Milov. Ulyukayev belonged to the "upper caste" of the Russian political elite, yet his inclusion in the Panama Report confirmed the long-standing impression that many of the people belonging to the caste had begun to perceive themselves as "untouchable" and started to overstep the mark.  
These developments only highlight the fact that in the Russian political system there are no "untouchables," and that in the febrile atmosphere of the upper echelons of power, the next victim could be anyone.  
RBC. Месть «неприкасаемым»: о чем свидетельствует дело Алексея Улюкаева,  Владимир Милов, 15 ноября 2016 г.
Vedomosti: A Safe and Beautiful Fight
According to Vedomosti's editorial, the Russian state's fight against corruption is just a show. People can discuss the arrest of a corrupt official and everything that surrounds it, but the act itself does not bring about change in the life of the average Russian. Thus, the "fighters" against corruption in Russia are on a par with film directors.
According to Transparency International, since 2010 Russian people see the police, state officials, and judges among the most corrupt state actors.
However, Russians are unlikely to report corruption: only 16 percent are ready to do so, while 57 percent would rather not. To compare: in the EU 45 percent of citizens on average consider it normal to report corruption, while 24 percent are likely to do so in other CIS states.
Vedomosti points out that there could be several reasons for this reservation:

1) reporting corruption is viewed as snitching, reawakening painful historical memories;
2) Russians are scared of the potential retaliation as they are not offered any legal protection for reporting corruption;
3) Russians understand that the state's fight against corruption is purely symbolic; only a small group of officials are prosecuted according to the law, while key high profile officials remain untouchable.

Only 21 percent of Russians believe they can influence the country's state of affairs (down from 45 percent in 2013). Today, people consider economy and healthcare more important issues than corruption. But the government is incapable of solving these problems, therefore the key theme of the 2018 presidential campaign will be the fight against corruption.
Ведомости, Красивая и безопасная борьба, от редакции, 17 ноября 2016 г.
RBC: Pensions and the Strongmen: What Russia's Budget Plan for 2017-2019 Means
Author: Andrei Movchan, Director of the Economic Policy Program at the Carnegie Moscow Center.
The budget plan for 2017-2019 provides a good perspective as to the outlook of the Russian economy and the government's thinking.
The economy continues to contract but at a slower pace than last year and without any major incidents. Russia's industrial production index in 2016 is expected to be at 97-98 percent compared to 2015, despite the fact that hydrocarbon production in physical terms has increased by 3 percent, while the average oil prices are likely to be lower than in 2015.
One should not expect major changes in 2017: the commodities exchange market is likely to remain stable, with oil prices fluctuating between $40 and $60 per barrel, which provides sufficient support for the country's budget.
One of the key risks for the Russian economy is deferred demand in the consumer and industrial markets. Renewed demand could be a positive signal if it can be satisfied through domestic production, but a more realistic view holds that it will be done through growing imports, which is a less positive development.
Inflation will not stay below the 4 percent mark—the target set by the government—but neither will it exceed 6-7 percent given the downbeat economy.
GDP will slowly decrease or stagnate as the drivers of economic growth remain largely absent in Russia: investment and business activities are dropping, with long-term investment expected to as much as halve.
Despite the anticipated oil price at $40 per barrel, the budget planners are quite optimistic about growth in 2017, writes Movchan, noting that recent history shows that the government three-year plans are on average 11 percent off target. In 2016, the discrepancy between the budget plan framed in 2013 and its implementation reached 21 percent.
The government claims that the budget deficit will not exceed 3 percent due to additional sources of revenue (such as privatization), but Rosneft's recent acquisition of Bashneft leads Movchan to be skeptical about such claims and to conclude that the deficit will continue to be covered by reserve funds.
It is noteworthy that budget expenditure on defense is set to be slashed to $40 billion, which signals that the Russian leadership is not planning any major wars in the coming years.
Spending on national security and education remain the same on paper, but in real terms they will decrease (education cuts are estimated to reach 20 percent over the next three years). Healthcare cuts are expected to rise to 25 percent by 2019 compared to 2016.
The author concludes that the budget plan reveals how the government is driven by fear and the sense of lacking a mandate to introduce any measures beside the current populist agenda. The government is only concerned with short-term stability as it falls further into the social security trap, while Russia's GDP continues to drop, its labor force to shrink, and its pensioners to multiply.
РБК, Пенсии и силовики: о чем говорит проект бюджета на 2017–2019 годы, Андрей Мовчан, 14 ноября 2016 г.
Republic: What Deals Can Russia and the U.S. Strike?
Author: Vladimir Frolov, international relations expert and political analyst.  
The first phone call between Trump and Putin took place this week, and a personal meeting is also not off the cards, preceded most likely by a visit from Trump's foreign policy team.
Quoting Putin aide Vyacheslav Volodin, who said that "it's important to restore trust and respect," Frolov writes that on this basis Moscow hopes to wipe the slate clean with the incoming Trump administration.  
What the Kremlin is counting on:

The Kremlin is interested in discussing the new world order, the new "rules of the game," and the respective zones of responsibility and influence of the world's superpowers.  
The Kremlin would also like to see America agree to reduce its troop presence and military infrastructure in NATO countries around Russia's immediate border.
As a part of normalizing relations, the Kremlin would like to see a full lifting of the sanctions imposed under President Obama.  

What should not be expected:

A reduction in U.S. troops across NATO's eastern flank is unlikely due to it requiring an across-the-board agreement by all member states.  
If in return the U.S. and NATO expect reciprocal confirmations from Russia that it will abide by newly-implemented limits on troop numbers and deployment in Europe, it is a deal not just for Trump, but for the whole of NATO.
Trump stated that "the citizens of Crimea prefer to be in Russia, and not where they were before," further alleging that America could distance itself from the Ukraine conflict, but it's still unknown what an agreement on Ukraine and Crimea might look like.  
An agreement on missile deterrence in Europe is only likely to be implemented if Russia also agrees to limit its nuclear capabilities, including tactical nuclear weapons. Trump's interest in the new missile defense system is still unclear.  

What might happen:

One of deals we can expect to be made is on Syria. Trump has expressed support for Russian military activity in Syria, agreeing to end support for the Syrian opposition and unite with Russia and Assad in combating terrorism.  
If both sides can get together creatively, then the "counterterrorism partnership" proposed by Putin in 2015 at the U.N. could transform into an international legal framework for a much larger "geopolitical cooperation."
However, if a large-scale correction of Russian policy on the West fails to materialize, then the all-too-familiar state of confrontation over disagreements on Ukraine and Georgia could see a return.
Republic. Какие сделки могут заключить Россия и США?, Владимир Фролов, 14 ноября 2016 г.