In this week's roundup Republic reports from the Forum of Civil Initiatives, a get-together of Russia's prominent experts; Transparency International's Ilya Shumanov discusses the unraveling of the anti-corruption campaign; international lawyer Vladimir Zhbanenkov explains the context of Russia's withdrawal from ICC; and Novaya Gazeta speaks to writer Vladimir Voinovich on Russian politics, the protest movement, and the perspectives of revolutionary change.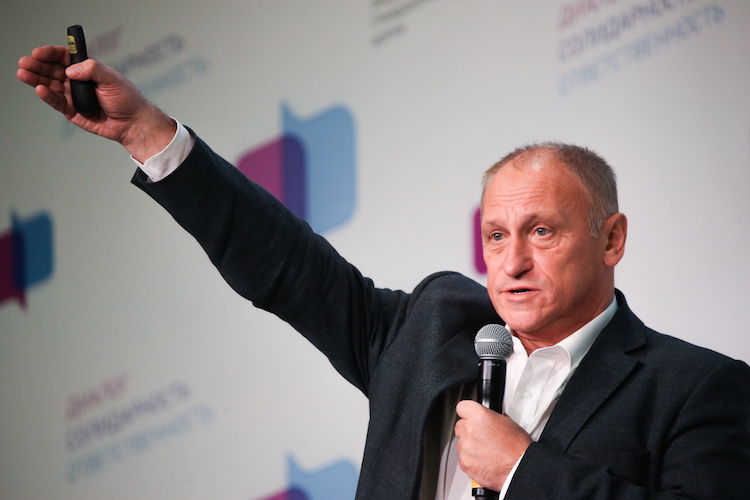 Republic: "Old Age, Illness and Death." What Awaits Russian Society
Author: journalist Georgy Neyaskin.
On November 19, 2016 Aleksei Kudrin's Committee of Civil Initiatives in partnership with other NGOs held a forum bringing together a number of prominent Russian economists, political scientists, and commentators to discuss the country's numerous unresolved issues—from demographic problems to regional budget deficits.
Demography is one of the pressing issues in Russia according to a number of experts (political scientist Yekaterina Schulmann, director of Vera Hospice Charity Fund Nyuta Federmesser). The Russian population is aging, and the currently growing birth rate is increasing pressure on the budget.
At the same time, as the population ages, women aged 45 and older are becoming the prevailing social group in Russia, thus creating impetus to shift the policy agenda toward social issues—healthcare, education, a comfortable living environment.
This shift will create yet additional pressure on the budget. And as the government's policy failures become more obvious over time, people will seek to vote for populists who promise easy solutions to complicated problems.
Another issue discussed at the forum was Russia's democratization. According to regional development expert Natalia Zubarevich, contrary to the popular view, today's crisis is creating favorable conditions for democratization.
Budgets at all levels are shrinking, and to resolve this issue the government needs to offer more autonomy to the regional authorities, introduce direct elections in the most developed regions, and allow them to keep more taxes in the local budgets. This will also force regions to compete for investment, stimulating economic development.
Economist Alexander Auzan also spoke about Russia's tax systems, noting that most Russians are not aware that instead of the 13 percent flat tax rate, they pay 48 percent, most of which is taken at source from the employer. Auzan suggests introducing a more open taxation system so that people know what taxes they actually pay and are able to manage them consciously.
Republic, «Старость, болезнь и смерть». Что ждет российское общество, Георгий Неяскин, 21 ноября 2016 г.
Forbes Russia: The Road Roller and TV: Results of the 2016 Anti-corruption Campaign 
Author: Ilya Shumanov, deputy director of Transparency International Russia.
Shumanov discusses the anti-corruption campaign that has been causing a great stir in Russia since last May, reaching a climax last week with the arrest of Minister of Economic Development Aleksei Ulyukayev.
The number of government officials and businessmen arrested this year on corruption charges makes a case for this campaign to be compared to a road roller.
Shumanov notes that the anti-corruption efforts of the law-enforcement agencies have become so intense that people may no longer view these efforts as a fight against corruption but rather as a struggle among the elites, up to and including "purges".
Political systems that are focused on tactical, not strategic, issues wrongly assume that corruption will vanish if a few high-profile officials are jailed. But a jailing campaign, in which citizens have no say, eventually becomes protracted. And the way this campaign is publicized by the media—as a TV show—leaves people suspicious and dissatisfied.
According to the most recent data by Transparency International, 40 percent of Russians don't believe that the government's efforts to fight corruption are effective.
Another issue observed by Shumanov is the way the media are being used as a major instrument in the anti-corruption campaign. The arrest has to be videotaped and broadcast to be registered in the public mind. But a handcuffed official shown on TV becomes automatically guilty in public opinion. Thus, media publicity deprives the accused of any means of defense against prosecution.
The author also argues that one of the goals of these efforts is to determine the point agency that will head the government's campaign against corruption, and it seems that the FSB has won this competition against the Investigative Committee and the Interior Ministry.
Another beneficiary of this campaign is the Prosecutor General's Office, which gains from the weakening of the Investigative Committee.
A third point to keep in mind is the transfer of General Oleg Feoktistov, former FSB top official, to the position of deputy security chief at Rosneft, allowing him to tap into the repressive apparatus of Russia's most powerful security service.
Forbes, Каток и телевизор: антикоррупционные итоги 2016-го года, Илья Шуманов, 21 ноября 2016 г.
New Times: "Coming to Get You" 
Author: Vladimir Zhbanenkov, international lawyer.
Zhbanenkov discusses Russia's recent withdrawal of its support for the International Criminal Court (ICC). Russia thus removed its signature from the Rome Statute, a founding treaty that it signed but never ratified.
The ICC was created in 2002 (as opposed to the International Court of Justice established in 1946 by the U.N.) and has tried only several cases, mostly regarding criminal acts in African countries.
Like Russia, Ukraine also signed the Rome Statute but never ratified it. However, in 2014 and 2015, Kiev made a political move and petitioned the ICC to expand the Statute's validity to its territory but only within a limited time frame—from November 21, 2013, to February 22, 2014; and from February 20 to the present.
This allowed the ICC to launch an investigation into Russia's action and on November 14, 2016 publish a preliminary report where Russia's annexation of Crimea was called an "ongoing state of occupation."
The ICC report creates legal ground to continue discussing the Crimea issue at the next U.N. General Assembly and can serve as an additional argument for suing Russia in the ICJ (the ICC only prosecutes individuals, not countries).
Some provisions of the report also address the actions of the former Ukrainian government against the Maidan protesters (likely the shooting and killing of the so-called Heavenly Hundred Heroes), Russia's actions against Crimean Tatars, and others.
The November 14 report is not the final version, but it sends a clear signal to Russia: the ICC is ready to pick a fight with Moscow.
Russia's reaction to the report was quite sore, as many top officials claimed they mistrust the very institution of the ICC. And though the U.S. and Israel also withdrew their signatures from the Rome Statute, Russia's response was too quick and can be viewed as too political.
Zhbanenkov concludes by pointing out that Russia's withdrawal cannot stop the justice process (but will prolongate it, however), and that no official position, including the head of state, can waive responsibility or remit the sentence.
New Times, «Иду на вы!», Владимир Жбаненков, 21 ноября 2016 г.
Novaya Gazeta: Today's Silence Is Temporary
Author: Maya Belenkaya interviews Vladimir Voinovich, writer, poet, and dramatist about hardship and heroism, the good and the bad, and politics and politicians.  
On politicians in Russia and the hope for change:

A politician in Russia should understand that he's been chosen to run a gigantic country and should reconcile his personal ambitions with the interests of the people.  
The recent raising of monuments to Lenin and Stalin is a phase that will pass when a more humane and democratic regime is established.  
"I believe that one day, and it will not take 200 years, a normal way of life will be established in Russia."

On being a writer and involved in politics:

A good politician is one who gives all of himself to politics, and a good writer is one who gives himself to literature. If a writer wants to be both a politician and a writer then he'll end up being a bit of both, rather than going all the way.
Society usually demands of great writers a level of civil courage in confronting the world's problems.  

On opposition and heroism:  

Our opposition is a shambles. It consists of good people and bad, moderates and enthusiasts, liberals, nationalists, fascists, and lunatics from all sides. An effective opposition needs a suitable habitat.
In a normal country, the opposition is one of two forces maintaining the equilibrium. In a country where the opposition is hounded, jailed, and killed off, it becomes a sort of clique of heroes, who may or may not be good and wise people. Heroism and wisdom are not the same thing.
A scoundrel or an idiot can still be a hero. I'm not interested whether [a Ukrainian pilot and Russia's former political prisoner Yulia] Savchenko is intelligent or not.  Even if she was a complete idiot, I'd still support her.  

On protests:

The protest will never end. Such movements can slow down, but then they develop and build momentum. The history of humanity is testament to this, and Russian history is no exception. Therefore, today's silence is just a temporary lull.

On what he would do as Russia's president:

There's a lot that could be changed right now. For example, one stroke of a pen could end the war in east Ukraine.
I'd consider what can be done about Crimea. Maybe I'd grant autonomy to Crimea for a 50-year period and then hold a referendum where Crimeans could decide themselves whether to be with Russia or Ukraine.   

On revolution:

I believe that Russia genuinely needs revolutionary transformations. However, such a revolution should be first and foremost intellectual; it should draw attention to current standards of living and pose the question: why are our Western neighbors living better than us?
As a careful optimist, I hope that Russia can at some point get on the path to normal development and become a typical democratic country in the European style. However, as a realist I know that we are a part of history: and history has no hard and fast rules.  
Новая газета, Владимир Войнович: «Нынешнее молчание — ​временное», Майя Беленькая, 20 ноября 2016 г.
* Nathan Andrews helped compile this week's roundup.