In this week's roundup, Dmitry Oreshkin argues that Alexei Navalny will not be allowed to run in the 2018 presidential elections; Tatiana Stanovaya writes about the Kremlin's attacks on the French frontrunner; Alexander Rubtsov discusses the specifics of political narcissism in Russia; Maxim Samorukov explains what prevents the Eastern European regimes from sliding into full authoritarianism following the Russian example; and Mikhail Piotrovsky talks about the state's encroachment on the country's art and culture. If you are interested in receiving this weekly roundup in your mailbox every Friday, let us know at info@imrussia.org.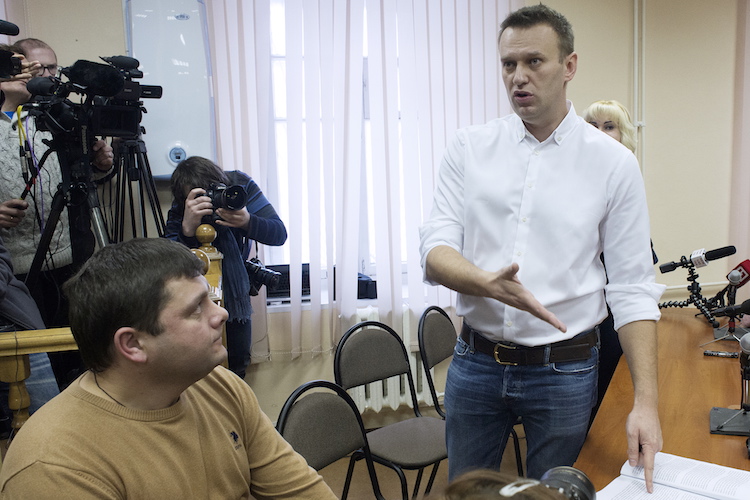 New Times: Constitution and Ammunition
Author: political commentator Dmitry Oreshkin,
On February 8, Alexey Navalny was found guilty of fraud in the Kirovles case and sentenced to a conditional five-year term.  
According to Oreshkin, first and foremost, the verdict was intended to spite the European Court of Human Rights.
It is very much in the style of Vladimir Putin for trials to be held repeatedly until the "right" decision is made—a style that is reminiscent of Article 112 of the 1936 Constitution (aka the Stalin Constitution), which stated that the judiciary is subject to the law, but also that "the will of the ruling party is the law."
This verdict should be viewed in the context of the 2018 presidential elections, for which Navalny announced his bid last December.
It is mooted that despite his convictions Navalny will not be restricted from partaking in the elections due to his conditional sentence.
Oreshkin disagrees, noting that the most important thing to understand about Article 32 of the Russian Constitution is that it has the power to revoke a citizen's right to be elected for a period of up to five years, according its literal interpretation. Therefore, a conditional sentence will be enough to remove Navalny from the pre-election race.
Oreshkin contends that there is no reason to believe that the Constitutional Court will rule otherwise. Navalny is too dangerous for the regime to be allowed to campaign on state television: he is too sharp, active and unpredictable.
New Times, Конституция и амуниция, Дмитрий Орешкин, 13 февраля 2017
Republic.ru: Why Did Russia Attack France's Presidential Frontrunner?
Author: political commentator Tatiana Stanovaya.
On Monday, February 13, Emmanuel Macron who is currently France's presidential frontman, accused the Kremlin of hacking attacks and spreading "fake news" about him in the French media.
Moscow called these claims "absurd," while continuing efforts to support another presidential candidate—François Fillon, who is viewed as "Russia's friend" for his anti-Americanism and pragmatism.
Stanovaya notes that until recently the Kremlin paid little attention to France's presidential campaign, as it was too busy with the U.S. elections. But when François Fillon, in defiance of all the projections, emerged as one of primaries winners, Russia changed its perspective.
But another turn of events (the so-called "Penelopegate") jeopardized Fillon's chances for election, and Moscow decided to double down its efforts to help its favorite win.
The question is why attack Macron, who is not entirely an anti-Russia figure in French politics? He supported lifting European sanctions (albeit conditionally) and negotiated for stronger business ties with Russia.
Factors playing against Macron in the Kremlin's view are: his anti-Trump stance, his support of the liberal world order, globalization, human rights (including immigration), transatlantic relations, etc.
The author argues that this case proves that Russia's approach to meddling is based on backing one candidate rather than probing all potential winners. The Kremlin's propaganda machine employs all the familiar tools: conspiracy theories (the U.S. is manipulating the elections and plotting against Fillon), some of them even connecting Hillary Clinton to Macron.
In its play against Macron the Kremlin is betting everything on Fillon: if the former wins, Russia will face a crisis in bilateral relations with France, but if it's the latter who is elected, the Kremlin gets what it wants. 
Republic.ru, Почему Россия обрушилась на фаворита президентской гонки во Франции? Татьяна Становая, 14 февраля 2017 г.
Forbes.ru: Political Narcissism in Russia: Self-Admiration in Transference Techniques
Author: philosopher Alexander Rubtsov.
Rubtsov continues his series of articles on the political narcissism of the current regime in Russia, focusing in the latest installment on mass disorders and the ways the masses transfer self-admiration onto the objects they communicate with.
Rubtsov notes that these transfers are parts of the defense mechanism protecting narcissists from the scary reality, and are therefore well-camouflaged and hard to discover.
For example, in Russia a collective narcissist can be discovered in what looks like a victimized people focused not on itself but on the greatness of the entire nation, its ethos, and especially on the political leadership.
The objects of the self-admiration transfers range from institutions (e.g. admiration of the army or a party) to time forms (past, present, or future) that are being idealized and worshipped.
In psychoanalysis, such transfers are associated with the relationship with one's parents or "significant others"; in politics, narcissistic transfers may be linked to paternalism: e.g. the idea of a "father of the nation."
A typical example of parental narcissism is a child as an "extension of self"; in politics, narcissistic masses can project self-admiration onto a nation, its leader, the authorities, or even certain individuals, etc. By praising these "extensions of self" (for being omnipotent, exceptional, majestic) the collective narcissist is, in fact, praising itself.
As Rubtsov explains, thus, Russian nationalists do not adore their nation but rather themselves as parts of this nation; imperialists do not adore the empire but their own "couch imperialism," and so on.
When seen through this lens, Putin's skyrocketing ratings can be explained by projections (or extensions) of the Russian people's own self-admiration and collective narcissism. On the other hand, Putin's qualities are created and amplified by the state media and consequently appropriated by the nation, which then validates itself through the leader's portrayed omnipotence.
Rubtsov suggests that the post-Crimea social contract in Russia is now based on legitimation through Putin's charismatic domination. The question is, however, what percentage of Putin's 80 plus rating is based on his personal charisma and how much is defined by his policies.
And another question is how much collective self-admiration can be preserved when one removes Putin from the "Russia is Putin, Putin is Russia" equation.
Forbes.ru, Политический нарциссизм в России: самообожание в техниках переноса, Александр Рубцов, 14 февраля 2017 г.
Carnegie.ru: Legacy of the Soviet Camp: Why Regimes in Eastern Europe Are Softer Than Russia
Author: Maxim Samorukov, deputy editor-in-chief of Carnegie.ru.
Samorukov discusses the recent phenomenon of the "Putinization" of Eastern Europe and argues that nationalist populism is strong across this region, but due to its integration into Western institutions, political regimes in Eastern European countries cannot develop into rigid forms of authoritarianism, as in Russia.
Like Russia, the countries of Eastern Europe have long been struggling to "catch up with [Western] Europe."
In the 19th century these countries tried to shed imperial domination and build independent nation states. Then they tried to improve economic performance. Finally, at the end of the 20th century they focused on democratization and integration into the European Union.
But the problem is that none of these attempts graded them up to the West: standards of living in Eastern Europe were still lower than in the developed neighboring countries. And as it turned out, people cared about their welfare more than they did about political freedoms.
As European integration brought about disappointment, national populist forces that had always been strong in this region, rose to the occasion by offering other, unquantifiable areas in which Eastern Europe could feel more successful: traditional values, godliness, etc.
Both Russian and Eastern European leaders followed the same path by rolling back political freedom to retain power, offering a boost in the people's national pride. None of these leaders—Putin, Orban, or Kaczyński—strives to build a bloody totalitarian regime; hollowing out democratic institutions and procedures, while keeping the veneer of democracy, is good enough.
National populists universally resort to creating an elusive "foreign threat," presenting themselves as the only barrier against hostile forces that are trying to destabilize their country. But while for Russia this foreign enemy is obviously the United States, for its Eastern European counterparts, it is not really clear what it is: they bond with Russia and value security being members of NATO and stability being members of the EU.
The only difference between Eastern European and Russian national populists is thus determined by the constraints imposed on them by the developed world, of which they have inevitably become integral parts—and these constraints make Eastern European autocrats limit their ambitions.
Carnegie.ru, Наследство соцлагеря. Почему режимы в Восточной Европе мягче российского, Максим Саморуков, 8 февраля 2017
RBC: Mikhail Piotrovsky: "These Games Will End Up in Censorship"
RBC talks to Mikhail Piotrovsky, head of the Hermitage, about the turmoil around the transfer of St. Isaac's Cathedral in St. Petersburg under the auspices of the Russian Orthodox Church, and a number of other issues.
Piotrovsky, a known critic of the transfer, explains that he was disappointed with the "primitive approach" to the issue and the government's decision made without any discussions involving the museum community (Piotrovsky is also president of the Union of Museums in Russia).
He also said that he wrote to the Russian Patriarch about the transfer, raising his concerns and asking for a temporarily cease of the transfer so that a proper discussion could take place.  
At the core of his criticisms of the transfer Piotrovsky cites the fact that the cathedral is a very successful museum that represents something more than just an Orthodox cathedral—its functions are not purely religious.  
Piotrovsky also addressed the issue of the state's interventions into the realm of Russian art and culture. "We should thank God that for many years there hasn't been censorship; in fact, many people have forgotten what censorship is like. But it seems to me that we're reaching a point where we're going to end up with censorship, and it's currently going through its genesis in the form of social initiatives."  
Piotrovsky warned that the government should stop this dangerous trend now while it still has the chance.  
РБК, Михаил Пиотровский — РБК: «Доиграемся до того, что у нас будет цензура», Роман Супер, 13 февраля 2017 г.
Nathan Andrews helped compile this week's roundup.