In this week's media highlights, Zhanna Nemtsova, daughter of the slain opposition leader Boris Nemtsov, speaks of her father's legacy; Alexander Morozov argues that the assassination of Boris Nemtsov is an issue of national security; Novaya Gazeta reveals that Russian state corporations will now occupy a new niche in the political system; Alexander Rubtsov continues his series on political narcissism in Russia; and Vladimir Guelman explains why the technocratic governance model is not working in Russia. If you are interested in receiving this weekly roundup in your mailbox every Friday, let us know at info@imrussia.org.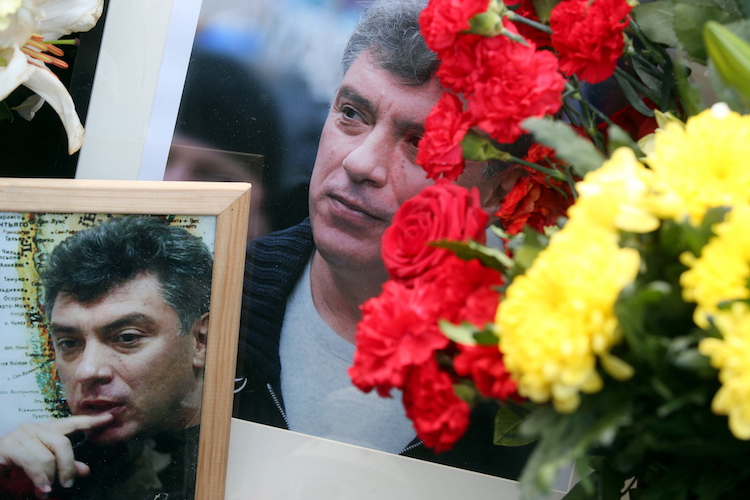 Meduza: Zhanna Nemtsova: "Dad Would Like That I Have Not Become a Conformist" 
Two years after the assassination of Boris Nemtsov, Meduza's Yekaterina Gordeyeva spoke with Zhanna Nemtsov, the slain politician's daughter, who left Russia to work at Deutsche Welle in Germany and launched the Boris Nemtsov Foundation for Freedom.
On self-identification: Nemtsova says she is proud to be her father's daughter; he had always thought she'd get involved in civic activities. But being an introvert, she says that staying in the public eye doesn't come natural or easy to her. But creating the foundation in her father's name would be important for him.
On principles: Nemtsova quotes Andrei Sakharov, who said that if you don't know what to do, act on your principles.
On the investigation of Nemtsov's murder: Zhanna is convinced that Putin bears political responsibility for the assassination. She doesn't have evidence of his direct involvement, but Putin is likely blocking the investigation. Nemtsova suggested that Ramzan Kadyrov and Ruslan Geremeyev should testify in court, but probably never will.
On her father's gift of prediction: Boris Nemtsov had fantastic intuition, she says. In 2006, when the oil market was still favorable for Russia, he predicted that the country would turn into Belarus under Lukashenko and that the country would choose an imperial path. This was before Putin's 2007 speech at the Munich security conference, where the bifurcation point was clearly marked.
On memory and Russian people: "It's very important that so many people remember [Nemtsov]... The most fantastic people are those who keep his memorial [bringing flowers and candles to the site of Nemtsov's assassination,—ed.]."
"When they tell me in Europe that liberal ideas and liberal politicians are not popular in Russia, I respond: do you know another example in modern Russian history when a memorial survived for two years?" … This memorial is "also the manifesto of a society that wants freedom."
On being in opposition in Russia: "When a person in Russia becomes an oppositionist, he risks being publicly humiliated, his reputation ruined."
Meduza, «Папе бы понравилось — я не стала конформистом», Катерина Гордеева, 27 февраля 2017 г.
Republic: Quiet Murder. Why the Government Isn't Asking the Main Question about Nemtsov's Assassination.  
Author: political analyst Alexander Morozov
On the anniversary of Nemtsov's assassination, Morozov is asking the key question: how hard is it to find the people who decided to kill the former deputy prime minister? The reason why no one is looking for them is important for both the public and the state.  
The decision to kill Nemtsov is a matter of national security.
The answer to that question could reveal the potential existence of a parallel judiciary that carries out its own decisions. Or it could be a group within Chechnya that operates according to its own logic, outside of the law. Morozov notes that it is strange that no further investigation has been pursued against Kadyrov and his Chechen entourage.
Other scenarios could be at play. But the fundamental point for the government is that it should explain whether it was an authorized killing, or a parallel instance of unauthorized violence.  
No top official in Russia can be indifferent to this question. And the answer should be made public.
If society allows for this illegitimate violence to be brushed off, it means the Russian government is entirely defunct, holding no regard for national security.
This all yields to the question as to where on earth the decision to pay $200,000 for the murder of a Russian opposition leader was made.
This amount exceeds the remit of party politics and concerns the fate of every branch of Russian officialdom, government, state and society.
Republic.ru, Тихое убийство. Почему власть не задает себе главный вопрос об убийстве Немцова, Александр Морозов, 26 февраля 2017 г.
Novaya Gazeta: "Administrative Resources" for Rosatom
Authors: political correspondents Anastasia Yegorova and Anna Baidakova.
Russian state corporations will be used to mobilize their large numbers of employees to vote for pro-Kremlin candidates—a new development in the unofficial pre-election mobilization authorized by Putin himself. To do so they will be granted additional funds and authority and thus will occupy a new niche in the political system.
This new role assigned to state corporations is a signal to United Russia functionaries, regional officials and managers across the regions.  
Relations between state corporations and regional administrations are not always cordial, even conflictive in some cases. But if Rosatom and Rostec assume the role of political players, they will receive essential political resources in the regions, which will allow them to pursue their own interests more effectively.
The appearance of a new political contour in the shape of state corporations shows that the redistribution of resources is currently taking place. Some political players, e.g. United Russia, are becoming weaker; others, such as the presidential administration, continue to reap the benefits.  
According to Aleksei Makarkin of the Centre for Political Technologies, Putin's electorate won't be paying particular attention to the party on the bulletin board—it will be concerned with the candidate himself.  
The involvement of state corporations in the presidential elections is needed in case Putin decides to distance himself from United Russia—then, as in 2012, all of big business and all state enterprises will be on his side. Without corporate support the elections will be a failure anyway.  
The Kremlin is planning to secure a 70 percent majority for Putin in the 2018 election, effectively sealing his legitimacy on paper, but how this may be done remains unclear.
Essentially, the choice is not between candidates, but rather between acceptance or non-acceptance of the political status quo.   
Новая газета, Админресурс для «Росатома», Анастасия Егорова, Анна Байдкова, 27 февраля 2017 г.
Forbes.ru: Political Narcissism in Russia. Grand Selfhood in the Mirror of Time
Author: philosopher Alexander Rubtsov.
Rubtsov continues his series on political narcissism in Russia and quotes Anton Chekhov, who once noted: "Russians adore the past, hate the present, and fear the future."
This notion is reflected in the way Russian people currently refer to bygone times in terms such as "unparalleled magnificence, grandeur, and omnipotence," obsessing about the past to the point where they forget about food, work, and even conscience.
Rubtsov argues that admiration of the past dominates the regime's ideology, while everyday life becomes increasingly ideological within the same vein. These trends came in full force in 2010-2012.
Under this ideology, Putin's early years are being idealized and glorified (he "saved the country from dissolution" after the turbulent 90s, brought "stability," "raised Russia from its knees").
Medvedev's presidency brought a fleeting change to the official rhetoric, with its talk of modernization, innovations, diversification. Essentially, it was an attempt to shift the focus from the past to the future. But the "swap" ended it all.
Putin's return brought back all the familiar ideas—traditional values, "spiritual bonds," native identity, and cultural code. In the new circumstances, "retrospective patriotism" serves as a compensation mechanism and a social lift.
While the regime dreams about a comeback to the international arena and a new Yalta agreement, thus projecting its obsession with the past onto the illusory future, what gets lost in the process is the present.
The missing present is Russia's chronic problem, notes the author: the country's self-identification seems to be torn between extremes—"past or future," "East or West"—revealing the emptiness of the present. In psychology, this notion would be called avoiding reality. 
Forbes.ru, Политический нарциссизм в России. Грандиозная самость в зеркале времени, Александр Рубцов, 28 февраля 2017 г.
Vedomosti: Homeopathic Reforms
Author: Vladimir Guelman, professor of European University in St. Petersburg.
Many experts who conduct large-scale reforms agree that technocratic governance (involving the work of hired professionals allegedly insulated from political bias or swings in public opinion) is a reliable and efficient model for reform implementation.
Russia chose the technocratic model in the 90s, and the successful launch of the reform program known as "Strategy 2010" convinced the political class that this model suited the country.  
However, as shown in studies by William Easterly, technocratic reforms do not bring successful results that often. In fact, in third world countries, such reforms tend to facilitate dictatorships rather than economic growth.
Incidentally, Russia's second reform plan (Strategy 2020) was implemented only at 30 percent.
As for reforms in Ukraine and Georgia, leaders preferred loyal technocrats over efficient ones. In countries where the initial standard of governance is poor, the chances for adequate implementation of reform are quite low.
In the case of Russia, where attempts at modernization reforms under the presidency of Dmitry Medvedev failed, the reformers lack leverage to promote their ideas except for their access to the leadership and ability to "sell" their ideas accordingly. The problem is that the leadership too often and too quickly loses its motivation for reform, becoming focused on other priorities.
The key challenge of the technocratic model lies with its quality, which is limited in a political space controlled by competing interest groups and stakeholders. Technocrats are too often focused on the short-term results of reform so as to avoid being caught in the crossfire.
Guelman concludes that even though some of the constraints of technocratic governance can be eliminated, this model will be hard to implement in Russia. It is also unlikely that Russian elites will find a new model as the current regime is more interested in preserving the status quo rather than bringing about real change.
Ведомости, Гомеопатия реформ, Владимир Гельман, 1 марта 2017 г.

Nathan Andrews helped compile this week's roundup.