In this week's Russian media roundup, Kirill Rogov reflects on the developments inside Russia's opposition movement and the need for a coalition; Konstantin Gaaze explains how the Kremlin may build the 2018 election campaign; Alexander Rubtsov writes about Russian politics being reduced to tactical moves and media scandals; and Yan Shenkman discussed the Eurovision 2017 controversy. If you are interested in receiving this weekly roundup in your mailbox every Friday, let us know at info@imrussia.org.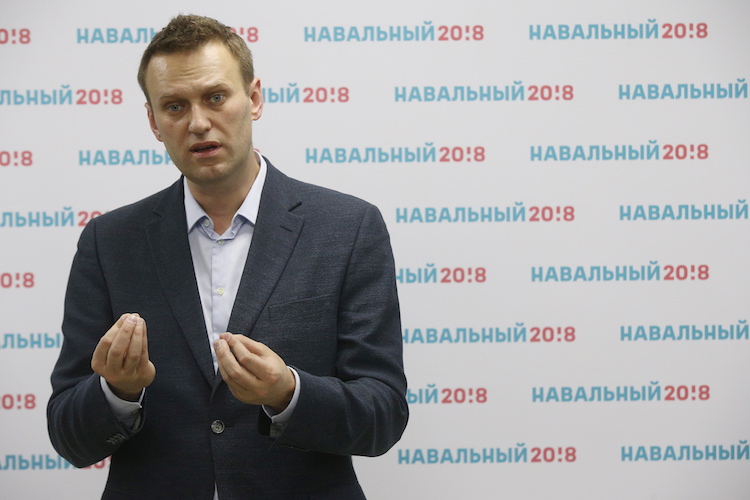 InLiberty: Who Thinks Navalny Is Better Than Medvedev
Author: political scientist Kirill Rogov.
Rogov analyzes recent developments inside Russia's opposition circles following the publication of a new investigation by Alexei Navalny.
The scandal broke after it was reported that in the upcoming Moscow mayoral election Navalny plans to support Communist Nikolai Klychkov and not Dmitry Gudkov, a fellow member of the liberal opposition.
Rogov notes that Navalny occupies a unique space in the Russian political field. By announcing his presidential bid, Navalny once again has managed to disrupt the chronic pessimism of Russians who do not support the current regime.
If democratic Russia doesn't show enough "passionarity"[1] and support Navalny's project, it will essentially lose (along with Navalny), because there are no other projects put forward on the democratic agenda, except for Navalny's bid for the presidency.
The author also notes that he understands Navalny's decision to support Klychkov, who is a member of Russia's Communist Party. The Communist Party is part of the systemic opposition and has representation in the State Duma, which gives it some political leverage, while no member of the non-systemic opposition enjoys such privilege.
It is also noteworthy that even though Gudkov and Navalny share political views and thus should be natural allies, the fact that they are not raises the question of what fundamental issues they disagree upon and prefer not to tell publicly.
Rogov reiterates that the inability to build a democratic coalition is a key challenge for the Russian opposition.
For the opposition to be appealing to the public, it needs to show at least some prototypes of future parties that people may decide to vote for—not just the names of leaders serving as personal brands. Otherwise, political competition remains abstract in the eyes of the people.
Rogov underscores the fact that Navalny's presidential bid marks the emergence of two campaigns in Russia: Navalny's campaign for the presidency (which, as Rogov points out, has almost zero chance), and the other for the right to be elected—an unarticulated, but much more real campaign in political terms.
This latter campaign can serve as a framework for a broad democratic coalition in Russia. And its key points are well known:

People need control over the executive power and fair elections and independent parties in parliament; regions have to be able to keep taxes in local budgets; regional leaders should be elected in genuine elections, not the current fake ones; the siloviki must not be an untouchable caste that controls the business; etc.
InLiberty, Кому Леха не Димон, Кирилл Рогов, 15 марта 2017 г.
RBC: Jolly Campaign: How the Kremlin Is Preparing for 2018 
Author: political commentator Konstantin Gaaze.
Gaaze argues that as part of the 2018 presidential campaign, the Kremlin seeks to preserve the so-called "Putin majority." And it appears that no simple solutions are left, only extreme ones—ranging from the resignation of the Medvedev cabinet to sharp geopolitical pivots.
Although the 2018 presidential campaign has not been officially announced yet, the Kremlin is already working 24/7 on Putin's re-election for a fourth term.
One reason why the Kremlin has reactivated its domestic politics is the transfer of its former "curator" Vyacheslav Volodin to the State Duma.
Based on some indirect indicators and state media reports, the author concludes that the 2018 campaign may be similar to the ones in 1996 or 1999, which means "bigger budgets" and "more complex scenarios."
The bar for the campaign has been set very high: 70 percent turnout and 70 percent of the vote for Putin.
What makes the Kremlin's job even more challenging is that the "Putin majority" is currently crumbling: its "center" is apolitical, while its wings are polarized and already fighting for the Kremlin's attention.
Gaaze observes yet another crucial trend—the attempt to subordinate politics to a large-scale event, such as monarchy restoration in Russia (recently proposed by Crimea governor Sergei Aksyonov).
The pressure inside Putin's political system is growing, and "mobilization" or "extreme" scenarios seem increasingly attractive. Medvedev's resignation may relieve this pressure for a while, but then the Kremlin will need to find another figure that would not cause the "Putin majority" to collapse.
РБК, Веселая кампания: как Кремль готовится к 2018 году, Константин Гаазе, 15 марта 2017 г.
Vedomosti: The Time of History and the Burden of Politics 
Author: Alexander Rubtsov, philosopher, head of the Center for Philosophical Studies of Ideological Processes (Russian Academy of Sciences).
The author discusses different approaches to studying history. One school of thought that he specifically highlights posits the idea of so-called "total history," including not just the chronicles of "great deeds" (wars, tsardoms, royal marriages, etc.), but also everyday events that constitute the slow, rhythmic, cyclic flow of the ever-changing human history.
From that perspective, Russian political history is officially presented as a chain of "remarkable" events serving to hide the ugly reality. It's an archaic approach that relies on politics and lacks strategy, and is focused solely on fast, tactical operations whose goal is to push any consequences to the limit.
Rubtsov refers to recent polls showing that Russian people are increasingly receptive to emotional shocks caused by the political adventurism of the regime, and thus they pay less attention to the values of everyday life.
The Russian public has developed an unhealthy addiction to "news as entertainment," craving ever more sensationalism and ignoring the causal connections between facts.
Ведомости, Время истории и бремя политики, Александр Рубцов, 13 марта 2017 г.
Novaya Gazeta: Eurovision 2017: Who Is More Amoral?
Author: special correspondent Yan Shenkman.
Shenkman writes about the controversy surrounding Russia's pick for the Eurovision Song Contest to be held in May in Kyiv. The scandal stems from the fact that the candidate, 27-year-old Yulia Samoylova, a disabled singer, performed in 2015 in Russia-occupied Crimea—a move that saw other Russian artists blacklisted in Ukraine.
In response to Russia's pick, Ukrainian Interior Minister Anton Gerashchenko suggested barring Samoylova from entering his country. He later changed his stance, saying that he would let the singer in only to detain her on charges of breaking Ukrainian law.
Shenkman recalls that in 2014 Gerashchenko launched the website Mirotvorets (Peacemaker), listing people who are considered "enemies of Ukraine," including Shenkman himself for his work as a correspondent covering Donbas.  
In 2014, Samoylova criticized Ukraine on her Facebook page; Shenkman defends her, saying her criticisms were quite mild and "just an opinion." He continues by pointing out that Ukraine prefers to blame Russians for its woes, rather than coming to terms with the nuances.  
Shenkman argues that Eurovision is supposed to be an event above and beyond politics, recalling that in Eurovision 2016 most Russians who voted did so for Ukraine's winning artist, while the majority of Ukrainians voted for the Russian singer.  
The article also quotes other opinions:

Igor Panasov, music critic from Kyiv, notes it's hard to predict whether [Ukraine] will let Samoylova in or not. "We live in a world where political trends are constantly changing."
Kirilll Medvedev, member of Arkady Kots (a band from Moscow): "It's revolting that the Russian government, which is in no rush to solve the everyday problems of disabled people and stirs up hatred towards political correctness, should try and use such people in their political games."
Alexander Kushnir, Moscow producer: "Artists should be able to perform anywhere, as long as they are not propagating violence or Nazism, and as long as they do not have a criminal record.  Today, Eurovision is being exploited by officials of both countries to earn political capital from music."  
Новая газета, «Евровидение-2017»: кто аморальнее? Ян Шенкман, 14 марта 2017 г.
[1] The Russian word passionarnost' roughly means "a nation's capacity to make sacrifices."