In this week's media roundup, Maxim Artemyev weighs on the consequences of Denis Voronenkov's assassination in Kyiv; Andrei Pertsev discusses the "Kiriyenko Thaw" that never happened; Vladislav Inozemtsev raises the question of LNR and DNR potentially joining Russia; Meduza interviews Leonid Grach, who details how Russian special services had been helping Crimea since 2005; Novaya Gazeta speaks to Communist Andrei Klychkov, a Moscow Mayor election hopeful. If you are interested in receiving this weekly roundup in your mailbox every Friday, let us know at info@imrussia.org.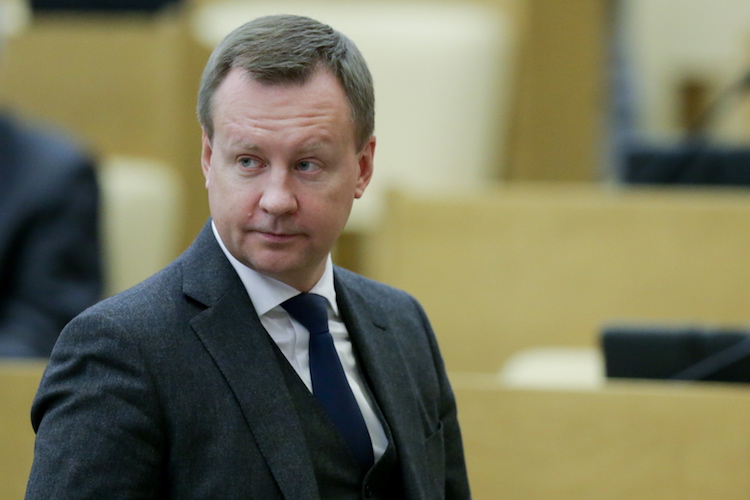 Forbes.ru: From Crisis to Crisis: What the Murder of Voronenkov Means for Kyiv
Author: political commentator and author Maxim Artemyev.
Artemiev observes that lately Ukraine's political world seemed to be in anticipation of something bad happening. And on March 23, two things did happen: a fire at an ammunition storage facility in the Kharkov region and the murder of Denis Voronenkov, former deputy of the Russian Duma, who received political refugee status and was an important witness in the case against Viktor Yanykovych.
Voronenkov was assassinated in the center of Kyiv, which shows that Ukrainian special services proved incapable of protecting such an important asset, despite a publicized reform of the Interior Ministry. Last year, also in Kyiv city center, another political emigrant, journalist Pavel Sheremet, was killed. His murder remains unsolved.
The Euromaidan revolution took place three years ago, but no significant change for the better has yet been observed in Ukraine: the crime rate remains high; there's still plenty of unaccounted weapons in the country; Donbass continues to bleed.
Against this dark backdrop, people turn cynical and frustrated. Every action by the government is scrutinized; every faux pas feels doubly painful.
The author argues that the Ukrainian government finds itself in a dead-end situation. It is not clear how Petro Poroshenko can react to such a high-profile assassination on home soil, whether he chooses to blame it on the Kremlin's meddling. He probably understands that further confrontation with Russia may have catastrophic repercussions.
Ukraine's problems will not vanish by themselves. The current crisis requires a clear reform plan and political will, but official Kyiv fails to demonstrate both, which boosts public demand for change.
The problem, argues Artemyev, is that alternative political forces have not yet been formed in Ukraine, and the country is doomed to permanent crisis.
Forbes.ru, От кризиса к кризису: что значит убийство Вороненкова для Киева, Максим Артемьев, 23 марта 2017 г.
Carnegie.ru: Emptiness Instead of Thaw: What Happens to the Russian Ideology
Author: journalist Andrei Pertsev.
The appointment of Sergei Kiriyenko to the position of key curator of Russian domestic politics bore expectations for an upcoming "Kiriyenko Thaw," but in vain.
For the last 15 years the Kremlin's ideology has been based on the thesis that "Putin is our president." But every official in charge of the Kremlin's politics would traditionally add a supplementing ideologeme: e.g. "sovereign democracy," "raising from the knees," "Crimea is ours," etc.
Instead of thaw, Kiriyenko brought emptiness, as the Kremlin continues to pursue repressive policies. He did also bring a corporate management approach to politics, however, but it has nothing to do with forming a more liberal ideology in Russia.
Kiriyenko is focused on things like team-building, performance and efficiency assessment, challenges—none of which have anything to do with the public or political realms.
This lack of ideological messaging from the Kremlin puzzles most regional officials who feel uncomfortable showing initiative. They don't know whether the so-called "Crimean consensus" still applies, whether they should fight the "Western influence." The Kremlin keeps silence.
In this ideological vacuum, some political players are trying to play the field in order to be seen and remain relevant. Vyacheslav Volodin proposes rescheduling the 2018 presidential elections from March 4 to March 18 (so the date coincides with Crimea joining Russia). Sergei Aksyonov suggests restoring the monarchy in the country. The Kremlin did not respond to these initiatives.
Pertsev concludes that none of these developments mean that Russia may be moving toward democracy or liberalism—the system does not allow for that. Conservative, authoritarian trends remain a safe choice to earn the president's grace. 
Carnegie.ru, Пустота вместо оттепели. Что происходит с российской идеологией. Андрей Перцев, 20 марта 2017 г.
Republic: Three Years and Waiting. Is Putin Ready to Unite Luhansk and Donetsk? 
Author: Vladislav Inozemtsev, director of the Center for Research on Post-Industrial Societies.
Three years after the annexation of Crimea, the leaders of LNR and DNR have spoken about holding a referendum and becoming a part of Russia, while the Kremlin has recognized documents issued by both republics as valid, thus allowing their citizens to freely cross the border, and even open bank accounts in Russia.  
In the light of these developments, Kiev has taken a radical approach, requesting sanctions from the EU and the USA against Donbas. Russian state banks have been banned in Ukraine. However, Ukraine may soon face a huge economic crisis, and official Kyiv won't be able to prevent it.
Meanwhile, the West has returned to the scene. The U.S. State Department confirmed that Russia should return Crimea to Ukraine. The U.N. claimed it does not trust Russia in any situation, while EU leaders adhered to their plans to increase their military budgets to bolster NATO's capability in response to the Russian threat.  
Inozemtsev argues that all of this shows that exacerbation of the conflict could be beneficial to all participants.
There will be nothing better for the Ukrainian elites than Russia recognizing LNR and DRN, as it will make Russia the aggressor, and Kiev the victim.  
The EU political establishment would benefit from the escalation as it would justify harsher sanctions.
The LNR and DNR "elites" and members of the Yanykovych circle will be the biggest winners—independence would secure their business assets.
Around 42% of Russians believe that LNR and DNR should become independent or unite with Russia. The extension of the "Russian world" would thus guarantee Putin success in the coming elections and award him the status of lifelong president.  
Inozemtsev concludes that if the conflict escalation can be portrayed as the result of Ukrainian and Western meddling, then further Russian moves in Donbas will be justified  in the eyes of the Russian people.  
Republic.ru, Обещанного три года ждут. Готов ли Путин присоединить ДНР и ЛНР? Владислав Иноземцев, 20 марта 2017 г.
Meduza: Leonid Grach: "If Patrushev Didn't Support Us, the U.S. Navy Would Be in Crimea" 
Meduza interviewed Leonid Grach, former Crimean politician, leader of the regional Communist Party branch, who details how Russian special services had been helping the peninsula since 2005.
On Russia's participation in Crimea's political life: Nikolai Patrushev, former head of the FSB and current secretary of the National Security Council, was actively helping local pro-Russian forces since at least 2005, starting from the Orange Revolution in Kyiv.
On the Crimea situation in February 2014: Grach was offered a position of Crimea's prime minister by the Russian defense minister Sergei Shoigu personally, right before Yanykovych fled Ukraine, but Sergei Aksyonov (leader of the pro-Russian All-Ukraine Unity party, currently Crimean prime minister) was voted instead.
Grach was also asked to organize rallies in support of the new Crimean government, which he refused to do in order "not to lose face," calling the new authorities "bandits."
On the Crimean state council elections: Russian Central Election Committee head Valery Churov ordered at the time that Grach should not receive more than 2 percent of the vote, while many local observers said that the latter should get at least 5 percent based on his popularity in the region.
"The whole process was directed by Vyacheslav Volodin, a scary man, generally speaking." Thus, Grach's candidature was eliminated.
The idea was to split the state council between allies of Aksyonov and Vladimir Konstantinov (former chairman of Crimea's supreme council), most of whom came from Yanykovych's Party of Regions—"people of the evil sort that everyone knows."
On the current situation: "The patriotic mood collided with the most outright Russian bureaucracy, which is the basis for corruption in the country."
Meduza, «Если бы нас не поддержал Патрушев, в Крыму стоял бы американский флот», Илья Жегулев, 21 марта 2017 г.
Novaya Gazeta: Andrei Klychkov: "Stalin Isn't Running for Mayor of Moscow"  
Novaya Gazeta interviews Andrei Klychkov, member of Russia's Communist Party, who is competing with democratic candidate Dmitry Gudkov in the upcoming mayoral elections in Moscow.
The interview comes amidst discussion that Aleksei Navalny, who recently announced his 2018 presidential bid, has expressed support for Klychkov, as opposed to the more natural ally Gudkov.  
On Stalin (Klychkov was seen laying flowers on Stalin's tomb): Laying flowers there is a family tradition. "Stalin has his own mistakes, which can be discussed in a historical context, but not during the Moscow mayoral elections. Stalin isn't running for mayor of Moscow."
Klychkov said he won't distance himself from Stalin despite harsh criticism from the liberal circles: "Some people lay flowers on Yeltsin's grave, which for me is totally unacceptable, but they can do as they please."
On ideological issues in the campaign: They are of secondary priority—Moscow has bigger issues now. "Moscow is neither Red nor Liberal, as many would like. Moscow is in many ways apolitical."  
On forming a coalition: For Klychkov, it is a question of political maturity. "Can political forces challenging those in power agree to drop their agenda against each other in order to change the situation in Moscow?"
On anticipated results: It is worth trying, as when Navalny ran for the Mayoral Office in 2013, he wasn't expected to get 27 percent of the vote. "Many voters will opt for Sobyanin, and many voters who have lost faith in elections will have the chance to vote for the Communist Party."
On opposing the authorities: "I believe that those in power are really hindering development by forbidding any kind of public meeting. People often take to the streets in hopelessness, when they know no one is listening to their problems. Of course, I'd permit it [rallying against the authorities]."
Новая газета, «Сталин в мэры Москвы не баллотируется», Илья Азар, 20 марта 2017 г.
Nathan Andrews helped compile this week's roundup.