In this week's roundup: Vladimir Frolov analyzes the consequences of the Washington Post investigation into the Kremlin's cyberwar against the U.S.; Vladislav Inozemtsev discusses the U.S. Senate's vote to support tougher sanctions on Russia; Mikhail Troitsky speculates about the Trump-Putin meeting at the upcoming G20 Summit; Ivan Davydov draws on the signals from Putin's June 15 Direct Line; and Pavel Aptekar writes about Alexei Navalny's growing popularity. If you are interested in receiving this weekly roundup in your mailbox every Friday, let us know at info@imrussia.org.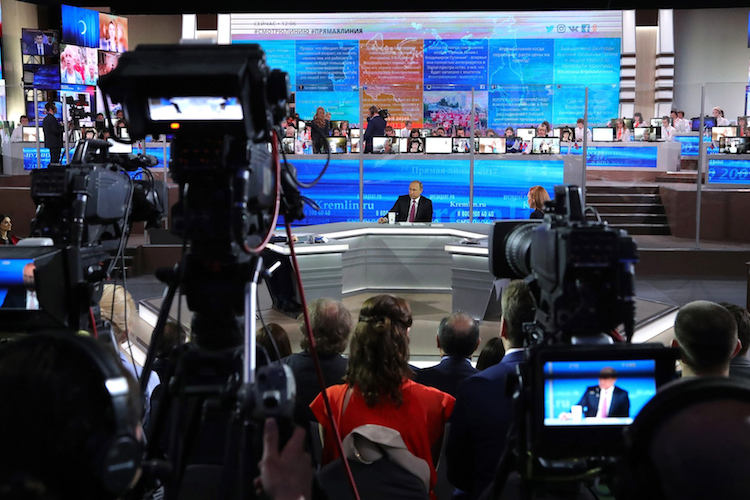 Republic: A Point of No Return. Investigation with Serious Consequences for Russia 
Expert in international affairs Vladimir Frolov comments on the recent investigation article published by Washington Post and argues that its revelations will have gravely negative consequences for U.S.-Russia relationship.
Frolov notes that the key provisions of the investigation (the Kremlin's escalation of cyberwarfare to attack American democracy) add up to a demand for an adequate response to Russia's interference.
One of the most worrisome highlight of the investigation for the Kremlin is the fact that CIA acquired detailed intel that Vladimir Putin personally sanctioned the cyber campaign against the U.S. electoral process with a goal to cause political damage to Hillary Clinton's candidacy. This is the first of a kind allegation against Putin.
Frolov speculates that CIA must have a source in Putin's closest circle, and the December 2016 arrests of a number of high-profile Russian intelligence officers on accusations of spying for the U.S. speak in favor of that version.
The Kremlin was lucky under President Obama who supported very measured response to the Kremlin's aggression. Under President Trump Moscow enjoys the latter's unwillingness to discuss the Russia issue that he sees as undermining his legitimacy, but political pressure will continue to grow. The Russia problem will not go by itself.
Frolov underscores that fact that the U.S.-Russia relationship has increasingly defined by the story of the Kremlin's interference in the U.S. elections. This story created a toxic atmosphere, and all the policy decisions are now viewed through this prism.
This story also highlights the Kremlin's approach to making foreign policy decisions—full disregard for diplomatic consequences.
Republic, Точка невозврата. Расследование с серьезными последствиями для России. Владимир Фролов, 26 июня 2017 г.
Forbes.ru: Strange Sanctions: Will Russia's New Isolationism Lead to a Coup in the Kremlin?
Vladislav Inozemtsev, director of the Moscow-based Centre for Research on Post-Industrial Societies, discusses the U.S. Senate's June 15 decision to vote overwhelmingly for harsher sanctions against Russia (98 votes to 2).
The new sanctions will prevent foreign investment in gas and oil extraction in Russia, participation in the privatization of Russia's state assets worth up to $10 million, as well as loans to companies and banks linked to representatives of the Russian defence and intelligence sectors.
He believes that Russia sanctions they will not be relaxed for some time given that the Kremlin a is not willing to change its behaviour.
There are several factors to consider. First, sanctions are now not only related to Crimea annexation, the Eastern Ukraine conflict and MH17 cover-up, they are also linked to Moscow's involvement in the Trump campaign and the propping up of Assad's regime.
Second, if the House of Representatives passes these new sanctions, Trump will be unable to overrule their decision, meaning that his pledges to "normalize" relations with Russia will be difficult to put into practice. This essentially means the beginning of a new Cold War.
Third, the sanctions will also worsen trade links between Europe and Russia.
Fourth, Russian entrepreneurs will continue to move their funds abroad. Financial investment in Russian debt securities will be reduced, weakening the ruble, and investment in the private sector will decline. These harmful effects will make Moscow less likely to change tack, not more.
Inozemtsev points out that it may be fashionable to say sanctions are ineffective, but in fact they have been effective in Iran, South Africa, Libya and Yugoslavia. While in all those cases sanctions always had a clear aim, this is not the case for the US sanctions, and neither side is willing to compromise.
The US wants Russia to withdraw from Syria, to stop supporting separatists in Donbass, to return Crimea and to stop cooperating with Iran. Russia will only do this after regime change, which will not happen in the foreseeable future.
The author does not believe sanctions will destroy the Russian economy and spark a coup, but he does think this heralds a return to the 1970s, with all the hardships they entailed. Both Russia and the West will be responsible for this.
Forbes.ru, Странные санкции. Приведет ли новая изоляция России к дворцовому перевороту в Кремле? Владислав Иноземцев, 26 июня 2017 г.
RBC: A Meeting Without Obligations: Why Russia Does Not Need a Deal With the U.S. Yet.
Mikhail Troitsky, political scientist and expert in foreign affairs analyzes the U.S. and Russian positions in the light of the upcoming G20 Summit..
Putin and Trump may negotiate at the Hamburg G20, but one shouldn't expect much from their meetings. Moscow doesn't want to commit to anything now.
In late June, Russian-US relations got worse, with new initiatives proposing harsh measures against Russia supported by 98 out of 100 U.S. senators. If passed, the new laws will make it very difficult to lift the U.S. sanctions on Russia.
In the meantime, Trump has instructed Secretary of State Rex Tillerson to prepare a plan for normalizing relations with Russia. And Tillerson proposed a return to positive interaction with Russia, which is not contingent on resolving the Ukraine conflict.
A rapprochement was also hinted at when the U.S. House of Representatives refused to consider the draft law on sanctions against Russia. The author believes that the Republicans who hold the majority were acting on orders from the White House.
Washington has begun to pay less attention to Russian human rights abuses and to interact less with the Russian opposition.
However, though Moscow has wanted this kind of special dispensation from the United States for a long time, any deal with Trump would require Russia to stop trading with North Korea, to stop carrying out cyberattacks on the U.S. and to treat U.S. diplomats in Moscow better.
Troitsky argues that co-operating with Trump given his new "pragmatic" approach, makes Moscow look weak and untrustworthy to Beijing, Tehran and Assad. This may make Moscow shy of deals with the U.S. president.
Essentially, a potential Russia-U.S. deal would establish a mutually beneficial status quo. However, Russia is still waiting for the Western-centric world order to disintegrate, so would prefer not to commit to anything until its negotiating position is stronger.
Troitsky concludes that such a position seems wise for the Kremlin, given the emergence of new tactics such as cyberwarfare, but it is also risky, since Western powers are likely to react badly to diminishing influence.
РБК, Встреча без обязательств: почему России пока не нужна сделка с США, Михаил Троицкий, 27 июня 2017 г.
New Times: The Three-Letter Campaign 
Columnist Ivan Davydov discussed whether Vladimir Putin decided to run in the presidential elections and what he may offer to voters. Will he also have genuine political competitors?
It was expected Putin would graciously agree to run at the request of a citizen during his Direct Line on June 15, but he did not. Still, most people assume he will.
There were hints during the Direct Line that he intends to still be among Russia's decision makers after the 2018 elections. However, he appeared to be bored by a question about a potential successor, leading some to conclude that his own presidential campaign would be the only serious one.
The campaign will be based on three concepts: fairness, respect and trust--the three words that can be abbreviated in Russian to SUD or "court."
If the Direct Line did mark the beginning of Putin's presidential campaign, it will be a gloomy one, focussing on social ills. It did work as a PR stunt though: Putin closed the huge rubbish dump outside Moscow at the request of those living nearby.
Davydov notes that Putin is worried about his dwindling popularity among young voters. It is possible to chart the beginning of his campaign from a visit to a Chelyabinsk factory in December last year, when he promised young professionals "respect and fairness."
He has also tried to pander to young voters by visiting the Artek youth center in the last week of June and tasting pancakes cooked by the youngsters.
However, this pandering cannot mask the authorities' recent crackdown on protest movements, making the protest movement and its message more appealing to young voters.
Putin is not just the leader of the system, he build it, so he cannot stop the propaganda machine to woo young voters.
There are various puppet candidates running who pose no real threat. But as Alexei Navalny's popularity is on the rise, the authorities must address his campaign, which is problematic for the Kremlin. Any public acknowledgement of Navalny ends up giving him free publicity.
It is unlikely that Navalny will be able to run for president: the Kremlin has reaffirmed that a presidential candidate may not have criminal convictions.
However, as Davydov concludes, the question is whether Putin will destroy hollow competition or allow Navalny to run. And it appears the Kremlin will put off making any concrete decision until the very last minute.
New Times, Кампания из трех букв, Иван Давыдов, 26 июня 2017 г.
Vedomosti: Navalny's "Brand Recognition" Is Going Up in the Eyes of Russians
Author: columnist and historian Pavel Aptekar.
Demonstrations are becoming the norm for many voters in Russia. The Kremlin's attempts to prevent and violently disperse protests has only raised Alexei Navalny's profile. Today, most Russian people feel neutrally about the protests and think the slogans used are fair.
Aptekar notes that Navalny has greater visibility and presence before and after demonstrations, but this effect is reversed if there are long periods without demonstrations. The long-term trend is towards greater "brand recognition" for Navalny.
This notion is backed up by surveys: 55 percent of respondents had heard of Navalny in June 2017 compared to 42 percent in December 2016 .
43 percent of respondents said that the official response to anti-corruption protests had been unjust, while 26 percent supported the measures taken by the authorities.
Younger respondents hold Navalny in higher regard than older ones. They also support the demonstrations more than older respondents (25 percent versus 18.6 percent, respectively)
The popularity of Navalny's Anti-corruption Foundation has also increased, despite the limited reach of "Don't call him Dimon," a documentary centred on allegations of Medvedev's corruption.
The increase in popularity is due to Navalny's savvy use of media: despite there being limited platforms available for protest movements, he managed to get his message across.
The author thinks that the authorities should grasp this and stop broadcasting their own fears of political destabilization through crackdowns.
Ведомости, Узнаваемость Навального медленно растет, Павел Аптекарь, 27 июня 2017 г.