In this week's roundup, Dmitry Travin argues that the Putin regime is more sustainable than many people believe; Oleg Kashin writes about the state of Russian political journalism and the importance of anonymous Telegram channels; Denis Volkov discusses the recent Levada poll that highlighted Russians' growing approval of Stalin; and Dmitry Butrin dissects the most recent attacks by Rosneft against AFK Sistema and their implications for Russia's investment climate. If you are interested in receiving this weekly roundup in your mailbox every Friday, let us know at info@imrussia.org.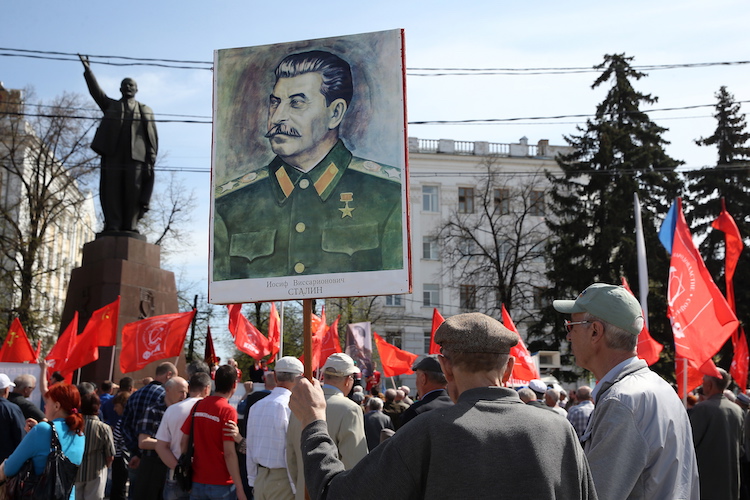 Republic: An Unbreakable Regime. Four Reasons Why It Won't Collapse
Political scientist Dmitry Travin argues that the Putin regime is highly destructive, but is quite able to persevere for a long time. He presents his views by dismantling four major counterarguments.
First, many regime critics believe that authoritarianism is doomed to collapse in the internet era. The flaw in this argument is the assumption that people strive for truth or objective information. In reality, only a tiny minority do so. Most people prefer comfortable evasion.
Second, there is the opinion that the younger generation of Russians have not been "poisoned" by the regime. They are bolder and more honest. Travin argues that yes, younger people are mostly motivated by having social lifts, but one should not assume they are ready to go to jail for reforms. The current crop of young protesters may play a role later, when the regime changes leadership.
The third argument invokes the "refrigerator versus television" theory, meaning that at some point the hungry "proletariat" will revolt and overthrow the repressive regime. But revolution does not happen in the provinces, where people may actually be hungry—it's done in the capital. And the Moscow creative class has a lot to lose in that conflict.
Finally, despite appeals to the West, the latter shows little interest in undermining the Putin regime. Travin argues that the West doesn't take his threats (e.g. to annex part of Estonia) seriously and has no stomach to wage trade wars with Russia at the expense of European consumers.
However, Travin concludes that over time the status quo will change—and not in Putin's favor. Gazprom will become less competitive on the gas markets, whereupon the "fridge factor" may become weightier, and the now grown-up former teenagers who protested this year may finally realize their complete lack of prospects.
And then the internet may at last become a source of serious information for millions of people—not just a source of entertainment.
Republic, Режим нерушимый. Четыре довода в пользу того, что он не рухнет, Дмитрий Травин, 5 июля 2017 г.
Republic: The Mystery of Not-Zygar. Why Anonymous Telegram Channels Are Interesting.
Journalist Oleg Kashin comments on the state of Russian political journalism—a field so discredited that "talented amateurs" are filling the vacuum left behind.
The case in point is the popular anonymous Telegram channel "Not-Zygar" (or "Незыгарь" in Russian). Not-Zygar benefits from the hype surrounding Mikhail Zygar, former editor-in-chief of TV Rain, and author of the bestseller "All the Kremlin's Men."
Kashin recalls another popular anonymous microblog, albeit on Twitter, called "KermlinRussia," which was essentially a parody of Dmitry Medvedev's Twitter style and a satire on the Russian political system.
It was eventually revealed that KermlinRussia was run by two PR executives, Yekaterina Romanova and Arseny Bobrovsky. However, Kashin notes that after the much hyped "coming out" it soon fell out of fashion, mainly due to the loss of anonymity.
Not-Zygar is very popular on Telegram, with 50,000 subscribers accumulated over the span of two years. In Kashin's words, the microblog has become the new model for political journalism, revealing the latest political intrigues and spawning many imitations.
There has been, again, much speculation over the identity of Not-Zygar. Persons from Zygar himself to political scientists Gleb Pavlovsky or Yekaterina Schulman have been suspected of running it. This mystery makes the channel even more intriguing, and many have tried to unmask Not-Zygar.
Kashin argues that, though often inaccurate, this form of political journalism often provides important leaks or even bogus stories with the goal of forcing a reaction from inside the Kremlin.
The way mainstream media report on Putin may be accurate and in keeping with the highest journalistic standards, but regrettably the Kremlin's modus operandi has little to do with such reporting. The press knows nothing about the real dealings.
Kashin contends that when no one knows anything, "leaks" per se become meaningless. In this political climate, anonymous channels run by people who "often write nonsense, but clearly know something" turn out to be more interesting and effective than traditional media.
Putin's absolute power is a black box which political journalism cannot access. Only another black box, shrouded in mystery, can compete with it—and that is why Not-Zygar is so important.
Republic, Тайна Незыгаря. Почему анонимные Telegram-каналы – это интересно, Олег Кашин, 29 июня 2017 г.
RBC: The Stalin Question: Why Do Sociologists Cause So Much Controversy?
Levada Center sociologist Denis Volkov discusses a recent poll that named Stalin, Putin and Pushkin as the three figures considered most outstanding by the Russian people.
Stalin has grown in popularity in the past few years, leading to busts and commemorative plaques springing up around the country as part of a phenomenon dubbed "re-Stalinization" by sociologists.
Stalin enjoyed a sharp increase in popularity in 2014, which has continued steadily: 37-40 percent of the respondents in the latest poll expressed positive feelings towards him, while only 17-19 percent were negative.
According to the author, Russians feel that their country is undergoing a transformation and being restored to its former greatness, as it was under Stalin.
Volkov points out that most modern Stalinists are older, poor and less educated. However, there are some young, urban, educated modern Stalinists too.
This phenomenon may be described as a "grassroots", but it has also been encouraged by the authorities.
Russian Prime Minister Dmitry Medvedev has begun discussing Stalin publicly, while Vladimir Putin has gone further, calling for people not to demonize Stalin and creating a cult surrounding the Soviet victory in World War II.
Though the majority of Russians do not deny Stalin's crimes, they focus on his great military victory instead.
The author believes that the annexation of Crimea has created the sense among elites that the rulebook has been torn up, and that individuals should not feel bound by norms or political correctness.
However, there is an anti-Stalinist minority that continue to honor the victims of Stalin's political repression and remain staunchly critical of his actions and policies. These individuals are usually liberal.
Volkov concludes that sociologists are often blamed amidst growing tensions. For example, the Levada poll on Stalin was widely dismissed on Russian social media: commentators asserted that the data was falsified, and this is why it provoked controversy. 
РБК, Сталинский вопрос: почему данные социологов вызывают столько споров, Денис Волков, 30 июня 2017 г.
New Times: The Crocodile's New Adventures
Kommersant economics editor Dmitry Butrin writes for The New Times about the recent attacks by Rosneft's CEO Igor Sechin against AFK Sistema, a conglomerate company headed by Vladimir Yevtushenkov. Rosneft sued Sistema and last week the latter's assets were partially arrested.
Recall that as a result of a 2015 attack on Sistema, Rosneft acquired Bashneft, an oil company that was owned by Sistema, while Yevtushenkov was briefly arrested.
Now Rosneft and Bashneft are both suing Sistema again for 170 billion rubles for allegedly damaging Bashneft as part of the 2013-2014 consolidation.
Butrin argues that the only logic behind the move is Sechin's approach to management: "If I can squeeze 170 billion out of Yevtushenkov, I have to."
One of the juiciest of Sistema's assets that Sechin may be eyeing is a 31.7 percent share in MTS, one of Russia's largest telecom companies.
Butrin describes Rosneft's approach as "crocodile tactics." Established during the Yukos affair, this method favors absorbing assets as part of hostile takeovers instead of actual development. Much simpler.
The author speculates that Putin is unlikely to share the same approach in its entirety, otherwise he wouldn't have more liberal-minded people in the government (e.g. Finance Minister Anton Siluanov).
Putin has positioned himself above all the feuding forces in his system, and doesn't care about the details of each feud, basing his pragmatic decisions on the strategy that would work best in a two-week perspective.
Butrin argues that in the eyes of foreign investors Russia may look like a strong economy (more promising in terms of ROI than either Brazil or South Africa) whose problems are mostly of an irrational nature.
But given Sechin's latest underhandedness and Putin's decision-making, they may have to reconsider. Meanwhile, the Russian investment climate may have drawn the short straw once more.
New Times, Новые приключения крокодила, Дмитрий Бутрин, 3 июля 2017 г.