In this week's roundup, Maxim Trudolyubov comments on Vladimir Putin's announcement to run for a fourth term; Kirill Rogov argues that current discussions about Putin's future prime minister are futile; New Times profiles former FSB head, General Oleg Feoktistov who, until recently, led Igor Sechin's special services group among Russia's siloviki; Yekaterina Shulman discusses "accidental" democratization; Ivan Lyubimov recommends partial decentralization as a first step to reforming the political sphere.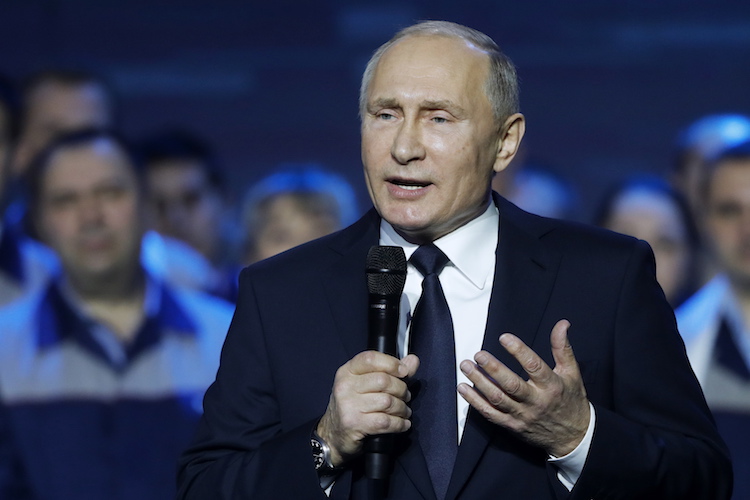 Republic: Captain Impossible. Cynicism as Putin's Aspiration
The state and its degradation of the truth will continue for at least six more years, since the "editor-in-chief" has just taken on a new presidential term, writes Maxim Trudolyubov of Vedomosti and the International New York Times.
Putin's announcement pointedly came just a day after the IOC banned Russia from the 2018 Olympics. Well versed in the art of PR, Putin and his circle know how to manipulate American news and information in more subtle ways than their predecessors did in the Soviet Union by attempting to conceal information or engage in direct propaganda.
The history of the meaning of "truth" in Russian society has had disastrous effects on citizens, who went from experiencing frustration under Soviet censorship to sincerely believing in the strength of empirical truth, just to be disappointed at the realization that information can be manipulated.
The same goes for journalists, who saw themselves as the most humane form of power in the Soviet Union, as the "fourth power" of progressive ideas during perestroika, just to become "the second oldest profession" in the 1990s.
To Trudolyubov, cynicism is "one of the achievements of Putin's reign." For the elite, this cynicism is grounded in their conscious ability to manipulate information and resources to maintain power. For most citizens, it is the cynicism of those who know the truth, but are embittered by this knowledge.
Cynicism does not pervade everyone or all aspects of life—there are many islands of positive doing, which are impossible without at least some idealism. But the feeling that it is impossible to change the system prevails, writes Trudolyubov.
Over time, it has reinforced the belief that citizens do not have the ability to create anything independently. It's the belief that they cannot train and beat their opponents without performance-enhancing drugs, that they cannot vote intelligently in elections.
The idea of manipulation contradicts the idea of creation, because manipulation is the rearrangement of what is already there, concludes Trudolyubov. This further depletes faith in people's ability to help their country develop, rather than just survive.
Republic, Капитан Невозможность, Максим Трудолюбов, 7 декабря 2017 г.
RBC: A Hidden Agenda: Why We Don't Have to Guess about Dmitri Medvedev's Successors
Political commentator Kirill Rogov argues that in the runup to the 2018 presidential elections, instead of discussing pointless intrigues into personnel changes, the real issues are Russia's continued isolation, stagnation, and unnecessary alterations to its political system.
Instead of a normal presidential campaign, Russians have been presented with three surrogate plots: Will Putin campaign? [He announced he will this week.] Who will his sparring partner be? What about his prime minister?
As everyone is assured that Putin will win the election, the only issue worth discussing is who will be his prime minister, argues Rogov. But there isn't much debate here either: in Putin's government, the prime minister plays such a limited role, and is basically employed to facilitate the Cabinet's ability to meet the needs of the tycoons informing Russian economic policy.
At the same time, Russia and state officials are approaching an unprecedented level of uncertainty, at least since 2000. How will the country emerge from its impasse with the U.S.? What should be done to stimulate the economy? Finally, what will happen to the Russian political system after Putin's last term?
From the non-meeting between Trump and Putin at the APEC summit and the IOC's ban on Russian participation in the Olympics to increasing economic cooperation between the U.S. and China, any new domestic situation in Russia serves to intensify Russia's relationship with the U.S.
The Russian economy cannot return from the price shock it encountered in 2014. While oil prices are not low and Russian export revenues have grown, Russian economic stagnation is due to structural issues that have not been addressed for political reasons.
The main issue for the upcoming presidential term is thus the transfer of power from Putin to his successor, or, more likely, a change in the Constitution, writes Rogov. Unfortunately, none of these issues are being addressed in the country's extremely bureaucratic campaign.
РБК, Спрятанная повестка: почему не надо гадать о преемниках Дмитрия Медведева, Кирилл Рогов, 30 ноября 2017 г.
New Times: The End of Sechin's Spetsnaz
Journalists Anna Romanova and Boris Korbal profile former FSB head General Oleg Feoktistov, who was one of the witnesses of Igor Sechin's bribe in the Ulyukayev case.
Little is known about the ex-general who left the FSB suddenly in August 2016. It's not clear when or how he and Sechin first met, though Sechin was an advisor to Putin when the general became head of the FSB in 1998. Feoktistov was head of the 6th FSB Security Service, created by Sechin in 2004 when he was deputy prime minister.
According to former KGB major general Alexei Kondaurov, Sechin's "special forces" as his units in the FSB, the Ministry of Internal Affairs, and the Investigative Committee came to be called, testify to the degradation not only of the special services, but of the Russian government in general. One of their first accomplishments was the destruction of the Federal Service for Drug Control.
Later on, it became clear that Sechin and Feoktistov had fashioned quite a trusting relationship—in 2016, Sechin made Feoktistov the head of Rosneft's security service.
Feoktistov has been involved in all of the most high-profile cases and arrests of the past 10 years, including the sentence of General of the Ministry of Internal Affairs Denis Sugrobov.
But the 6th FSB Security Service has fallen on hard times. It seems that in the past decade or so, Feoktistov made a large number of enemies, which has contributed to his weakening position. Most recently, Ulyukayev's arrest implicated Feoktistov, instead of clearing the way for his return to Lubyanka.
Feoktistov worked for less than six months at Rosneft. In March 2017, Sechin himself confirmed that Feoktistov left the company with the intention of returning to Lubyanka. Only recently did he find a new position as an advisor at Peresvet Bank.
The article ends with a note from former deputy chairman of the Duma security committee Gennady Gudkov, who says that the headline-grabbing arrests among the ruling elite are more of the same struggle for power and influence, not a fight against corruption.
New Times, Конец спецназа Сечина, Анна Романова, Борис Корбал, 4 декабря 2017 г.
Carnegie.ru: Democratization by Accident. How Self-Preservation of Power Leads to Reforms.
Political scientist Yekaterina Shulman discusses transitional institutions and the many shades of democracy and authoritarianism in the world today as they pertain to Russia.
While the general direction of societies is democratic, populism—or the new right—is developing, or has already developed, in some democracies. Simultaneously, there is an authoritarian renaissance—the so-called trend among autocracies to adopt "best practices" from one another (i.e., ways to control the sphere of civic engagement).
Shulman defines the Russian parliament as a "sleeping institution"—a structure prescribed by law, but not functioning in practice, since real power and decision-making occurs elsewhere.
Overall, Russia's political machine is concerned with survival, not expansion. This renders any reform course unrealizable. Concerns about low turnout and non-participation in the upcoming election pushed Putin's announcement of his candidacy to the last possible moment, and the ruling class is already looking beyond it to the next election cycle. In this environment, Putin does not need to come up with any kind of coherent program.
If we imagine any reforms in Russia, they would not lead to liberalization. On the contrary, United Russia party would receive more power—but it would at least acquire some traits of an actual party of an institutionalized bureaucracy.
Shulman predicts a scenario in which those institutions underpinned by law, and the actors inside them, become more stable, and those with a media presence appeal to the public for electoral support—not in free and fair elections, of course, but ones that at least meet the minimum legal requirements.
The political elites occupy the best possible social position and don't want that to change, so there is no point in forming long-term plans or reforms. They can only predict or perceive threats to their positions and act to thwart these threats.
However, Shulman writes, democratization often happens by accident, when the system takes steps to strengthen those in power, but in reality weakens them: dictators underestimate the strength of the opposition, hold elections or referendums that they fail to win, embark on fatalistic military conflicts, or reorganize the political system in a way that unseats the leader.
Interestingly, before 1927, democratization was more often a conscious choice—reformers were a step ahead of history. But modern-day conservatives and leaders, Shulman concludes, push history in whatever direction they need it to go in, independent of domestic concerns.
Carnegie.ru, Демократизация по ошибке, Екатерина Шульман, 7 декабря 2017 г.
Carnegie.ru: Transitional Institutions: When Partial Decentralization is More Effective than Full
Ivan Lyubimov of the Gaidar Institute of Economic Policy cautions that while decentralization may allow for normal elections and governors to enter and leave office, the powerful regional elites, not voters, may continue to determine politics and economics. He recommends partial decentralization as a first step to reforming the political sphere.
Developing countries often blindly and mechanically duplicate the institutions of developed countries. But this behavior is in vain—without the ingredients to form upright institutions, countries find themselves like Russia in the 90s: instating a free market and privatization that only created an opportunity for the government and criminal players to expropriate property.
Lyubimov recognizes that full decentralization can too easily devolve into crime and chaos. Decentralization alone does not ensure faster regional development or a protective regional authority for citizens.
In this situation, transitional decentralization risks becoming a scapegoat, so that budgetary and managerial initiatives are decentralized, but legislative and political decisions remain under the control of the highest echelon—China's form of federalism is a prime example of this.
Therefore, Lyubimov argues, the problems accompanying decentralization can only be solved if the government is reformed on the federal level.
Budgetary decentralization builds financial independence, and managerial autonomy allows for the initiation of regional reforms without waiting for federal approval, which may not be in tune with specific regional issues.
At the same time, the federal center can preserve its evaluation system of regional authorities and its system of incentives, so that regional authorities look to the government, rather than criminal elites.
If these incentives work, regional centers will take on new political standards in support of residents and businesses. They will also become politically competitive. As Lyubimov concludes, this transformation of regional politics can then lead a country to the next step: political decentralization.
Carnegie.ru, Промежуточные институты. Когда частичный федерализм эффективнее полного, Иван Любимов, 1 декабря 2017 г.