In this week's roundup: Anton Shirikov assesses the likelihood of Russia turning into a full democracy or a rigid dictatorship in 25 years; New Times discusses the fight to reserve a spot on the presidential ballot; Dmitry Oreshkin argues that Navalny's call for a boycott is good step for him, but not for voters; Dmitry Trenin summarizes Russia's 2017 foreign policy; Natalya Zubarevich evaluates the 2018 outlook for the country's regions.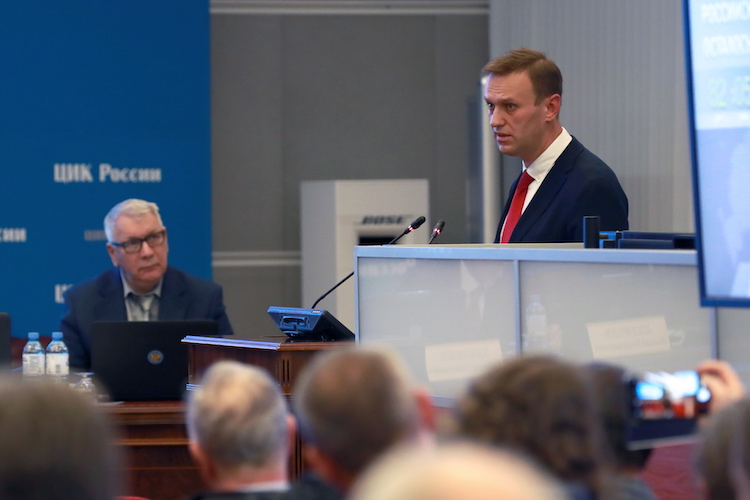 Republic: Russia-2042. What Political Science Says About the Prospects of the Russian Regime
It is unlikely that in 25 years Putin will still be in power. Meanwhile, Russia's political system could go one of three ways: remain an electoral authoritarian regime, become a democracy, or evolve into a rigid dictatorship. Political scientist Anton Shirikov assesses the likelihood of these scenarios.
The transformation of Russia to full democracy or full dictatorship is unlikely. Political systems tend to be self-sustaining and powerful interest groups are resistant to political changes. A classic rigid dictatorship is not ideal for the elite, since it would allow the leader to exercise even more power over them.
Electoral authoritarianism—neither full-fledged democracy nor a rigid dictatorship—looks like the most likely scenario for Russia. This type of regime has many forms, and the politics in many post-communist states—characterized by informal rules and patronage—can continue to exist in this political space.
Serious external or internal challenges—particularly economic shocks—would be capable of affecting the political course, but modern authoritarian leaders have learned to cope with such problems without large-scale repression.
Shirikov poses the question: are there any developments that could build democracy in Russia? Some theorists suggest that elites are forced to democratize whenever their promises to implement a policy beneficial to the majority of the population cease to be convincing, and they have no other way to prevent institutional changes. Otherwise, revolutions are capable of sparking democratization.
However, this scenario requires sufficiently intense mass protests and a relatively low price of democratic transition for the elite—both of which are absent in Russia. Revolution also remains unlikely for Russia.
Russia's parliamentary system and political parties also make the regime more stable and less vulnerable to coups. In fact, the tightening of the regime in recent years may in fact further stabilize the country's political system vis-à-vis semi-democracies, which are less stable.
If he found himself in a political casino with 100 rubles to gamble, Shirikov concludes that he would put five on the emergence of a more rigid dictatorship in Russia, 15 on democratization, and 80 on competitive autocracy.
Republic, Россия-2042, Антон Шириков, 9 января 2018 г.
New Times: The Fight for a Place on the Ballot 
Journalist Konstantin Glikin discusses the fight to reserve a spot on the presidential ballot, detailing how some hopefuls were turned down by the Central Election Commission (CEC), while other candidates lack the money.
January 7 was the deadline for self-nominees to submit documents to the CEC. The deadline to register with a party is January 31, and the final list of candidates should be compiled by February 9. Meanwhile, February 17 will see the start of political advertising campaigns in the media.
Initially, 46 non-party candidates announced their desire to run—these candidates require 300 thousand signatures in order to register with the CEC, while a party candidate needs "only" 100 thousand. But just 15 non-party candidates submitted their documents on time, and most have already been denied.
So far the only self-nominееs allowed to run are Vladimir Putin and Vladimir Mikhailov, an entrepreneur from the Kostroma region.
In terms of party nominees, Vladimir Zhirinovsky (LDPR) and Pavel Grudinin (Communist Party) are on the ballot, as are 12 other party candidates, including Ksenia Sobchak (Civic Initiative Party).
As for non-party candidates, journalist Oleg Lurie and businessman Sergei Polonsky, both previously convicted, were denied because they allegedly failed to follow CEC protocol.
However, a member of the Movement for the Protection of the Rights of Voters assessed the CEC's decision differently, writing that the organization is taking pains to show that "not one Navalny was denied," but many. If the former conviction of a candidate deprives them of their electoral right, then this should be reflected in the CEC's decision, he added.
Although he was nominated by advocacy groups across 20 cities, Alexei Navalny was the first to be refused registration by the CEC. The commission based its decision on Navalny's former embezzlement conviction, which the latter has appealed twice in the Russian Supreme Court. His lawyers promise to take the case to the Constitutional Court, but admit that Navalny's chances of running are slim.
Political economist Konstantin Sonin believes that barring Navalny from the elections will have a wholesale impact on how they transpire. "A man who gathers tens of thousands of people in a hundred cities is already a major figure," Sonin wrote in his blog—by 1990s standards, Navalny would be set to win third place, after Yeltsin and Zyuganov.
But in 2000, Putin vacuumed away all political leaders, appointing only insignificant players as prime minister. In the run-up to the 2018 elections, he is also the only nominee who has already raised the maximum donor amount of 400 million rubles.
New Times, Борьба за место в бюллетене, Константин Гликин, 9 января 2018 г.
Snob: The Mathematics of a Boycott 
Even before he was officially denied nomination as a presidential candidate, Alexei Navalny called on his supporters to boycott the presidential elections. Political commentator Dmitry Oreshkin discusses why this is good step for him, but not for voters.
If the boycott occurs, the drop in turnout will be attributed to Navalny, even though this cannot be proved. What's more, Navalny's supporters will say that had he been allowed to run, it would have pushed the elections into a second round.
In Russia, there are loosely two large electoral clusters—a notionally competitive cluster and one composed of "electoral sultanates," whose election results depend strongly on the interests of regional elites. These "sultanates" (republics like Chechnya, which return 90-100 percent of the vote for the Kremlin's candidates) control about 12-15 million voters, out of the 110 million nationwide.
Oreshkin argues that regardless of Navalny's call for a boycott, the elections will have a lower turnout than usual. But the main problem with a lower turnout is that it benefits the candidate in power.
For example, in 2011, United Russia won 32.4 million votes in the State Duma elections. In 2016, the number went down to 28.4 million. But since the majority of the competitive cluster opted out of the elections, United Russia scored high.
In the upcoming elections, there are three possible scenarios for voters who decide to boycott or cast a protest vote:

First, if the voter lives in a big city, his or her ballot will not be repurposed—that type of voter fraud is outdated.
Second, enough spoiled ballots could deprive a candidate victory in the first round, at least in the urban centers.
Third, the voter could opt for anyone but the obvious winner, which would hurt the main candidate, possibly preventing him from winning the first round.

Some will not differentiate between the final outcome of the election and a victory that emerges out of the first or second round. But those who ignore the election completely or who are not interested in how many fellow citizens vote, whom they vote for, or how the electoral procedure unfolds, it is time to leave the country, concludes Oreshkin.
Сноб, Математика бойкота, Дмитрий Орешкин, 9 января 2017 г.
Carnegie.ru: Russia's 2017 Foreign Policy 
Dmitry Trenin of the Carnegie Moscow Center summarizes Russia's 2017 foreign policy. While Moscow has significantly expanded its foreign policy toolkit, a sharp contrast between its scope and the country's economic capabilities persists.
One of the biggest successes of 2017 was the completion of Russia's main military operation in Syria. Combining its military and diplomatic efforts with successful political leadership, Russia created an unprecedented coalition with Iran and Turkey, while maintaining relations with Saudi Arabia, Jordan, Egypt, and Israel.
The immediate task of preserving the Assad regime was accomplished. In doing so, Russia became an influential player in the Middle East and confirmed its great world power status, which Russia has strived to prove ever since the end of the Soviet Union.
With the election of Donald Trump, there was an opportunity for rapprochement with the U.S., but this quickly evaporated given Russian meddling in U.S. domestic policy. Robert Mueller's special counsel has led to the expansion of sanctions against Russia and a U.S. media that demonizes Russia more so than it did during the Cold War.
Tensions with Europe also rose—the French presidential election did not choose Moscow's preference, François Fillon, augmenting the downturn in relations with Germany (largely informed by the continued conflict in the Donbass). However, Russia has developed a more diverse set of political contacts abroad (Marine Le Pen of France and others on the extreme left or right in Europe).
Less dramatic is the Chinese-Russian geopolitical detente based on a shared desire for a multipolar world order (though China is growing increasingly strong), and stagnating Russian-Indian relations. Despite India and Pakistan's entry into the Shanghai Cooperation Organization, the SCO, similar to the Eurasian Economic Union, remains a more formal than proactive organization.
Putin has also continued developing a relationship along economic lines with Shinzo Abe of Japan and has kept an eye on Central Asia after seeing Armenia and Belarus look to developing relations with the EU.
Another development in 2017 was the participation of citizens and groups not nominally connected with the state in Russian foreign policy—"patriotic hackers" in the Donbass, private military companies in Syria.
Overall, Trenin concludes, contemporary Russian foreign policy is more about criticizing the West and democracy than marketing its economic, political, or cultural achievements.
The fear of "Kremlin propaganda" revived in the West points to the effectiveness of Russia's efforts in this direction. In addition, fear of economic strain is shared by many, as is the fixation on the tactical and operational, rather than long-term strategic goals in foreign affairs.
Carnegie.ru, Каким был 2017 год для внешней политики России, Дмитрий Тренин, 27 декабря 2017 г.
RBC: The Federation Shrinks: What the Russian Regions Expect This Election Year 
Natalya Zubarevich of the Independent Institute of Social Policy writes that while the trend for 2018 has been defined as a move away from federalism, continued centralization of power is creating increasingly lopsided investment and pouring resources into winning elections rather than stabilizing economic practices in the regions.
Politically, the regions depend strongly on the federal authorities. Zubarevich predicts that following the March elections the center will appoint more new governors, all of whom will then win in autumn's gubernatorial election.
Though the prospect was discussed in 2017, an enlarged and more independent role for the regions is unlikely, given that the move could foment protest on the back of dissatisfaction over a three-year decline in incomes.
The good news is that regional budgets and personal income grew faster in 2017 and should continue to grow this year. There are fewer regions with a budget deficit—though the federal one is huge as it is highly dependent on oil revenues, and some regions like Mordovia, Khakassia, and Kostroma face a very large and growing debt.
Another piece of good news is that the total debt of regions and municipalities declined from January to November 2017 by 8 percent (2.4 trillion rubles, or about $42 billion). Тhe share of loans from commercial banks decreased, as the Ministry of Finance allocated a large amount of budgetary credits—but these credits will be sharply reduced in 2018.
But the most problematic regions saw their debts increase this past year. In 2018, the Ministry of Finance will have to allocate additional transfers from the federal budget to these areas to prevent regional financial collapse.
This not only keeps regions dependent on the federal center, but also submits regions to the ministry's "model budget," which cannot account for the huge differences in living conditions (climate, population density, urbanization, infrastructure security, etc.) across all of Russia.
The author also believes that economic and industrial growth will be slow in 2018. Developments in any field require investment, and with Russia's poor investment climate, investors tend to focus on territories with obvious competitive advantages—federal cities and the main regions of oil and gas production. (Moscow, for example, accounts for 11 percent of all investments in Russia, and priority geopolitical regions like Crimea and Sevastopol are given much more attention.)
In sum, Zubarevich concludes that Russia has not uprooted the remnants of federalism or the centralization of resources and the management system.  
РБК, Все меньше федерации: что ждет российские регионы в год выборов, Наталья Зубаревич, 27 декабря 2017 г.