In this week's roundup, Marianna Belenkaya analyzes the consequences of the death of Russian mercenaries killed in a U.S.-led airstrike in Syria; Maxim Trudolyubov discusses the consequences of last week's investigation by Alexei Navalny exposing shady ties between oligarch Oleg Deripaska and Deputy Prime Minister Sergei Prikhodko; Konstantin Gaaze argues that despite scandals, Deripaska continues to receive tangible benefits; Vladislav Inozemtsev weighs in on how the Russian government could manage the "subsidized regions"; and Olga Romanova writes on the similarities between the U.S. and Russian criminal systems.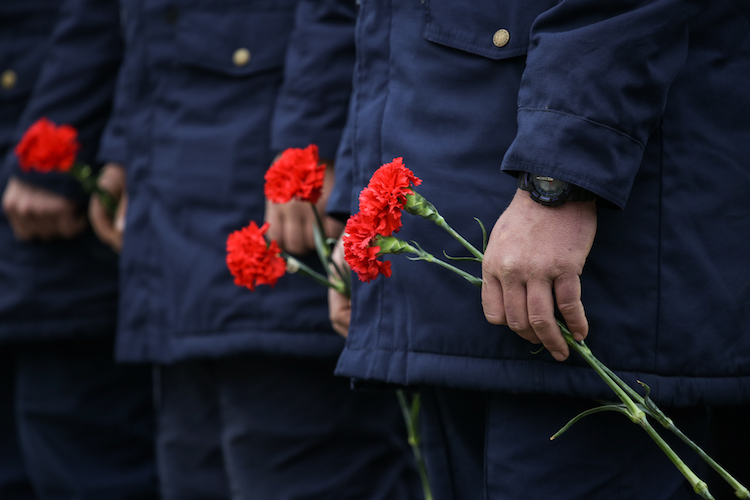 Carnegie.ru: No Contact Fighting. What Should Be Apprehended After Russians Died In Syria
Marianna Belenkaya, a Middle East expert, analyzes the consequences of last week's U.S. airstrikes against pro-regime forces in the Syrian province of oil-rich Deir ez-Zor, which resulted in the death of an unconfirmed number of Russian mercenaries. (According to Bloomberg, there could be as many as 200 casualties, while Russia's Foreign Ministry puts the number at five.)
As the media honed in on this topic all week, several other issues receded into the background, among them the questions of how effectively Moscow and Washington can coordinate their actions in Syria and control their allies.
There are aspects of the story that cannot be confirmed and many sides are puzzled by what they see as a misinformation campaign. Sources do not agree about the death toll or the reason behind an earlier attack by Russian contract forces supporting a pro-regime militia on a military base in Deir ez-Zor where U.S. forces and Syrian Democratic Forces were stationed. The latter coalition fought back with airstrikes.
This raises the question of how far Russia can control the actions of its allies in the Syrian conflict. The fact that the pro-Assad forces did not coordinate the operation with the Syrian and Russian commanders is not surprising, though it does not mean there is no coordination at all—these units are financed by local businessmen and act in their interests.
According to the U.S. side, there was sustained communication with official Russian forces before the attack. It remains unknown whether Moscow was able to intervene or desired to, how correctly Moscow was informed about the plans, and how credible this version of the operation against the Islamic State was in the coalition control zone.
Moscow has always believed that oil and gas fields should be returned to the control of the legitimate government in Damascus, so it is no coincidence that after the attack in the oil-rich territory, the Russian Defense Ministry asserted that the U.S. isn't fighting the Islamic State, but seizing Syria's "economic assets."
The pro-government forces' actions might look legitimate in the eyes of the Russian military, but both Russian and American diplomats continue to argue over whether it was self-defense or an unprovoked attack.
Now, Moscow and Washington are at loggerheads about which of them can control their allies better in Syria. Russia has been criticized for attacks by pro-government forces in Deir ez-Zor and de-escalation zones. Russia is also asking the Americans and others to influence the opposition so that it ends its hostilities.
Given such distrust, Belenkaya concludes, it isn't possible to seek a political solution to the conflict. Any provocation could start a military operation by the coalition against the Syrian regime. This scenario, while postponed during the fight with the Islamic State, is again relevant and being actively discussed in the media.  
Carnegie.ru, Бесконтактные бои. Чего опасаться после гибели россиян в Сирии, Марианна Беленькая, 15 февраля 2018 г.
Republic: Manufacturing Discord. Side Effects of the Kremlin's Censorship
Vedomosti columnist Maxim Trudolyubov argues that restricted information can lead to freedom and innovation of thought and eventual political change in Russia.
The expose that was published this week by opposition leader Alexei Navalny and showed compromising ties between businessman Oleg Deripaska and Deputy Prime Minister Sergei Prikhodko—among other salacious details—marks a departure from the Kremlin's typical control of information about high-ranking officials. Putin has worked for years to make the Kremlin its own policeman, managing everything from television channels to opinion polls and thought leaders.
In today's Russia, the absence of politics means that the realm of information becomes a substitute. Within this framework, not a single registered presidential candidate is a politician—rather, they are all responsible for working with a specific allocated audience.
Civil servants know that they do not bear political responsibility to society, but rather to higher officials. They refuse their own independence and political will in exchange for protection, though they are far from immune judging by the large number of governors and oligarchs who have been uprooted by Putin's government.
But, Trudolyubov writes, while the state seeks to discredit unauthorized publicity through laws and police measures and declares unwanted public statements "foreign," the language is still Russian.
Voters in Russia cannot choose their own politicians, but Russian readers can still choose their own writers, bloggers, teachers, lecturers, spiritual mentors. Though it is difficult to put political ideas into practice, it is easy for many to dream about them and discuss them.
This, Trudolyubov concludes, will be in the heads of citizens during the next inevitable political breakthrough—maybe a conservative one, but more likely one of modernization.
Republic, Изготовление несогласия. Какие побочные эффекты вызывает кремлевская цензура, Максим Трудолюбов, 12 февраля 2018 г.
Carnegie.ru: To Save Deripaska. Who Will Benefit from the Scandal involving the Oligarch and Vice Prime Minister 
Konstantin Gaaze of the International Center for Social Theory discusses a surprising result of Russian oligarch Oleg Deripaska's second scandal involving Paul Manafort: there are damages, but Deripaska continues to receive tangible benefits from it.
Deripaska, featured in Navalny's expose released this week, has both salacious behavior and compromising foreign policy working against him. He allegedly briefed Deputy Prime Minister Sergei Prikhodko on a yacht off the coast of Norway about Manafort's updates on then-candidate Trump's status in the U.S. election.
Deripaska, who made his fortune from aluminum and energy assets, is not the most successful Russian oligarch or metallurgist, but he's an extremely adroit lobbyist. Over the years, the authorities have agreed to most of his requests, from buying aluminum and nickel at 1.5 times the market price to purchasing 11,000 ambulances from an automobile plant he invested in.
In May, Deripaska, believed to have been Manafort's direct line to the Kremlin, told the AP that its journalists had misrepresented him as being involved with Manafort's crimes on a political level.
The AP and Deripaska entered an amicable agreement (after which, the oligarch's shares went up in Moscow), and when Manafort was prosecuted in October, Deripaska went unmentioned and his companies were noted in the indictment only twice.
The same day Manafort was indicted, Deripaska's company En+ went public, and by the New Year, it had received approximately $420 million from the Russian government.
All in all, Deripaska regained lost ground despite—or perhaps because of—the scandal with Manafort. He has received money and assistance from large factions inside the Russian leadership, and he successfully appointed his long-time acquaintance as governor.
His foreign partners, including Ivan Glazenberg of Glencore and Nathaniel Rothschild of JNR Limited, don't seem to be worried by his reputation as a secret Kremlin agent.
Though the oligarch's En+ shares in London recently came under question by the British intelligence community, the issue was quickly forgotten when Navalny's expose emerged; Manafort, the escort, and the yacht are more scandalous than the legal aspects of Deripaska's company.
Deripaska's lawyers also effectively parried Navalny's expose. And the benefits go beyond Deripaska himself. Sergei Prikhodko, before a little-known uninfluential deputy prime minister, has seen his reputation improve.
The scandal also tactfully reminds the Western elite of the many Western representatives who frequent the yachts, planes, and residence of Russian oligarchs and how many profitable—and perhaps not-so-legitimate—deals were made in these locations.
More than just pointing to the benefits of loyalty to the Kremlin at all costs, Deripaska shows that there is a difference between Russian billionaires of different generations and origins, and that this difference means something—something the U.S. Treasury's "Kremlin report" failed to recognize.
Московский Центр Карнеги, Спасти Дерипаску. Кто выиграет от скандала с участием олигарха и вице-премьера, 13 февраля 2018 г.
RBC: Choosing a Strategy: What Moscow Can Do with Unmanageable Regions
The Kremlin's recent anti-corruption campaign, including the FSB's incrimination of the Dagestan region's acting prime minister, Abdusamad Hamidov, goes beyond routine investigations against Russian regional leaders. It seems that the Kremlin has realized its existing system for managing subsidized territories—mostly in the North Caucasus—is untenable.
Vladislav Inozemtsev of the Center for Post-Industrial Society Studies writes about what he sees as two options for the Russian government and its management of "subsidized regions": Russia will either become a real federation or, more likely, will introduce direct Kremlin management in the regions as it tightens its grip.
Today, Moscow is moving officials horizontally, from more prosperous regions to Dagestan (as with its new premier, Artem Zdunov). The logic is that these regions are poor—there is no opportunity for business development—so the center allocates money, whereupon bureaucratic corruption inevitably arises.
But in Inozemtsev's opinion, bureaucratic inefficiency and theft are the starting point, not a symptom. As the author argues, the "vertical of power" the Kremlin seeks is only a vertical when it can directly influence the situation on the ground—to do so, Moscow will have to stop looking for consensus with these local authorities.
A real Russian federation would require some Russian regions to be "shareholders" of the others. But there would be no need to involve a "supreme arbiter" that directly manages the territory—external officials would not abolish the existing system of power and would focus on economics (spending allocated money efficiency and encouraging reforms to reduce subsidies), not administration.
Either option means that the federal center will support these lagging regions; more authority from the center would even be a welcome relief from the crimes of the local bureaucracy. But the prospect of federalization looks unlikely, concludes Inozemtsev—instead, the center will probably tighten control over these regions.
РБК, Выбор стратегии: что делать Москве с неуправляемыми регионами, Владислав Иноземцев, 12 февраля 2018 г.
New Times: American Prison: Why We Are So Similar
Olga Romanova, head of the human rights movement Russia Imprisoned, looks into the respective criminal systems of the U.S. and Russia, and argues that the two are quite similar.
Last week, New York Daily News broke the story that Victoria Nasyrova, a Russian citizen wanted in Russia on suspicion of murder charges, had been arrested in the U.S. According to Nasyrova, her cellmates at Rikers Island struck her on the head in front of an officer. The incident is being investigated by the Bronx Prosecutor's Office.
The U.S., China and Russia have the highest prison populations in the world per capita, and the harsher the penitentiary system, the higher the level of recidivism (according to data from the Russian Federal Penitentiary Service, Russia's recidivism level comes in at 83 percent). In the U.S., it's not so much guards who are beating prisoners (although this does happen), but other prisoners.
There are two things possible ways for Russian media to take this news: the newspaper quotes Nasyrova or writes that the Bronx Prosecutor's Office is dealing with the incident.
Judicial errors are made everywhere in the world, but Russia's include deliberately wrongful verdicts. And it's better not to start talking about the relationship between journalists and prison officials.
The author adds that she doesn't know what will happen next to Nasyrova, except that the decision is sure to be Russia's and that no one will understand it. 
New Times, Американская тюрьма: Почему мы так похожи, Ольга Романова, 12 февраля 2018 г.