In this week's roundup, foreign policy experts Alexander Rubtsov, Alexander Baunov, Vladimir Frolov and Dmitri Trenin discusses Vladimir Putin's March 1 speech, focusing on various aspects—PR stunts, military technology, and foreign policy implications. And Mikhail Krutikhin writes about the potential for a new "gas war" between Gazprom and Europe.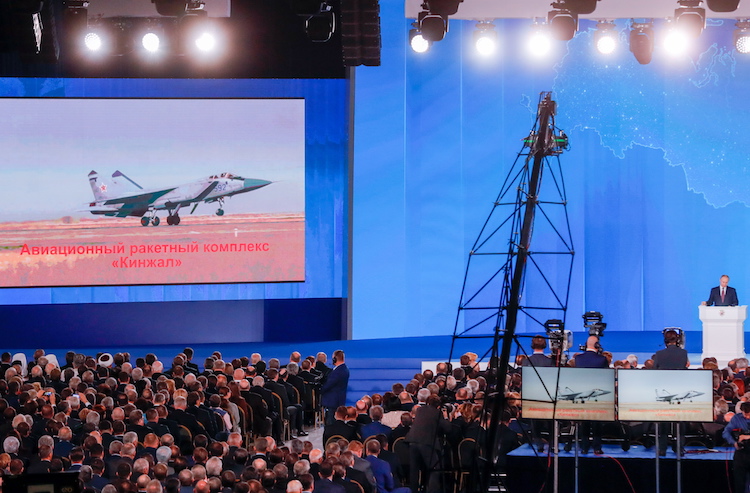 Vedomosti: The War and Peace of Vladimir Putin
Philosopher Alexander Rubtsov discusses Vladimir Putin's March 1 speech and points out how little remains of the presidential message if Putin's fixation on war is removed.
It is important to assess this speech correctly, argues Rubtsov. The announcement of nuclear-powered cruise missiles and hypersonic missiles presents a situation that is much more heightened than the Hiroshima and Nagasaki era.
However, the author writes, far-reaching conclusions about the weapons can obscure the working tasks of such speeches. The latest one is really just an extreme form of PR for the fast-approaching election.
To Rubtsov, the speech embodies the worst kind of campaign strategy. The talk of civilizational challenges, threats of backwardness, etc. suggest depth but all theories behind them is on the level of Wikipedia.
Contours of institutional reforms are given, but no explanation as to why they have stalled for almost two decades. There is talk of new political direction, but no words promising to protect these directions from the excessive control and arbitrariness of the siloviki.
Against the backdrop of the need for technology and innovation, the Russian Academy of Sciences is mentioned casually, but there is no mention about the radical reform the country's science has needed for over a year.
Focusing on war is a common technique to avoid other more pressing problems at home. But people should not take propaganda and ideology so literally—moments like this speech are staged every four to six years, and it is not surprising that the pendulum is swinging to the extreme.
Ведомости, Война и мир Владимира Путина, Александр Рубцов, 4 марта 2018 г.
RBC: Hitting the Targets: To Whom Putin Is Sending His Message
In his analysis of Putin's speech, Alexander Baunov, editor-in-chief of Carnegie.ru, argues that the country the Russian president envisions Russia to be has the technological and economic prowess of the West, without having to the kowtow to the West at all.
Leading up to the speech, many observers speculated it would be a pre-election program about the next term, including Putin's vision for Russia in the world. The assumption was that Putin would reiterate that the current state of tension with the West is not Russia's own doing. And that, not going as far as détente, Russia will improve its situation without relying too much on the West by increasing exports and making itself attractive to investment and new technology.
But instead, Putin claimed that the Western political community—and primarily that of the U.S.—is not an indispensable means for restarting economic growth for Russia. In fact, Russia can easily scare this community, and if possible, force it into a new, modern, high-tech war.
Baunov notes that the message seems contradictory: How can Russia be part of a global, financial, economic, technological, and scientific exchange with the West and threaten the West with the latest weapons?
According to the speech, these two goals could work in tandem. Russia's state apparatus—comprised of technocrats, economists, and global managers—provides growth to the country while the president and the military-diplomatic bloc protect the state from hostile forces.
Baunov concludes that the idea of Putin's announcement and computer animations of new Russian weapons are laughable must be dropped immediately by the West—just as the world shouldn't be laughing at an even more primitive display of power by North Korea.
The author also poses some pertinent questions: What if the new Russian weapons don't lead to peaceful coexistence, as it happened between the Soviets and Americans. What if instead, new fears surface, leading to more sanctions? Or, what happens if the West isn't afraid—how would Russia respond to this?
РБК, Поражение целей: кому предназначено послание Владимира Путина, Александр Баунов, 1 марта 2018 г.
Republic: Putin Could Not Be Deterred. What Miraculous Weapon Is He Talking About?
Expert on international relations Vladimir Frolov dissects Putin's presentation of Russia's new weapons, noting that it shows that the Russian leadership's assessment of the current threats is inadequate.
To Frolov, the foreign policy portion of Putin's speech was meaningless; however his 45-minute presentation on sophisticated nuclear weapons is similarly nothing more than an illusion and a strategic bluff, predicated on "Russia seeming more important than it really is."
The new weapons are guaranteed to overcome the U.S. global missile defense system, which does not exist. While there is a limited missile defense system deployed in Alaska and California, it is focused exclusively on repelling a North Korean strike on the continental U.S. And the other U.S. systems deployed in Europe and Japan are incapable of hitting Russian missiles.
The missiles Putin discussed—the heavy ICBM Sarmat, for example—only increase the risk of nuclear war, instead of building strategic stability for Russia. In terms of U.S. territory, Russia's MiG-31 fighter jets could only threaten Alaska with its medium-range missiles, but they would be able to threaten China, which is also developed a strategic missile defense system—one that Putin has disregarded.
According to the missile tests Putin mentioned in the speech, Russia has a prototype for a hypersonic weapon, but it is not ready to be deployed any time soon. To Frolov, this news will in no way intimidate or push the U.S. to negotiate on Russia's terms.
And there is little rationale for the weapons to begin with: the threat of an accident and radioactive contamination is high, while the deterrent effect is close to zero—after this weapon explodes, Russia and the U.S. would cease to exist.
Frolov concludes that Russia's supposed nuclear doctrine is "escalation for de-escalation," while overall, Putin's speech acts as a destabilization factor for the country.
Republic, Сдержать Путина не удалось. О каком чудо-оружии он говорит? Владимир Фролов, 2 марта 2018 г.
Carnegie.ru: Conflict of Uniquenesses. How Will Relations Between Russia and the U.S. Develop after Putin's Address?
Dmitri Trenin of the Moscow Carnegie Center considers the consequences of Putin's latest speech for U.S.-Russian relations in the long term.
"Nobody listened to us. Listen now," was the culmination of Putin's message aimed at the U.S.: Washington did not take Moscow seriously when it was weak. Now, Americans will have to face a renewed Russia with a powerful nuclear arsenal and advanced military technologies.
The logic built into this argument is that the Kremlin doesn't believe that the U.S. will stop expanding NATO unless Russia and the U.S. can settle on a strategic relationship. By demonstrating Russia's latest advancements, Putin invited the U.S. to start negotiations on new international security measures.
There is no reason to believe that the approach will work the way the Kremlin wants, argues Trenin. Russia's new miracle weapon surprised many, both in and out of Russia. But it didn't surprise national security strategists or nuclear policy specialists who have documented the growth of Russia's military prowess, now considered a main rival to the U.S.
Markedly, the Trump administration has not sought out negotiations, but has rather chosen to further militarize U.S. foreign policy.
Coinciding with Putin's announcement is a lack of interest on arms control in the U.S. Negotiations to extend the START III Treaty, for example, are not underway for when it expires in 2021.
Along with China and North Korea's growing nuclear arsenals, the world is edging closer toward a new, unregulated and multipolar global reality, writes Trenin. For Russia, it is more important than ever to strengthen its deterrence capabilities, without slipping into an arms race with the U.S.  
The real agenda between Russia and the U.S. has been reduced to a single point: preventing the danger of an unintentional war. But arms control will not prevent hot war—instead, reliable channels of communication are needed in the political, military and intelligence spheres, as well as a level of mutual openness.
Trenin contends that the U.S.' "blockade" of Russia will likely continue for the next five to 10 years depending on if Trump is re-elected. But regardless, a normalization of relations is unlikely given the long-standing "demonization of Putin."
In fact, pressure on Russia will likely increase in terms of sanctions, information warfare, politics, and military power so that when there is eventually a change of power in Moscow.
In the upcoming 10-15 years, the U.S. and Russia will both face serious social and political changes, which—rather than Ukraine, Syria, or cyberspace—will impact and determine their future relationship.
Московский Центр Карнеги, Конфликт уникальностей. Как будут складываться отношения России и США после послания Путина, Дмитрий Тренин, 3 марта 2018 г.
New Times: Gazprom and "Kuzka's Mother"
On March 1, the Stockholm Arbitration Court ruled that Russia's gas monopoly Gazprom must award the Ukrainian oil and gas company Naftogaz $2.56 billion as part of the legal dispute initiated in June 2014. Writing for New Times, Mikhail Krutikhin of RusEnergy discusses the potential for a new "gas war."
While relations between Moscow and Kiev changed completely after 2014 Ukraine crisis, settling gas disputes in the Stockholm Arbitration Court is nothing new.
The last gas war took place in 2009 when Gazprom and Naftogaz couldn't decide on the terms of a new contract. As a result, Gazprom temporarily suspended gas supplies in the middle of winter, and a new consensus was reached only after Kiev seized gas intended for Europe (Gazprom's pipeline system runs through Ukraine).
Following the events of Euromaidan revolution, Naftogaz stopped importing Russian gas in November 2015 and the country now covers its needs through its own production and by purchasing gas from European traders. Ukraine often experiences gas deficits, with some facilities having closed early March due to their lack of heat supply.
However, Krutikhin notes, gas transport is another story. In December 2014, Russia began negotiations with Naftogaz on a new transport agreement. Current contract expires in 2019, even if Gazprom succeeds in delaying the new arbitration process. If Moscow fails to forge an agreement with Kiev, Greece, Bulgaria, Hungary, Italy and all of the Balkans will remains without gas—most of which do not have alternative sources lined up.
While Naftogaz's management expressed its readiness to negotiate, Gazprom remains uncompromising. Some believe that Gazprom is now simply resorting to vulgar blackmail, as the threat to energy security in the EU is very real.
Europe will respond to the blackmail in a number of ways, writes Krutikhin. While EU is trying to get Gazprom and Naftogaz to the negotiating table, the bloc's leadership will accelerate construction of interconnecting pipelines so that member countries don't shut down in the event of supply disruptions from Russia—which it has demonstrated it can do at any time—and new terminals are built for liquefied natural gas.
Krutikhin concludes that the main loser of the new gas war with Kiev is Gazprom itself, which will suffer reputational and material losses in the European market: companies are worried that partnering with Gazprom means they will be suspected of carrying out "hostile Kremlin policies." These losses will trickle down to the Russian budget and to the Russian population.
New Times, "Газпром" и Кузькина мать, Михаил Крутихин, 5 марта 2018 г.