On March 18, Russia will hold presidential elections with a pre-determined result: Vladimir Putin is slated to win his fourth term with six more years in office. By then, barring some catastrophic event, he will have ruled Russia for almost 25 years. In the runup to the elections, independent Russian experts discuss the potential turnout, the results of Putin's almost-two-decade rule so far, and his foreign policy messaging.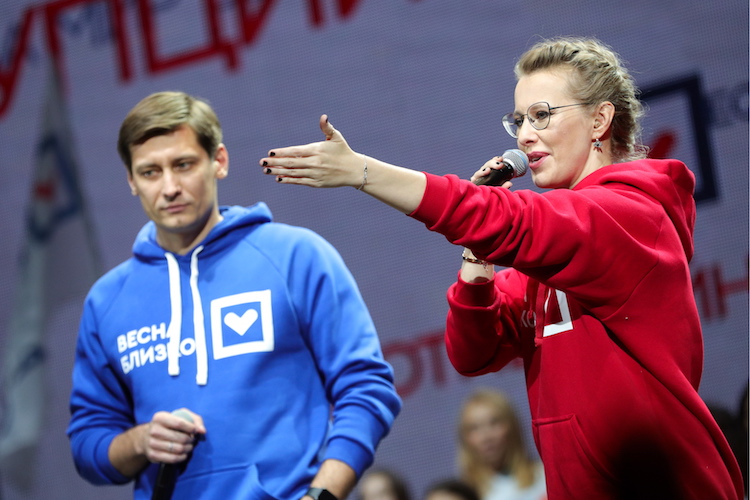 Who Can Defeat Vladimir Putin?
Alexander Baunov writes for Carnegie.ru that at a moment of crisis anyone can come to power in Russia, even the embattled opposition. And this is one of the problems for the Russian people who have never experienced a peaceful transition of power. If people were sure that after Putin their lives won't change, they wouldn't care about Putin at all.
Any unstable transition is based on a rejection of what preceded it, as has happened many times not just in Russia, but also in Ukraine, Bulgaria, Moldova, Georgia, and Argentina.
Putin started off with legitimacy carried over from the Yeltsin time, but discarded it soon enough. Those who oppose Putin today (both nationalists and democrats) claim they can build their own legitimacy, while rejecting Putin's legacy.
The problem is that 86 percent of the Russian people support—not even Putin or Crimea—but rather the current statehood and its attributes, while the opposition is willing to make sacrifices for a better future. This juxtaposition (a bird in the hand versus two in the bush) is a major obstacle preventing the opposition from uniting with the majority of Russians.
Therefore, the only power that can overcome Putin is one that will be willing to share legitimacy with the state he created. That will form a basis for a further peaceful transition.
Will the Kremlin Deliver 70% Turnout?
Arkady Lyubarev explains in RBC that the main obstacle in the upcoming election will be turnout.
As a rule, the Russian government doesn't mind a low turnout, but presidential elections are another beast. There are two reasons for that: 1) the presidential administration set the bar high to achieve the highest turnout in history—70%; and 2) Navalny's boycott.
To do so, a number of methods have been set into action: removing barriers to vote (e.g., allowing registration at voting stations and online), and providing the maximum information possible about voting day to engrain the election in the minds of voters.
Also employed were "soft coercion" tactics in the budgetary organizations, where the voting process can be overseen by the management (e.g. the boss "recommends" that employees go to vote).
Opportunities, however, were missed: televised debates were unsuccessfully organized, scheduled for 8 am, and sometimes grouped seven candidates together at once. The traditional absence of the incumbent president in these debates didn't help garner more interest in them either.
The main factors that could increase electoral activity are a high degree of competition, maximum information provided to voters about the running candidates, and allowing candidates maximum opportunity to convey their platforms to citizens. Those were not enacted during the campaign.
Propaganda methods work with the conformist electorate, while Navalny's call for a boycott decreases the turnout among the opposition. As a result, regardless of the turnout, the percentage of votes for Putin proportionally increases. This could be an actual goal of the campaign.
Will "Novichok" Affect the Election?
Alexander Kolesnikov addresses in RBC the scandal around the poisoning of former military intelligence officer Sergei Skripal in the runup to the March 18 election.
Judging by the Russian domestic reaction to Malaysia Airlines Flight 17, shot down over Ukraine in 2014 with a Russian-made missile, the Skripal scandal will only intensify Russian patriotism. Back in 2014, only a small portion of the electorate admitted that Russia was capable of such an act—the majority agreed that it was an anti-Russian provocation.
With Skripal, the reaction is even simpler: a traitor to the motherland was hit by the valiant Russian special services.
The assassination of Skripal both wins over the Putin majority and mobilizes the peripheral electorate still on the fence. While the author doesn't believe it was intentionally done to mobilize the voter base, it certainly is a happy coincidence.
This information "poison" will also help everyone forget about two other presidential hopefuls—Pavel Grudinin and Ksenia Sobchak—and switch gears to focusing on Russia in the international sphere.
Does Skripal's fate convince Russians of the supreme ability of their secret service to take revenge on defectors? Or is it an Anglo-American provocation to further defame Russia? Either way, Kolesnikov concludes, it plays into Putin's electoral hands.
Putin's Lost Decade
In New Times, Boris Grozovsky discusses Putin's 18-year-long tenure through the lens of the economy, which he splits into two time periods: Putin's first nine years, which saw rapid economic growth, and the second nine-year-period, when it began to stagnate.
In the first half of the 2000s, the Russian economy grew rapidly, not least due to the basic institutions of a market economy built in the 90s. Putin also carried out reforms that contributed to this growth—he deregulated the economy, created an equal playing field for all, and reduced taxes.
In turn, the ruble strengthened, and from 2000-2008, Russia's GDP almost doubled. In the mid-2000s, many Russian economists claimed that the economy was growing independently of energy prices and declared that Russia's economic growth was less reliant on oil prices.
In 2007, officials of all stripes began creating state companies, amassing 70 percent of GDP by 2015 (compared to 35 percent in 2005). This led to a "schizophrenic" state of affairs as the authorities simultaneously managed these state companies and tried to maintain conditions for competition.
But in the second half of Putin's tenure Russia accumulated enough wealth and power to tackle geopolitics from Georgia to Ukraine, which spurred icy relations and eventually brought the country under Western sanctions.
Russia weathered the 2008 crisis well, but still suffered later from a decline in the oil price and the government's bad decisions. The result is sad: today, Russian GDP per capita is almost 18 percent lower than it was a decade ago.
Putin continues to lead a responsible budgetary policy. Afraid to grow dependent on creditors, he has barely increased the national debt and in 2017, inflation was a low 3 percent (also due to weak demand).
No signs of economic recovery are visible. As Putin's military-industrial expenditures increase, it will become more difficult for Russia to emerge from the foreign policy rut it finds itself in—the new Putin term may very well add another six to the nine lost years.
What Does Putin Want from America?
Vladimir Frolov dissects Putin's messages for the U.S. audience in his recent interview with Megyn Kelly on NBC and in Vladimir Soloviev's documentary titled "The World Order: 2018."
With Kelly, Putin calls on the U.S. to begin a fair and meaningful dialogue with Russia on a wide range of world policy issues. Putin also discusses rules of conduct for what he sees as the new world order, in which privilege and agency are enjoyed by independent states—in his eyes, Russia and the U.S.
When asked about Russian interference, Putin repeatedly said that Russia has proposed rules of cyber conduct to the U.S. and the signing of a treaty to implement them. But he failed to elaborate on what these rules would be.
As for last week's declaration of new nuclear weapons, intended to draw the U.S. to the negotiating table on Russia's terms, Putin also failed to explain what they will negotiate about.
As of now, there are no initiatives to preserve or modernize the START III Treaty on medium and short-range missiles, which the U.S. has accused Russia of violating, threatening its withdrawal.
In Soloviev's film, Putin employs his typical "narrative of grievances" when asked about the U.S., even if it differs greatly from the U.S. understanding of current events.
While he continued to frame rules of conduct to guarantee non-interference, Putin also stated that the U.S. is constantly interfering in Russian elections, and he believes that Americans feel they have the right to do so in the name of democracy.
He also refers to the U.S. refusal to support Russia's "pact of mutual non-interference in elections" initiative, submitted to the Department of State and to U.S. Ambassador to Russia John Huntsman in 2017. Putin added that if the pact is not adopted, Russian trolling of American policy will continue.
Bottom line: Russia will not compromise on its policy of coercion or undermining of the U.S.—this would be a sign of weakness. However, Putin still hopes for a breakthrough to emerge out of playing into the narcissism and ambitions of Trump. He has separated Trump from the U.S. political system as someone he can establish "big personal transactions" with.