In this week's roundup: the arrest of billionaire Ziyavudin Magomedov is another example of the ongoing reshuffling in the Russian elite and an important piece in the current political feuding; the resignation of Aman Tuleyev, the long-term governor of the Kemerovo Oblast that suffered from a devastating fire, was another surprise of the week; discussions of Vladimir Putin's next presidential term repeatedly come down to the "2024 problem."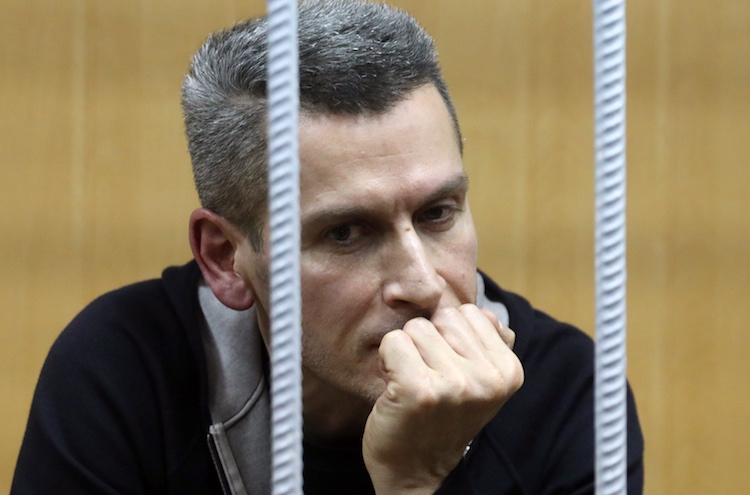 The Arrest of Ziyavudin Magomedov
The story: On March 30, Ziyavudin Magomedov, 49, head of Summa Group (а holding company specializing in port logistics and engineering), whose net worth is $1.4 billion according to Russian Forbes, was detained in Moscow, a day before his scheduled flight to Florida. His brother, former Russian senator Magomed Magomedov, and a few others were detained as well. (Vedomosti).
Ziyavudin Magomedov was charged with embezzlement of state funds (estimated at 2.5 billion rubles, or $43.4 million) and with creating an organized crime group. He could face up to 25 years of jail time.
Of special interest for the investigation are Summa's 2012 grain deal with a Ukrainian company and a construction project in Kaliningrad for the 2018 World Cup (Kommersant).
Magomedov is a close ally of Prime Minister Dmitry Medvedev and Deputy Prime Minister Arkady Dvorkovich (members of the "liberal clan" in the Russian government).
The investigation was opened in 2014 but moved slowly until six months ago, when the case was transferred under the auspices of investigator Nikolai Budilo (sanctioned under the Magnitsky Act) and Ivan Tkachev, head of the "K" Department of the FSB's Economic Security Service.
Tkachev is known for taking down ex-General Denis Sugrobov, former Sakhalin governor Alexander Khoroshavin and former Komi head Vyacheslav Gaizer.
What does it mean?
Independent media's view:
The arrest of a successful, high-profile businessman in modern Russia is not surprising per se (the cases of Mikhail Khodorkovsky and Vladimir Yevtushenkov prove the point). But today loyalty may not matter to the Kremlin as politics has become a "game of musical chairs." Still, an important precedent has been set: the Magomedov brothers are accused of creating an organized crime group, which gives grounds to criminalize any business activity in Russia (Republic).
Rosneft's Igor Sechin may be behind this case. Magomedov collided with Sechin in 2017 over increased tariffs following the ruble devaluation in 2014. Overseeing the investigation is Ivan Tkachev, a member of the so-called "Sechin's Spetsnaz" within the FSB—a task force created to conduct high-profile investigations during Sechin's tenure in the government (New Times).
This case marks the end of the so-called "Medvedev clan" in the Russian political establishment. While Magomedov faced off a number of adversaries (including Sechin, as well as First Deputy Prime Minister Igor Shuvalov and oligarchs Roman Abramovich and Arkady Rotenberg), his conflict with head of Transneft Nikolai Tokarev over the sale of a stake in Novorossiysk Commercial Sea Port in September 2017 might have triggered his eventual arrest (Novaya Gazeta).
Experts weigh in:
Yevgeni Minchenko, Minchenko Consulting: this is a blow to Medvedev's pubic image, especially in the light of his expected re-appointment in Putin's new government.
Mikhail Vinogradov, Petersburg Politics: the Magomedov case is just as ambiguous as the case of former Economy Minister Alexei Ulyukayev. The majority of the political establishment sees it at as a major loss for Medvedev and Dvorkovich.
Abbas Gallyamov, political commentator: there is no "big politics" in the case. The business community has been unhappy about the Magomedov brothers for their aggressive business tactics for a while (Vedomosti).
Konstantin Kalachev, Political Expert Group: Summa assets will eventually be seized by the state and the company's competitors.
Nikolai Mironov, Center for Economic and Political Reforms: this could mark the beginning of a "selective de-oligarchization" as part of the government's efforts to acquire additional funds to fulfill its electoral promises (RBC).
Former federal official: the arrest could be part of the ongoing "purge" of the Dagestan regional authorities. Since January 2018, the General Prosecutor's Office has opened over 70 criminal investigations against Dagestan officials (Vedomosti).
Regional sources: Dagestan natives, the Magomedov brothers had political ambitions in the region. Ziyavudin Magomedov aspired to head Dagestan (RBC). 
Dig deeper: Vedomosti further details Magomedov's business—the emergence of Summa Group, whose assets span far beyond logistics and engineering and include oil trading, gas, development, grain business, and telecommunications.
The Aftermath of Kemerovo
The story: Last Sunday, a fire in a shopping mall in the Siberian city of Kemerovo killed 64 people, including 41 children. The tragedy shocked the country, especially as the first response from the authorities seemed inadequate at best.
A case in point is Kemerovo Oblast governor Aman Tuleyev, who did not come out to talk to the grieving people demanding justice, but described them as "some brawlers" to Putin.
However, no one expected the Kremlin, which values loyalty above all, to fire Tuleyev. In the 90s, Kemerovo Oblast had been known as one of the most politically vibrant regions holding massive coal miners' strikes. But under Tuleyev's rule it turned into a "Siberian Khanate" with a reliable 90-plus percent vote for the Kremlin's candidates.
Still, in an unexpected turn of events, the reliable and loyal governor was fired putting to rest a 20-year tenure. His deputy, Sergey Tsivilev—a protege of Putin's close ally Gennady Timchenko—has assumed the acting governor's role (New Times).
What Tuleyev's firing means:
Reputations at stake: In the aftermath of the tragedy, officials, including Tuleyev, have been eager to voice their loyalties to Putin. One senator, Elena Misulina, called the fire "a stab in the president's back." Philosopher Alexander Rubstov identifies the two aspects of crisis management: "Shielding oneself from attack and winning additional power and resources." (Vedomosti)
Putin's Fourth Term
As Vladimir Putin is about to embark on his fourth term as Russia's president (which, according to the current Constitution, should be his last), experts discuss the key issues of his next six years in office and what may happen after 2024.
Lilia Shevtsova, political scientist: The Putin corporation has driven itself into a trap, which will hurt the country moving forward. To win societal legitimacy after so many years in power, Putin has taken on a hawkish international stance, fixating on external threats to Russia. This tendency dismantles Putin's own legitimacy at home, as well as Russia's position in the international community. (Svoboda)
Fyodor Krashennikov, political scientist: Putin did not assume power on March 18—to understand what happens next, we have to look back at the last 18 years. The course taken after 2014 is especially important and not subject to revision. Putin will absorb himself completely in geopolitical games, periodically discovering more hotbeds of tension between the population and his power vertical. (The New Times)
Problem-2024: Will Vladimir Putin finally go at the end of his fourth term? Or will the Russian Constitution be changed under a Chinese-style scenario to guarantee him life-long rule? And if he indeed decides to retire, who might be his successor? If he stays, what form might the constitutional changes take? (Novaya Gazeta)
Alexander Kynev, political scientist: While the problem of redistribution of powers is genuine and pressing, the current system is built around the president. Creating any other "status" position for Putin (e.g. vice president) will entail inevitable reforms. Devaluing the presidential office seems unlikely; therefore the successor scenario is more realistic.
Gleb Pavlovsky, political scientist: The successor scenario is too risky. Putin possesses an array of informal powers that cannot be transferred to a successor. Several dozen people in Putin's circle informally govern the country on his behalf without any legal ground—no successor will agree to this.
Grigory Golosov, European University in St. Petersburg: The Kremlin has no solution to the "2024 problem" at the moment—it will be addressed in the early 2020s. The next Duma elections (scheduled for 2021) will be an important milestone to watch.
Andrei Movchan, Moscow Carnegie Center: Economic problems will be at the center of Putin's fourth term. Without reforms, 1% GDP growth remains the "ceiling" for the Russian economy. Improving the investment climate and decreasing the unpredictability level could boost exports, but the lack of political will is a problem. "There is no demand for the liberal reforms on the part of the political elite, the bureaucracy, or the public, which is more interested in raising the efficiency of the power vertical and the country's 'greatness.'"
"Putin is an ad-hoc politician who tries to govern by balancing the interests of all influence groups, one of which for him is the Russian people." His chosen economic course is likely to be an assortment of random elements—"nice-looking numbers and promises," but no structural or unpopular measures.
Natalia Orlova, Alfa-Bank: In terms of economic reforms, the government has yet to decide on the key approach—structural or fiscal. [The structural approach has been put forward by Alexei Kudrin, the fiscal one by Boris Titov, — IMR]
Sergei Khestanov, Otkritie Broker: [Kudrin's] fiscal maneuver [investment in human capital through radical cuts in defense and security spending] is strongly opposed by the military-industrial complex. The search for a compromise on this issue will define Russia's economic policy in the coming years. Other pressing issues include the highly debated tax and pension reforms.
Other stories that mattered this week (in Russian):